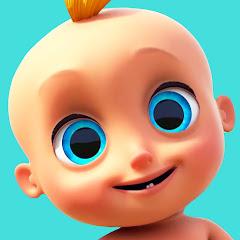 LooLoo Kids - Nursery Rhymes and Children's Songs
54811551
LooLoo Kids - Nursery Rhymes and Children's Songs youtube channel stats
Date
Subscribers
Views
Videos

Sep 26, 2023

Tue

54800000

0

32965906685

+ 9.18M

732

+ 1

Sep 25, 2023

Mon

54800000

+ 100K

32956724479

+ 8.69M

731

0

Sep 24, 2023

Sun

54700000

0

32948027762

+ 8.26M

731

0

Sep 23, 2023

Sat

54700000

0

32939761545

+ 7.60M

731

+ 1

Sep 22, 2023

Fri

54700000

0

32932160738

+ 7.46M

730

0

Sep 21, 2023

Thu

54700000

0

32924696964

+ 6.44M

730

+ 1

Sep 20, 2023

Wed

54700000

0

32918255725

+ 6.60M

729

0

Sep 19, 2023

Tue

54700000

0

32911647674

+ 12.0M

729

+ 1

Sep 18, 2023

Mon

54700000

0

32899569731

0

728

0

Sep 17, 2023

Sun

54700000

0

32899569731

+ 6.02M

728

0

Sep 16, 2023

Sat

54700000

0

32893542134

+ 7.20M

728

+ 1

Sep 15, 2023

Fri

54700000

0

32886338229

+ 7.07M

727

0

Sep 14, 2023

Thu

54700000

0

32879258537

+ 7.31M

727

+ 1

Sep 13, 2023

Wed

54700000

0

32871945472

+ 7.39M

726

0

Sep 12, 2023

Tue

54700000

0

32864552182

+ 7.34M

726

+ 1

Sep 11, 2023

Mon

54700000

0

32857205844

+ 7.55M

725

0

Sep 10, 2023

Sun

54700000

0

32849654078

+ 8.18M

725

0

Sep 9, 2023

Sat

54700000

0

32841468819

+ 6.51M

725

+ 1

Sep 8, 2023

Fri

54700000

0

32834950661

+ 26.2M

724

+ 1

Sep 7, 2023

Thu

54700000

+ 100K

32808745854

+ 7.11M

723

0

Sep 6, 2023

Wed

54600000

0

32801627233

+ 7.97M

723

+ 6

Sep 5, 2023

Tue

54600000

0

32793656840

+ 8.48M

717

+ 1

Sep 4, 2023

Mon

54600000

0

32785171752

+ 8.54M

716

0

Sep 3, 2023

Sun

54600000

0

32776629925

+ 8.62M

716

0

Sep 2, 2023

Sat

54600000

0

32768009205

+ 6.91M

716

+ 1

Sep 1, 2023

Fri

54600000

0

32761096515

+ 6.28M

715

0

Aug 31, 2023

Thu

54600000

0

32754813966

+ 5.22M

715

+ 1

Aug 30, 2023

Wed

54600000

0

32749585991

+ 5.44M

714

0

Aug 29, 2023

Tue

54600000

0

32744141640

+ 5.79M

714

+ 1

Aug 28, 2023

Mon

54600000

---

32738349609

---

713

---
Embed
To embed this live counts widget on your own webpage? Simply copy and paste following code to your page and enjoy it wherever you want!
Customize Embed
About LooLoo Kids - Nursery Rhymes and Children's Songs

Explore LooLoo Kids - Nursery Rhymes and Children's Songs's YouTube presence with 54811551 subscribers and 732 videos. Experience the cumulative impact of 32977924214 views across LooLoo Kids - Nursery Rhymes and Children's Songs's engaging content.
LooLoo Kids is an engaging and educational YouTube channel designed for children and parents alike. With a vast collection of songs, stories, and games, our content is tailored to entertain and inspire kids of all ages while promoting critical thinking, creative exploration, and a sense of imagination. Our upbeat and catchy songs feature colorful visuals and lovable characters like Johny, Emmy, Monica, Laura, Siu, and Li, who take kids on exciting adventures while teaching them valuable lessons about manners, weather, the alphabet, and more. Our stories and games are designed to be fun and educational, providing a unique learning experience that helps children discover and explore the world around them. At LooLoo Kids, we take education seriously, which is why we ensure that Johny and his friends are always having fun while learning from every adventure and activity.
About YouTube Live Subscriber Count

Socialcounts.org is the best destination for live subscriber count tracking on YouTube and Twitter. Our platform uses YouTube's original API and an advanced system to provide nearly accurate estimations of the live subscriber count for your favorite YouTube creators, including T-Series, PewDiePie, and Mr. Beast. We also provide Twitter follower counts for users on the platform.
With our service, you can get an accurate and up-to-date live sub count and live count YouTube views, making it the perfect tool for YouTube creators and fans alike. Here, you can find the real-time subscriber count of popular YouTube creators, as well as our best estimated live count of subscribers and views, which provides a reliable representation of a creator's growth.
Whether you're a content creator looking to monitor your progress or a fan looking to stay updated on your favorite YouTube stars and Twitter influencers, Socialcounts.org is your one-stop solution for all things related to live count. Whether you're looking for live count YouTube subscribers, live count views, or Twitter followers, we've got you covered.