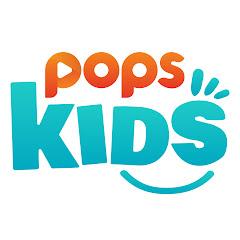 POPS Kids
16045125
POPS Kids youtube channel stats
Date
Subscribers
Views
Videos

Jun 7, 2023

Wed

16000000

0

9458937038

+ 7.81M

3883

+ 1

Jun 6, 2023

Tue

16000000

0

9451123748

+ 7.95M

3882

+ 3

Jun 5, 2023

Mon

16000000

0

9443166632

+ 8.13M

3879

+ 1

Jun 4, 2023

Sun

16000000

0

9435034989

+ 7.75M

3878

+ 2

Jun 3, 2023

Sat

16000000

0

9427276529

+ 9.14M

3876

+ 1

Jun 2, 2023

Fri

16000000

0

9418133858

+ 8.51M

3875

+ 4

Jun 1, 2023

Thu

16000000

0

9409616547

+ 8.92M

3871

+ 1

May 31, 2023

Wed

16000000

0

9400693469

+ 8.21M

3870

0

May 30, 2023

Tue

16000000

0

9392475325

+ 8.13M

3870

+ 2

May 29, 2023

Mon

16000000

0

9384337534

+ 8.37M

3868

0

May 28, 2023

Sun

16000000

0

9375964489

+ 8.37M

3868

+ 2

May 27, 2023

Sat

16000000

0

9367586603

+ 8.18M

3866

+ 1

May 26, 2023

Fri

16000000

+ 100K

9359401799

+ 7.84M

3865

+ 2

May 25, 2023

Thu

15900000

0

9351559953

+ 7.15M

3863

0

May 24, 2023

Wed

15900000

0

9344403746

+ 6.85M

3863

+ 2

May 23, 2023

Tue

15900000

0

9337544043

+ 6.56M

3861

+ 2

May 22, 2023

Mon

15900000

0

9330977177

+ 7.40M

3859

0

May 21, 2023

Sun

15900000

0

9323570238

+ 7.53M

3859

0

May 20, 2023

Sat

15900000

0

9316031328

+ 6.51M

3859

+ 1

May 19, 2023

Fri

15900000

0

9309513322

+ 5.90M

3858

+ 2

May 18, 2023

Thu

15900000

0

9303607465

+ 5.76M

3856

+ 1

May 17, 2023

Wed

15900000

0

9297847072

+ 5.81M

3855

0

May 16, 2023

Tue

15900000

0

9292035022

+ 5.89M

3855

+ 1

May 15, 2023

Mon

15900000

0

9286138735

+ 7.68M

3854

+ 6

May 14, 2023

Sun

15900000

0

9278448977

+ 7.75M

3848

+ 1

May 13, 2023

Sat

15900000

0

9270693778

+ 6.24M

3847

+ 1

May 12, 2023

Fri

15900000

0

9264449564

+ 5.49M

3846

+ 1

May 11, 2023

Thu

15900000

0

9258952583

+ 5.92M

3845

+ 2

May 10, 2023

Wed

15900000

0

9253023557

+ 6.07M

3843

+ 1

May 9, 2023

Tue

15900000

---

9246953395

---

3842

---
Embed
To embed this live counts widget on your own webpage? Simply copy and paste following code to your page and enjoy it wherever you want!
Customize Embed
About POPS Kids

POPS Kids YouTube Channel has 16045125 subscribers and 3883 videos on YouTube Channel. Overall views of POPS Kids YouTube channel is 9904059374.
🎉Xem ngay nhiều nội dung giải trí thiếu nhi trên ỨNG DỤNG POPS Kids: kids.pops.vn POPS Kids - Ngôi Nhà Giáo Dục Và Giải Trí Hàng Đầu Cho Trẻ POPS Kids là kênh giải trí, giáo dục hàng đầu cho thiếu nhi với nội dung an toàn và đa dạng. POPS Kids cung cấp các video ca nhạc thiếu nhi như Mầm Chồi Lá, các clip hướng dẫn vẽ tranh trong series Siêu Nhân Bút Chì và nhiều chuyên mục hấp dẫn khác. POPS Kids is Vietnam's #1 kid's daily digital entertainment and education destination trusted and loved by kids and parents. POPS Kids provides kid music videos such as Mam Choi La, how to draw videos in Sieu Nhan But Chi series and much other great content. Let learn, play and enjoy with POPS Kids ▶️ Đăng ký kênh YouTube POPS Kids: https://www.youtube.com/c/popskids ▶️ Tham gia cộng đồng FB POPS Kids: https://www.facebook.com/pops.kids
About YouTube Live Subscriber Count

Socialcounts.org is the best destination for live subscriber count tracking on YouTube and Twitter. Our platform uses YouTube's original API and an advanced system to provide nearly accurate estimations of the live subscriber count for your favorite YouTube creators, including T-Series, PewDiePie, and Mr. Beast. We also provide Twitter follower counts for users on the platform.
With our service, you can get an accurate and up-to-date live sub count and live count YouTube views, making it the perfect tool for YouTube creators and fans alike. Here, you can find the real-time subscriber count of popular YouTube creators, as well as our best estimated live count of subscribers and views, which provides a reliable representation of a creator's growth.
Whether you're a content creator looking to monitor your progress or a fan looking to stay updated on your favorite YouTube stars and Twitter influencers, Socialcounts.org is your one-stop solution for all things related to live count. Whether you're looking for live count YouTube subscribers, live count views, or Twitter followers, we've got you covered.