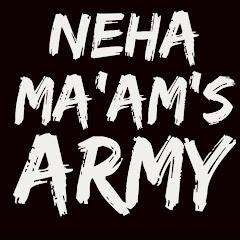 Neha Agrawal Mathematically Inclined
1479253
Neha Agrawal Mathematically Inclined youtube channel stats
Date
Subscribers
Views
Videos

May 28, 2023

Sun

1470000

0

176588745

+ 74.7K

1131

+ 1

May 27, 2023

Sat

1470000

0

176513953

+ 65.7K

1130

0

May 26, 2023

Fri

1470000

0

176448240

+ 68.0K

1130

+ 1

May 25, 2023

Thu

1470000

0

176380172

+ 60.7K

1129

+ 1

May 24, 2023

Wed

1470000

0

176319455

+ 68.2K

1128

0

May 23, 2023

Tue

1470000

0

176251222

+ 75.8K

1128

0

May 22, 2023

Mon

1470000

0

176175348

+ 67.8K

1128

+ 1

May 21, 2023

Sun

1470000

0

176107529

+ 90.9K

1127

+ 1

May 20, 2023

Sat

1470000

0

176016609

+ 91.3K

1126

+ 1

May 19, 2023

Fri

1470000

0

175925260

+ 84.4K

1125

+ 1

May 18, 2023

Thu

1470000

0

175840780

+ 117K

1124

+ 1

May 17, 2023

Wed

1470000

0

175723194

+ 79.6K

1123

+ 2

May 16, 2023

Tue

1470000

0

175643497

+ 90.4K

1121

+ 1

May 15, 2023

Mon

1470000

0

175553043

+ 92.5K

1120

+ 2

May 14, 2023

Sun

1470000

0

175460475

+ 97.6K

1118

+ 2

May 13, 2023

Sat

1470000

0

175362853

+ 102K

1116

+ 1

May 12, 2023

Fri

1470000

0

175260035

+ 108K

1115

+ 2

May 11, 2023

Thu

1470000

0

175151192

+ 109K

1113

+ 2

May 10, 2023

Wed

1470000

0

175041866

+ 65.1K

1111

+ 1

May 9, 2023

Tue

1470000

0

174976709

+ 70.5K

1110

+ 1

May 8, 2023

Mon

1470000

0

174906133

+ 68.3K

1109

0

May 7, 2023

Sun

1470000

0

174837812

+ 82.5K

1109

+ 1

May 6, 2023

Sat

1470000

0

174755215

+ 89.4K

1108

0

May 5, 2023

Fri

1470000

0

174665725

+ 253K

1108

+ 2

May 3, 2023

Wed

1470000

0

174412655

+ 158K

1106

+ 1

May 2, 2023

Tue

1470000

0

174254224

+ 133K

1105

+ 3

May 1, 2023

Mon

1470000

0

174121112

+ 147K

1102

+ 1

Apr 30, 2023

Sun

1470000

0

173973935

+ 328K

1101

+ 1

Apr 29, 2023

Sat

1470000

0

173645390

+ 251K

1100

+ 4

Apr 28, 2023

Fri

1470000

---

173393396

---

1096

---
Embed
To embed this live counts widget on your own webpage? Simply copy and paste following code to your page and enjoy it wherever you want!
Customize Embed
About Neha Agrawal Mathematically Inclined

Neha Agrawal Mathematically Inclined YouTube Channel has 1479253 subscribers and 1131 videos on YouTube Channel. Overall views of Neha Agrawal Mathematically Inclined YouTube channel is 176617734.
If you have reached this page SMILE. We at MATHEMATICALLY INCLINED believe in FREE Quality EDUCATION & yes all this is absolutely FREE. We don't sell ANY courses. This Channel will help if you are preparing for JEE, NDA, BITSAT, MHCET or simply a student of X/XI/XII. Aim: Finest shortcuts, trickeries, and tips delivered in the most elegant and conceivable way from an extremely talented teacher, who is ambidextrous. Hi! I'm Neha, a Delhi University B.Sc ( Math) Hons, M.Sc.Math, B.Ed., teaching since 2005 ------------------------------------------------------------------------------------------- Join the TELEGRAM group to win 5-10 MATHEMATICALLY INCLINED T Shirts every week, for weekly schedules , PDF of my latest videos & much more. Follow me on : https://t.me/joinchat/RW4mZRxQ-2n1JWNMoPg8OQ FB:https://www.facebook.com/NehaAgrawalMath/ Twitter:https://twitter.com/NehaAgrawalMath Insta:https://www.instagram.com/mathematically_inclined_/
About YouTube Live Subscriber Count

Socialcounts.org is the best destination for live subscriber count tracking on YouTube and Twitter. Our platform uses YouTube's original API and an advanced system to provide nearly accurate estimations of the live subscriber count for your favorite YouTube creators, including T-Series, PewDiePie, and Mr. Beast. We also provide Twitter follower counts for users on the platform.
With our service, you can get an accurate and up-to-date live sub count and live count YouTube views, making it the perfect tool for YouTube creators and fans alike. Here, you can find the real-time subscriber count of popular YouTube creators, as well as our best estimated live count of subscribers and views, which provides a reliable representation of a creator's growth.
Whether you're a content creator looking to monitor your progress or a fan looking to stay updated on your favorite YouTube stars and Twitter influencers, Socialcounts.org is your one-stop solution for all things related to live count. Whether you're looking for live count YouTube subscribers, live count views, or Twitter followers, we've got you covered.