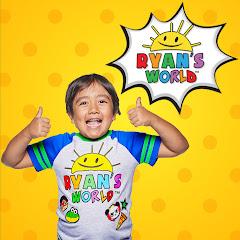 Ryan's World
34894989
Ryan's World youtube channel stats
Date
Subscribers
Views
Videos

May 29, 2023

Mon

34800000

0

54911201421

+ 7.14M

2405

0

May 28, 2023

Sun

34800000

0

54904051962

+ 8.07M

2405

+ 1

May 27, 2023

Sat

34800000

0

54895976676

+ 6.64M

2404

+ 1

May 26, 2023

Fri

34800000

0

54889335642

+ 6.41M

2403

+ 1

May 25, 2023

Thu

34800000

0

54882922845

+ 6.17M

2402

0

May 24, 2023

Wed

34800000

0

54876750185

+ 6.98M

2402

+ 1

May 23, 2023

Tue

34800000

0

54869761680

+ 7.16M

2401

+ 1

May 22, 2023

Mon

34800000

0

54862595252

+ 8.71M

2400

+ 1

May 21, 2023

Sun

34800000

0

54853876509

+ 9.44M

2399

+ 1

May 20, 2023

Sat

34800000

0

54844434015

+ 9.84M

2398

+ 1

May 19, 2023

Fri

34800000

0

54834589777

+ 8.76M

2397

+ 1

May 18, 2023

Thu

34800000

0

54825823672

+ 9.26M

2396

0

May 17, 2023

Wed

34800000

0

54816558080

+ 8.32M

2396

+ 1

May 16, 2023

Tue

34800000

0

54808237012

+ 8.92M

2395

+ 1

May 15, 2023

Mon

34800000

0

54799307948

+ 9.48M

2394

+ 1

May 14, 2023

Sun

34800000

0

54789823825

+ 11.0M

2393

+ 1

May 13, 2023

Sat

34800000

0

54778823740

+ 8.25M

2392

+ 2

May 12, 2023

Fri

34800000

0

54770564812

+ 7.38M

2390

0

May 11, 2023

Thu

34800000

0

54763182394

+ 10.1M

2390

0

May 10, 2023

Wed

34800000

0

54753059654

+ 8.82M

2390

+ 1

May 9, 2023

Tue

34800000

0

54744232568

+ 9.63M

2389

+ 1

May 8, 2023

Mon

34800000

0

54734597852

+ 10.4M

2388

+ 1

May 7, 2023

Sun

34800000

0

54724132356

+ 13.3M

2387

+ 2

May 6, 2023

Sat

34800000

+ 100K

54710762667

+ 14.0M

2385

0

May 5, 2023

Fri

34700000

0

54696664287

+ 30.6M

2385

+ 2

May 3, 2023

Wed

34700000

0

54665980700

+ 17.3M

2383

+ 1

May 2, 2023

Tue

34700000

0

54648642196

+ 18.4M

2382

+ 1

May 1, 2023

Mon

34700000

0

54630226503

+ 18.1M

2381

+ 2

Apr 30, 2023

Sun

34700000

+ 100K

54612061815

+ 17.9M

2379

0

Apr 29, 2023

Sat

34600000

---

54594068488

---

2379

---
Embed
To embed this live counts widget on your own webpage? Simply copy and paste following code to your page and enjoy it wherever you want!
Customize Embed
About Ryan's World

Ryan's World YouTube Channel has 34894989 subscribers and 2405 videos on YouTube Channel. Overall views of Ryan's World YouTube channel is 54919521381.
Welcome To Ryan's World!!! Ryan loves doing lots of fun things like pretend play, science experiments, music videos, skits, challenges, DIY arts and crafts and more!!! Most of the toys we used to review are being donated to local charity Ryan's Toys & Clothing at Walmart and Target! Ryan's World Ryan's Family Review: https://www.youtube.com/channel/UCsaOzYsyshyrYL4SHCTI8xw Combo Panda: https://www.youtube.com/channel/UCb69PhsHzsorirJDlxaIXlg Gus The Gummy Gator: https://www.youtube.com/channel/UCZkSuKAy5kMnZXoxo1PrmJQ VTubers: https://www.youtube.com/channel/UCwOGO9gT1y0IvzPqKal4loQ The Studio Space: https://www.youtube.com/channel/UCRgCbwOa1f76Ec_eRBhhezA For Media Inquiries: [email protected] For Business Inquiries: [email protected]
About YouTube Live Subscriber Count

Socialcounts.org is the best destination for live subscriber count tracking on YouTube and Twitter. Our platform uses YouTube's original API and an advanced system to provide nearly accurate estimations of the live subscriber count for your favorite YouTube creators, including T-Series, PewDiePie, and Mr. Beast. We also provide Twitter follower counts for users on the platform.
With our service, you can get an accurate and up-to-date live sub count and live count YouTube views, making it the perfect tool for YouTube creators and fans alike. Here, you can find the real-time subscriber count of popular YouTube creators, as well as our best estimated live count of subscribers and views, which provides a reliable representation of a creator's growth.
Whether you're a content creator looking to monitor your progress or a fan looking to stay updated on your favorite YouTube stars and Twitter influencers, Socialcounts.org is your one-stop solution for all things related to live count. Whether you're looking for live count YouTube subscribers, live count views, or Twitter followers, we've got you covered.