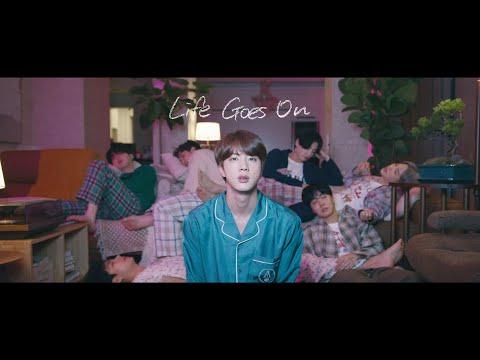 BTS (방탄소년단) 'Life Goes On' Official MV
503202257
BTS (방탄소년단) 'Life Goes On' Official MV youtube video stats
Date
Views
Likes
Dislikes

Mar 24, 2023

Fri

503202257

+ 96.3K

17786801

+ 1.46K

N/A

Mar 23, 2023

Thu

503105941

+ 93.5K

17785338

+ 1.32K

N/A

Mar 22, 2023

Wed

503012387

+ 98.7K

17784011

+ 1.37K

N/A

Mar 21, 2023

Tue

502913661

+ 101K

17782634

+ 1.40K

N/A

Mar 20, 2023

Mon

502811725

+ 102K

17781225

+ 1.39K

N/A

Mar 19, 2023

Sun

502709022

+ 114K

17779832

+ 1.70K

N/A

Mar 18, 2023

Sat

502595008

+ 115K

17778124

+ 1.80K

N/A

Mar 17, 2023

Fri

502479396

+ 110K

17776323

+ 2.01K

N/A

Mar 16, 2023

Thu

502368976

+ 102K

17774304

+ 1.37K

N/A

Mar 15, 2023

Wed

502266548

+ 113K

17772931

+ 1.49K

N/A

Mar 14, 2023

Tue

502152730

+ 101K

17771437

+ 1.56K

N/A

Mar 13, 2023

Mon

502051282

+ 108K

17769877

+ 1.47K

N/A

Mar 12, 2023

Sun

501942306

+ 121K

17768403

+ 1.77K

N/A

Mar 11, 2023

Sat

501820823

+ 109K

17766632

+ 1.78K

N/A

Mar 10, 2023

Fri

501710892

+ 102K

17764852

+ 1.40K

N/A

Mar 9, 2023

Thu

501608884

+ 112K

17763451

+ 1.31K

N/A

Mar 8, 2023

Wed

501496678

+ 117K

17762137

+ 1.44K

N/A

Mar 7, 2023

Tue

501378864

+ 119K

17760697

+ 1.49K

N/A

Mar 6, 2023

Mon

501259485

+ 124K

17759201

+ 1.59K

N/A

Mar 5, 2023

Sun

501135234

+ 143K

17757604

+ 2.22K

N/A

Mar 4, 2023

Sat

500992192

+ 137K

17755380

+ 2.26K

N/A

Mar 3, 2023

Fri

500854952

+ 122K

17753119

+ 2.25K

N/A

Mar 2, 2023

Thu

500732169

+ 122K

17750869

+ 1.89K

N/A

Mar 1, 2023

Wed

500609436

+ 112K

17748979

+ 2.00K

N/A

Feb 28, 2023

Tue

500496953

+ 115K

17746977

+ 2.20K

N/A

Feb 27, 2023

Mon

500381239

+ 121K

17744771

+ 2.98K

N/A

Feb 26, 2023

Sun

500260034

+ 154K

17741782

+ 5.52K

N/A

Feb 25, 2023

Sat

500105410

+ 159K

17736255

+ 8.94K

N/A

Feb 24, 2023

Fri

499945665

+ 126K

17727310

+ 1.73K

N/A

Feb 23, 2023

Thu

499819617

---

17725576

---

---
Embed
To embed this live counts widget on your own webpage? Simply copy and paste following code to your page and enjoy it wherever you want!
Customize Embed
About BTS (방탄소년단) 'Life Goes On' Official MV

BTS (방탄소년단) 'Life Goes On' Official MV Credits: Director: Jeon Jung Kook Assistant Director: Yong Seok Choi, Jihye Yoon (Lumpens) Photo: Nu Kim Director of Photography: Hyunwoo Nam (GDW) Focus Puller: Sangwoo Yun 2nd AC: Eunki Kim 3rd AC: Kyuwon Seo Gaffer: Choi Doo Soo (DS LIGHT) Lighting Crew: Jung Yu Jin, Kim Jun O, Lee Seong Min, Kim Sung Wook, Lee Hyunsu Art Director: Bona Kim, Jinsil Park (MU:E) Assistant Art Team: Yeri Kang, Minjung Kim (MU:E) Art-team Manager: ilho Heo (MU:E) Visual Creative: Nu Kim, Sabinne Cheon, Lee Sun Kyoung, Kim Ga Eun, Cha Yeon Hwa Artist Management: Kim Shin Gyu, Kim Su Bin, Kim Dae Young, Park Jun Tae, An Da Sol, Ahn Jong Hun, Yun Tae Woong, Lee Seung Byeong, Lee Jung Min, Lee Hyeon Ki Big Hit Entertainment. Rights are reserved selectively in the video. Unauthorized reproduction is a violation of applicable laws. Manufactured by Big Hit Entertainment, Seoul, Korea. Connect with BTS: https://ibighit.com/bts http://twitter.com/BTS_bighit http://twitter.com/BTS_twt http://www.facebook.com/bangtan.official https://www.youtube.com/user/BANGTANTV http://instagram.com/BTS.bighitofficial https://channels.vlive.tv/FE619 https://www.tiktok.com/@bts_official_bighit https://weverse.onelink.me/qt3S/94808190 https://www.weibo.com/BTSbighit https://www.weibo.com/BTSmembers http://i.youku.com/btsofficial http://btsblog.ibighit.com #BTS #방탄소년단 #LifeGoesOn #BTS_BE #MV
About YouTube Live Subscriber Count

Looking to track YouTube video live view counts in real-time? SocialCounts.org is the perfect destination for all your video tracking needs! Our platform utilizes YouTube's original API and advanced technology to provide nearly accurate estimations of live view counts for any YouTube video.
But that's not all! We also offer a unique comparison feature where you can compare the live view counts of any video with any channel, video, or profile. This makes it easy to compare and analyze the performance of different YouTube videos and channels.
At SocialCounts.org, we're committed to providing you with accurate and up-to-date data analysis for all your video tracking needs. Whether you're a content creator or simply a YouTube enthusiast, our platform is the perfect tool for monitoring the popularity and growth of your favorite videos.
So, if you're looking for a reliable source to track live view counts on YouTube, look no further than SocialCounts.org. Trust us to keep you in the know with real-time data analysis and comparison features.