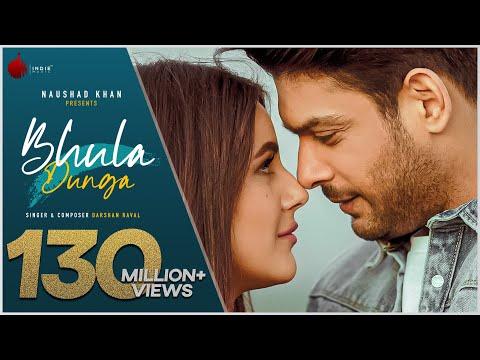 Bhula Dunga - Darshan Raval | Official Video | Sidharth Shukla | Shehnaaz Gill | Indie Music Label
129229705
Bhula Dunga - Darshan Raval | Official Video | Sidharth Shukla | Shehnaaz Gill | Indie Music Label youtube video stats
Date
Views
Likes
Dislikes

Mar 29, 2023

Wed

129229705

+ 10.3K

3549447

+ 202

N/A

Mar 28, 2023

Tue

129219339

+ 10.2K

3549245

+ 192

N/A

Mar 27, 2023

Mon

129209078

+ 10.1K

3549053

+ 176

N/A

Mar 26, 2023

Sun

129198914

+ 11.0K

3548877

+ 199

N/A

Mar 25, 2023

Sat

129187827

+ 11.6K

3548678

+ 235

N/A

Mar 24, 2023

Fri

129176146

+ 10.2K

3548443

+ 217

N/A

Mar 23, 2023

Thu

129165854

+ 10.2K

3548226

+ 129

N/A

Mar 22, 2023

Wed

129155580

+ 11.0K

3548097

+ 156

N/A

Mar 21, 2023

Tue

129144510

+ 11.8K

3547941

+ 173

N/A

Mar 20, 2023

Mon

129132666

+ 12.5K

3547768

+ 214

N/A

Mar 19, 2023

Sun

129120150

+ 12.0K

3547554

+ 206

N/A

Mar 18, 2023

Sat

129108074

+ 11.9K

3547348

+ 198

N/A

Mar 17, 2023

Fri

129096094

+ 12.1K

3547150

+ 201

N/A

Mar 16, 2023

Thu

129083954

+ 12.8K

3546949

+ 166

N/A

Mar 15, 2023

Wed

129071101

+ 13.7K

3546783

+ 197

N/A

Mar 14, 2023

Tue

129057349

+ 13.3K

3546586

+ 214

N/A

Mar 13, 2023

Mon

129043977

+ 13.9K

3546372

+ 207

N/A

Mar 12, 2023

Sun

129030052

+ 13.8K

3546165

+ 213

N/A

Mar 11, 2023

Sat

129016181

+ 12.7K

3545952

+ 148

N/A

Mar 10, 2023

Fri

129003451

+ 12.0K

3545804

+ 177

N/A

Mar 9, 2023

Thu

128991407

+ 12.2K

3545627

+ 135

N/A

Mar 8, 2023

Wed

128979144

+ 10.5K

3545492

+ 113

N/A

Mar 7, 2023

Tue

128968623

+ 11.7K

3545379

+ 156

N/A

Mar 6, 2023

Mon

128956863

+ 12.3K

3545223

+ 220

N/A

Mar 5, 2023

Sun

128944473

+ 13.3K

3545003

+ 191

N/A

Mar 4, 2023

Sat

128931136

+ 12.7K

3544812

+ 216

N/A

Mar 3, 2023

Fri

128918403

+ 12.8K

3544596

+ 213

N/A

Mar 2, 2023

Thu

128905537

+ 12.9K

3544383

+ 184

N/A

Mar 1, 2023

Wed

128892607

+ 11.7K

3544199

+ 205

N/A

Feb 28, 2023

Tue

128880812

---

3543994

---

---
Embed
To embed this live counts widget on your own webpage? Simply copy and paste following code to your page and enjoy it wherever you want!
Customize Embed
About Bhula Dunga - Darshan Raval | Official Video | Sidharth Shukla | Shehnaaz Gill | Indie Music Label

Love takes you to all kinds of emotional rides, happiness, sorrow, excitement peace and much more but when it starts giving you pain its time to let go. Enjoy Darshan Raval's latest love ballad with undeniable chemistry of Bigboss Power Couple Sidharth Shukla & Shehnaaz Gill. #bhuladunga #darshanraval #sidnaaz #indiemusiclabel An E Positive Entertainment Production Subscribe to Indie Music Channel: http://bit.ly/IndieMusicLabel Powered By: Indie Music Label Website: https://indiemusiclabel.in Listen & Download Bhula Dunga : JioSaavn : https://www.jiosaavn.com/song/bhula-dunga/ClonZxt2GlY Wynk: https://wynk.in/music/song/bhula-dunga/bl_A10320WT033250587G Gaana : https://gaana.com/song/bhula-dunga Spotify : https://open.spotify.com/album/4DcFYtjt3WdLqZtBbCk3wa Amazon Prime Music : https://music.amazon.in/albums/B086641XCW Hungama : https://www.hungama.com/album/bhula-dunga/52630314/ Apple Music : https://music.apple.com/in/album/bhula-dunga-single/1503649278 Tiktok - https://www.tiktok.com/music/Bhula-Dunga-6806261382799951873 Resso - https://h5.resso.app/track?id=6806252350057175042 Google play - https://play.google.com/store/music/album?id=Bbmedqifwt5eynvk5752arpuyum Youtube music - https://music.youtube.com/watch?v=c90bEjT03E4 To set Bhula Dunga as your callertune: Airtel subscribers dial 5432117407589 Vodafone subscribers dial 537 + 11964196 Idea subscribers dial 537 + 11964196 BSNL (S) & (E) subscribers sms BT11964196 to 56700 Jio users, download the Jio App to set this song as your Jio Tune For Live Shows and Brand Inquiries: Devica Gomes / Jyoti P [email protected] [email protected] www.epositiveentertainment.com Singer - Darshan Raval Composer - Darshan Raval Lyrics - Gurpreet Saini & Gautam Sharma Music Production - Anmol Daniel Guitars Arranged and Played by- Shomu Seal Rabab and Bouzouki Played by- Tapas Roy Flute Played by- Paras Nath Strings Arranged by Rudra Oza Guitars, Flute & Strokes recorded by Partha Protim Das @ Euphony Studio Mix And Mastered by- Bhaskar Sharma @ Euphony Studio Mix Assistant- Partha Protim Das Vocals Recorded at DZ Studio Video Credits Producer : Kaushal Joshi Director : Punit J Pathak Cast : Sidharth Shukla, Shehnaaz Gill D.O.P : Dhruwal Patel DOP on second camera : Shivam Singh Focus puller : Manoj Yadav, Alok Yadav Assistant Directors : Akash Shetty, Rutuja Parekh, Hiten Shah Editor : Pankaj Sharma Colourist : Rahill Merchant Executive Producer : Amit Vij Production Controller : Vivek Johar Stylist : Ken Ferns Team Siddharth Shukla : Sangeeta Rawal, Junaid Ansari, Adith Agarwal Shehnaaz Gill Make Up & Hair : Subhash Shinde & Team Production Designer : Chetan Acharya Mulky Art Assistant : Rashmi, Shravan Still Photography : Deep Panchal Digital Distribution: KGV Kiran Kumar & Team ( Believe India ) Legal Consultant : Priyanka Khimani (Anand and Anand & Khimani) Indie Music Digital Team : Vishal Bhende, Avish Patel Facebook https://www.facebook.com/indiemusiclabel.in Twitter https://twitter.com/indiemlabel Instagram https://www.instagram.com/indiemusiclabel
About YouTube Live Subscriber Count

Looking to track YouTube video live view counts in real-time? SocialCounts.org is the perfect destination for all your video tracking needs! Our platform utilizes YouTube's original API and advanced technology to provide nearly accurate estimations of live view counts for any YouTube video.
But that's not all! We also offer a unique comparison feature where you can compare the live view counts of any video with any channel, video, or profile. This makes it easy to compare and analyze the performance of different YouTube videos and channels.
At SocialCounts.org, we're committed to providing you with accurate and up-to-date data analysis for all your video tracking needs. Whether you're a content creator or simply a YouTube enthusiast, our platform is the perfect tool for monitoring the popularity and growth of your favorite videos.
So, if you're looking for a reliable source to track live view counts on YouTube, look no further than SocialCounts.org. Trust us to keep you in the know with real-time data analysis and comparison features.