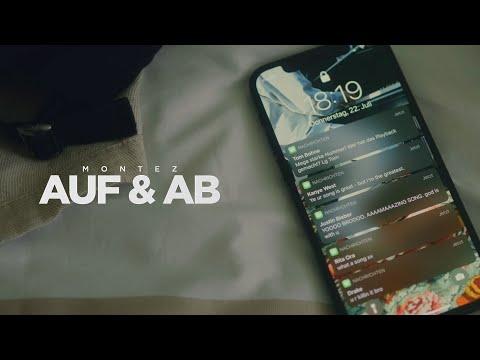 Montez – Auf & Ab (prod. by Aside) [Official Video]
5946578
Montez – Auf & Ab (prod. by Aside) [Official Video] youtube video stats
Date
Views
Likes
Dislikes

Mar 25, 2023

Sat

5946578

+ 2.54K

85769

+ 14

N/A

Mar 24, 2023

Fri

5944038

+ 2.23K

85755

+ 18

N/A

Mar 23, 2023

Thu

5941806

+ 1.99K

85737

+ 6

N/A

Mar 22, 2023

Wed

5939807

+ 2.25K

85731

+ 9

N/A

Mar 21, 2023

Tue

5937550

+ 2.08K

85722

+ 17

N/A

Mar 20, 2023

Mon

5935467

+ 1.97K

85705

+ 9

N/A

Mar 19, 2023

Sun

5933496

+ 2.64K

85696

+ 9

N/A

Mar 18, 2023

Sat

5930848

+ 2.82K

85687

+ 14

N/A

Mar 17, 2023

Fri

5928025

+ 2.53K

85673

+ 10

N/A

Mar 16, 2023

Thu

5925488

+ 2.35K

85663

+ 17

N/A

Mar 15, 2023

Wed

5923134

+ 2.65K

85646

+ 18

N/A

Mar 14, 2023

Tue

5920479

+ 2.25K

85628

+ 17

N/A

Mar 13, 2023

Mon

5918222

+ 2.27K

85611

+ 19

N/A

Mar 12, 2023

Sun

5915952

+ 3.13K

85592

+ 11

N/A

Mar 11, 2023

Sat

5912815

+ 3.10K

85581

+ 25

N/A

Mar 10, 2023

Fri

5909710

+ 2.59K

85556

+ 17

N/A

Mar 9, 2023

Thu

5907117

+ 2.25K

85539

+ 18

N/A

Mar 8, 2023

Wed

5904861

+ 2.24K

85521

+ 16

N/A

Mar 7, 2023

Tue

5902619

+ 2.14K

85505

+ 15

N/A

Mar 6, 2023

Mon

5900472

+ 1.91K

85490

+ 9

N/A

Mar 5, 2023

Sun

5898554

+ 2.65K

85481

+ 20

N/A

Mar 4, 2023

Sat

5895895

+ 2.95K

85461

+ 26

N/A

Mar 3, 2023

Fri

5892940

+ 2.67K

85435

+ 14

N/A

Mar 2, 2023

Thu

5890263

+ 2.70K

85421

+ 20

N/A

Mar 1, 2023

Wed

5887557

+ 2.54K

85401

+ 15

N/A

Feb 28, 2023

Tue

5885012

+ 2.69K

85386

+ 20

N/A

Feb 27, 2023

Mon

5882317

+ 2.52K

85366

+ 15

N/A

Feb 26, 2023

Sun

5879788

+ 3.34K

85351

+ 19

N/A

Feb 25, 2023

Sat

5876443

+ 3.55K

85332

+ 20

N/A

Feb 24, 2023

Fri

5872892

---

85312

---

---
Embed
To embed this live counts widget on your own webpage? Simply copy and paste following code to your page and enjoy it wherever you want!
Customize Embed
About Montez – Auf & Ab (prod. by Aside) [Official Video]

Auf & Ab – OUT NOW! Hier streamen https://montezmusic.lnk.to/AufundAb Love goes out to Kristina Levina @le_xtina Badmomzjay @badmomzjay Katja Krasavice @katjakrasavice Bozza @haramburg Nico Santos @nicosantosofficial Chiara Castelli @chiaracastelli Noah Levi @noahlevi Maria Gabriela Santos @mariagabrielasantos Aylo @ayloblc Eugen Kazakov @eugenkazakov Takt32 @takt32_official MONTEZ Instagram https://www.instagram.com/montez.official/ TikTok https://www.tiktok.com/@montez.official Spotify https://spoti.fi/375mQPB Produced by Aside https://www.instagram.com/aside.wav/ Mix by Aside https://www.instagram.com/aside.wav/ Master by Lex Barkey https://www.instagram.com/lexbarkey/ Management Paradyse Berlin: https://www.instagram.com/paradyse.berlin/ Contact: [email protected] ► VIDEO: A CLOUD95 PRODUCTION Regie : Hely Doan & Traviez The Director Creative Concept: Hely Doan, Traviez, Luca Montesinos, Florence Bakic Creative Direction: Hely Doan Produktion: Tam Bui DoP: Lennart Fränkel 1.AC: Marco Filla Light Design: Philip Schröter (El Marino Visual) Make-Up: Hely Doan Postproduktion: Traviez Colorist: LF Special Thanks to Rouven Chopra! Villa El Madroñal, Marbella For bookings please contact: [email protected] #montez #aufundab
About YouTube Live Subscriber Count

Looking to track YouTube video live view counts in real-time? SocialCounts.org is the perfect destination for all your video tracking needs! Our platform utilizes YouTube's original API and advanced technology to provide nearly accurate estimations of live view counts for any YouTube video.
But that's not all! We also offer a unique comparison feature where you can compare the live view counts of any video with any channel, video, or profile. This makes it easy to compare and analyze the performance of different YouTube videos and channels.
At SocialCounts.org, we're committed to providing you with accurate and up-to-date data analysis for all your video tracking needs. Whether you're a content creator or simply a YouTube enthusiast, our platform is the perfect tool for monitoring the popularity and growth of your favorite videos.
So, if you're looking for a reliable source to track live view counts on YouTube, look no further than SocialCounts.org. Trust us to keep you in the know with real-time data analysis and comparison features.