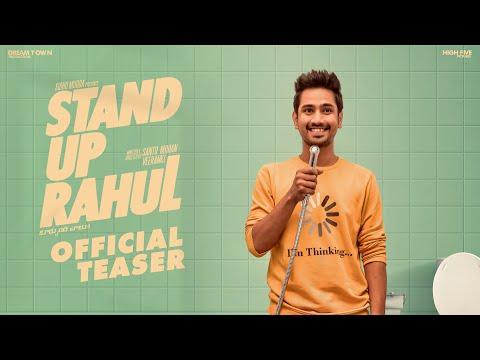 Stand Up Rahul Teaser | Raj Tarun, Varsha Bollamma | Santo | Sweekar Agasthi
2030996
Stand Up Rahul Teaser | Raj Tarun, Varsha Bollamma | Santo | Sweekar Agasthi youtube video stats
Date
Views
Likes
Dislikes

Mar 20, 2023

Mon

2030996

+ 7

51080

0

N/A

Mar 19, 2023

Sun

2030989

+ 10

51080

0

N/A

Mar 18, 2023

Sat

2030979

+ 4

51080

0

N/A

Mar 17, 2023

Fri

2030975

+ 4

51080

0

N/A

Mar 16, 2023

Thu

2030971

+ 5

51080

0

N/A

Mar 15, 2023

Wed

2030966

+ 4

51080

0

N/A

Mar 14, 2023

Tue

2030962

+ 9

51080

0

N/A

Mar 13, 2023

Mon

2030953

+ 15

51080

- 1

N/A

Mar 12, 2023

Sun

2030938

+ 7

51081

- 1

N/A

Mar 11, 2023

Sat

2030931

+ 4

51082

- 1

N/A

Mar 10, 2023

Fri

2030927

+ 2

51083

- 1

N/A

Mar 9, 2023

Thu

2030925

+ 4

51084

- 1

N/A

Mar 8, 2023

Wed

2030921

+ 5

51085

0

N/A

Mar 7, 2023

Tue

2030916

+ 8

51085

0

N/A

Mar 6, 2023

Mon

2030908

+ 7

51085

- 1

N/A

Mar 5, 2023

Sun

2030901

+ 11

51086

- 2

N/A

Mar 4, 2023

Sat

2030890

+ 7

51088

0

N/A

Mar 3, 2023

Fri

2030883

+ 8

51088

- 1

N/A

Mar 2, 2023

Thu

2030875

+ 10

51089

- 1

N/A

Mar 1, 2023

Wed

2030865

+ 5

51090

0

N/A

Feb 28, 2023

Tue

2030860

+ 8

51090

0

N/A

Feb 27, 2023

Mon

2030852

+ 6

51090

- 1

N/A

Feb 26, 2023

Sun

2030846

+ 5

51091

+ 1

N/A

Feb 25, 2023

Sat

2030841

+ 10

51090

0

N/A

Feb 24, 2023

Fri

2030831

+ 2

51090

- 1

N/A

Feb 23, 2023

Thu

2030829

+ 10

51091

0

N/A

Feb 22, 2023

Wed

2030819

+ 7

51091

0

N/A

Feb 21, 2023

Tue

2030812

+ 11

51091

0

N/A

Feb 20, 2023

Mon

2030801

+ 4

51091

- 1

N/A

Feb 19, 2023

Sun

2030797

---

51092

---

---
Embed
To embed this live counts widget on your own webpage? Simply copy and paste following code to your page and enjoy it wherever you want!
Customize Embed
About Stand Up Rahul Teaser | Raj Tarun, Varsha Bollamma | Santo | Sweekar Agasthi

Stand Up Rahul releasing in Cinemas on March 18th! Trailer - https://youtu.be/I7FA1JRMNv4 Teaser - https://youtu.be/AIb7vyLPX2s Ala ila Song - https://youtu.be/6cGtArmTScI Thappa Song - https://youtu.be/Bv7NbPaDq5M Padhaaa Song - https://youtu.be/M9AxbkI26AQ Stand Up Rahul Promotional Song - https://youtu.be/_JE2i-6Ckwo Movie - Stand Up Rahul Cast : Raj Tarun, Varsha Bollamma, Vennela Kishore ,Murali Sharma, Indraja, Devi prasad, Madhurima Narla, Rajkumar kasireddy, Tejo Bhattaru. Written and Directed by : SANTO Presenter : Siddu Mudda Banners : Dream Town Productions, Highfive Pictures Producers : Nandkumar Abbineni, Bharath Maguluri Co - Producers : Srikanth M, Siddardha D Kiran kumar, Srikanth N Music : Sweekar Agasthi Cinematographer : Sreeraj Raveendran Costumes : Archana Rao Editing : Raviteja Girijala Art Director : Uday Umagopal Sound Design : Nagarjuna Thallapalli Choreographer : Eshwar Penti Standup consultants : Samay Raina, Hriday Ranjan, Sandesh Johnny. Publicity Designs : Aesthetic Kunjamma Dialogues : Nanda Kishore Emani Additional dialogues : Ashwin .B, Shalini, Kss. PR : Vamsi Shekar, Digital Pro : Manoj Valluri DI : Action frames media Lyrics : Ananth sriram, Kittu Vissapragada, Rahman, vishwa Writing Team : Anusha Rao, Prashanth Yerramilli Stunts : Anji Teaser Editor : Praneeth Hanumanthu Direction Team : Sharath kumar, Sathyam, Sudheer Bobby.Boddu, Sashank Posimsetti, AR.Sajeev, Akshay, Venkat Goud Executive Producers : Hanumanth Rao Boyapati Production team : Chris David, Chandrakanth, Venkatesh Stills - H.Teja Teaser Subtitles : Sree Lekha Parimi Music Label - Sony Music Entertainment India Pvt. Ltd. © 2021 Sony Music Entertainment India Pvt. Ltd. Subscribe Now: http://bit.ly/SonyMusicSouthVevo Subscribe Now: http://bit.ly/SonyMusicSouthYT Follow us: https://www.instagram.com/sonymusic_south/ Follow us: Twitter: https://twitter.com/SonyMusicSouth Like us: Facebook: https://www.facebook.com/SonyMusicSouth
About YouTube Live Subscriber Count

Looking to track YouTube video live view counts in real-time? SocialCounts.org is the perfect destination for all your video tracking needs! Our platform utilizes YouTube's original API and advanced technology to provide nearly accurate estimations of live view counts for any YouTube video.
But that's not all! We also offer a unique comparison feature where you can compare the live view counts of any video with any channel, video, or profile. This makes it easy to compare and analyze the performance of different YouTube videos and channels.
At SocialCounts.org, we're committed to providing you with accurate and up-to-date data analysis for all your video tracking needs. Whether you're a content creator or simply a YouTube enthusiast, our platform is the perfect tool for monitoring the popularity and growth of your favorite videos.
So, if you're looking for a reliable source to track live view counts on YouTube, look no further than SocialCounts.org. Trust us to keep you in the know with real-time data analysis and comparison features.