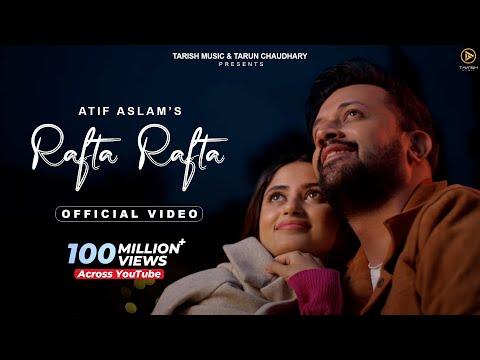 Rafta Rafta - Official Music Video | Raj Ranjodh | Atif Aslam Ft. Sajal Ali | Tarish Music
82621045
Rafta Rafta - Official Music Video | Raj Ranjodh | Atif Aslam Ft. Sajal Ali | Tarish Music youtube video stats
Date
Views
Likes
Dislikes

Mar 30, 2023

Thu

82621045

+ 57.9K

1313077

+ 710

N/A

Mar 29, 2023

Wed

82563100

+ 59.5K

1312367

+ 661

N/A

Mar 28, 2023

Tue

82503524

+ 58.8K

1311706

+ 787

N/A

Mar 27, 2023

Mon

82444711

+ 56.9K

1310919

+ 795

N/A

Mar 26, 2023

Sun

82387713

+ 59.6K

1310124

+ 767

N/A

Mar 25, 2023

Sat

82328041

+ 57.8K

1309357

+ 852

N/A

Mar 24, 2023

Fri

82270147

+ 54.1K

1308505

+ 677

N/A

Mar 23, 2023

Thu

82216045

+ 59.8K

1307828

+ 662

N/A

Mar 22, 2023

Wed

82156209

+ 75.0K

1307166

+ 624

N/A

Mar 21, 2023

Tue

82081188

+ 84.8K

1306542

+ 739

N/A

Mar 20, 2023

Mon

81996299

+ 89.2K

1305803

+ 706

N/A

Mar 19, 2023

Sun

81907042

+ 94.7K

1305097

+ 764

N/A

Mar 18, 2023

Sat

81812280

+ 94.2K

1304333

+ 766

N/A

Mar 17, 2023

Fri

81718045

+ 85.9K

1303567

+ 675

N/A

Mar 16, 2023

Thu

81632128

+ 89.8K

1302892

+ 764

N/A

Mar 15, 2023

Wed

81542322

+ 97.4K

1302128

+ 771

N/A

Mar 14, 2023

Tue

81444851

+ 87.1K

1301357

+ 737

N/A

Mar 13, 2023

Mon

81357686

+ 89.8K

1300620

+ 713

N/A

Mar 12, 2023

Sun

81267867

+ 97.9K

1299907

+ 787

N/A

Mar 11, 2023

Sat

81169874

+ 90.9K

1299120

+ 810

N/A

Mar 10, 2023

Fri

81078903

+ 79.2K

1298310

+ 776

N/A

Mar 9, 2023

Thu

80999622

+ 84.5K

1297534

+ 747

N/A

Mar 8, 2023

Wed

80915072

+ 67.0K

1296787

+ 640

N/A

Mar 7, 2023

Tue

80848004

+ 78.9K

1296147

+ 691

N/A

Mar 6, 2023

Mon

80769009

+ 90.4K

1295456

+ 797

N/A

Mar 5, 2023

Sun

80678520

+ 102K

1294659

+ 878

N/A

Mar 4, 2023

Sat

80576319

+ 101K

1293781

+ 1K

N/A

Mar 3, 2023

Fri

80474411

+ 88.1K

1292781

+ 920

N/A

Mar 2, 2023

Thu

80386266

+ 99.6K

1291861

+ 981

N/A

Mar 1, 2023

Wed

80286605

---

1290880

---

---
Embed
To embed this live counts widget on your own webpage? Simply copy and paste following code to your page and enjoy it wherever you want!
Customize Embed
About Rafta Rafta - Official Music Video | Raj Ranjodh | Atif Aslam Ft. Sajal Ali | Tarish Music

Tarish Music presents Atif Aslam's Rafta Rafta featuring Sajal Ali, a tale of romance that'll stay with you forever. Singer: Atif Aslam Starring: Atif Aslam, Sajal Ali Music & Lyrics: Raj Ranjodh Producers: Tarun Chaudhary, Omer Ahmad Download & Listen "Rafta Rafta" ♪ iTunes : https://apple.co/2UwhY3w ♪ Apple Music : https://apple.co/2UwhY3w ♪ Spotify : https://spoti.fi/3eEOfw8 ♪ JioSaavn : https://bit.ly/3royqyF ♪ Gaana : https://bit.ly/3xPwJgd ♪ Resso : https://bit.ly/3wTdTUi ♪ Hungama : https://bit.ly/3eCYOjc ♪ BoomPlay : https://bit.ly/3eFEVYW ♪ Anghami : https://bit.ly/2VZfqv3 ♪ YouTube Music : https://bit.ly/3x0j7h6 ♪ Deezer : https://bit.ly/3hRmB0L Audio Credits: Mixing & Mastering: Dense Vocals Recorded by: Sheraz Uppal Video Credits Director: Hassam Baloch Executive Producer: Mehreen Soheb Producer: Ali Hussain & Mujtaba Faiyaz Director of Photography: Salar Yousafzai Art: Baqar Rizvi Assistant Director: Yuni Khan Gaffer: Muhammad Bilal Focus Puller: Saram Camera Team: Shaan @ EyeCandy Line Producer: Fida Rupal @ Himalyan Travel Transport: Shah Abbas Hashmi Atif Aslam's Management & Coordination: Omer Ahmad Atif Aslam's Hair and Makeup: Sajid Mehmood Atif Aslam's Stylist: Faraz Shaikh Atif Aslam's Wardrobe: EB Karachi Sajal Ali's Management & Coordination: Maria Mahesar Sajal Ali's Stylist: Mavi Kayani Sajal Ali's Costume: Zamanay Sajal Ali's MUA: Mubashir Bhatti Light Team: Shani @ Popa Lights Edit: Ahsan @ Post Island Post: Owais Roy @ Post Island Still Photographer: Shahbaz Shazi Legal - Yogesh Arora Publicity Design: Suchit R Digital Distribution: One Digital Entertainment PR & Digital Strategist: Nimra Malik Special Thanks - Shahzad Aslam, Sheraz Aslam, Naivy Gill , Jatin Mukhija, Mr Abdul Karim (Manager) of Serena Shigar. Submit your demos at [email protected] #RaftaRafta #AtifAslam #SajalAli #TarishMusic Subscribe and stay connected to our channel! YouTube: https://bit.ly/TarishMusic Facebook: https://web.facebook.com/tarishmusic Instagram: https://www.instagram.com/tarishmusic/ Twitter: https://twitter.com/musictarish
About YouTube Live Subscriber Count

Looking to track YouTube video live view counts in real-time? SocialCounts.org is the perfect destination for all your video tracking needs! Our platform utilizes YouTube's original API and advanced technology to provide nearly accurate estimations of live view counts for any YouTube video.
But that's not all! We also offer a unique comparison feature where you can compare the live view counts of any video with any channel, video, or profile. This makes it easy to compare and analyze the performance of different YouTube videos and channels.
At SocialCounts.org, we're committed to providing you with accurate and up-to-date data analysis for all your video tracking needs. Whether you're a content creator or simply a YouTube enthusiast, our platform is the perfect tool for monitoring the popularity and growth of your favorite videos.
So, if you're looking for a reliable source to track live view counts on YouTube, look no further than SocialCounts.org. Trust us to keep you in the know with real-time data analysis and comparison features.