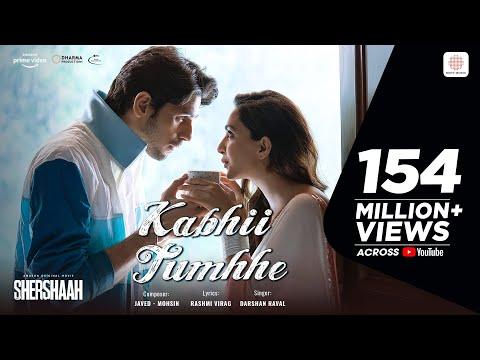 Kabhii Tumhhe –Official Video | Shershaah | Sidharth–Kiara | Javed-Mohsin | Darshan Raval | Rashmi V
126390092
Kabhii Tumhhe –Official Video | Shershaah | Sidharth–Kiara | Javed-Mohsin | Darshan Raval | Rashmi V youtube video stats
Date
Views
Likes
Dislikes

Mar 31, 2023

Fri

126390092

+ 55.5K

2058829

+ 377

N/A

Mar 30, 2023

Thu

126334503

+ 57.5K

2058452

+ 482

N/A

Mar 29, 2023

Wed

126276924

+ 56.4K

2057970

+ 425

N/A

Mar 28, 2023

Tue

126220482

+ 54.7K

2057545

+ 420

N/A

Mar 27, 2023

Mon

126165711

+ 54.3K

2057125

+ 435

N/A

Mar 26, 2023

Sun

126111369

+ 61.6K

2056690

+ 530

N/A

Mar 25, 2023

Sat

126049684

+ 58.3K

2056160

+ 454

N/A

Mar 24, 2023

Fri

125991292

+ 60.8K

2055706

+ 486

N/A

Mar 23, 2023

Thu

125930395

+ 62.1K

2055220

+ 500

N/A

Mar 22, 2023

Wed

125868197

+ 69.0K

2054720

+ 469

N/A

Mar 21, 2023

Tue

125799150

+ 75.1K

2054251

+ 484

N/A

Mar 20, 2023

Mon

125724016

+ 79.8K

2053767

+ 580

N/A

Mar 19, 2023

Sun

125644173

+ 84.7K

2053187

+ 560

N/A

Mar 18, 2023

Sat

125559384

+ 85.6K

2052627

+ 615

N/A

Mar 17, 2023

Fri

125473778

+ 73.7K

2052012

+ 551

N/A

Mar 16, 2023

Thu

125400008

+ 85.8K

2051461

+ 588

N/A

Mar 15, 2023

Wed

125314173

+ 81.6K

2050873

+ 518

N/A

Mar 14, 2023

Tue

125232545

+ 66.4K

2050355

+ 455

N/A

Mar 13, 2023

Mon

125166127

+ 66.8K

2049900

+ 421

N/A

Mar 12, 2023

Sun

125099313

+ 77.1K

2049479

+ 492

N/A

Mar 11, 2023

Sat

125022199

+ 61.0K

2048987

+ 456

N/A

Mar 10, 2023

Fri

124961179

+ 56.9K

2048531

+ 419

N/A

Mar 9, 2023

Thu

124904188

+ 57.3K

2048112

+ 377

N/A

Mar 8, 2023

Wed

124846829

+ 51.2K

2047735

+ 310

N/A

Mar 7, 2023

Tue

124795533

+ 60.7K

2047425

+ 356

N/A

Mar 6, 2023

Mon

124734803

+ 66.6K

2047069

+ 409

N/A

Mar 5, 2023

Sun

124668108

+ 73.3K

2046660

+ 462

N/A

Mar 4, 2023

Sat

124594736

+ 82.4K

2046198

+ 516

N/A

Mar 3, 2023

Fri

124512268

+ 68.9K

2045682

+ 487

N/A

Mar 2, 2023

Thu

124443297

---

2045195

---

---
Embed
To embed this live counts widget on your own webpage? Simply copy and paste following code to your page and enjoy it wherever you want!
Customize Embed
About Kabhii Tumhhe –Official Video | Shershaah | Sidharth–Kiara | Javed-Mohsin | Darshan Raval | Rashmi V

A love story which lives beyond the lives of two people – how can death separate them? Kabhii Tumhhe is the moment when neither of them knew they were meeting for the last time, saying goodbye for the last time. The song which talks about everlasting love, it is sung by Darshan Raval with music by Javed-Mohsin and penned by Rashmi Virag. 👉 Subscribe To Sony Music India - http://bit.ly/SonyMusic_YouTube​ #KabhiiTumhhe #Shershaah #DarshanRaval #Sidharth #Kiara Listen to Spotify on: Spotify: https://open.spotify.com/track/6R6BpMBFQrF7n2uEOxYmss?si=sZcu_ifpRPSvMyBbHyOzQw&utm_source=copy-link&dl_branch=1 Amazon: https://music.amazon.in/albums/B09CZ46241?ref=dm_sh_zs2gLseCK7K6fNLerrvSFgczW JioSaavn: https://www.saavn.com/p/album/hindi/kabhii-tumhhe-from-shershaah-2021/CxELL9jLZ6E_ Wynk: https://open.wynk.in/JCp59vxvPib Resso: https://m.resso.app/ZSJWnUXsb/ Apple Music: https://music.apple.com/in/album/kabhii-tumhhe-from-shershaah/1581758339?i=1581758341&ls Music: Javed – Mohsin Singer: Darshan Raval Lyrics: Rashmi Virag Original Soundtrack, Theme written and composed by: Javed – Mohsin Song Arranged, Programmed & Sound Design by - Aditya Dev Music Supervisor - Azeem Dayani Associate Music Supervisor – Meggha VA Baalii Choir Vocal Designing / Choral Arrangement - Neil Nongkynrih Choir Sung By - Shillong Chamber Choir All Live Guitars played by - Krishna Pradhan Live Flutes played by - P.M.K Naveen Kumar Live Violin Played by – Manas Kumar Darshan Raval's Vocal dubbed at – Darshan Raval's Studio Darshan Raval's vocals dubbed by - Viplove Rajdeo Assistant Mix engineer - Michael Edwin Pillai Song Mixed and Mastered by - ERIC PILLAI @ (Future Sound of Bombay) Special Thanks - Sumeet Kr Tyagi Amazon Prime Video Presents A Dharma Productions & Kaash Entertainment Film Starring Sidharth Malhotra, Kiara Advani Directed by Vishnu Varadhan Song edits/cut downs - Ian Pillai Watch Shershaah only on Amazon Prime Video Lyrics: Tum agar manaoge toh maan jaaunga Main tere bulane pe laut aaunga Har safar mein saath tera Main yuhi nibhaunga Kabhi tumhe yaad meri aaye Palkon se zulf hata lena Saaf dikhunga main tumko wahin Jo na dikhun toh bata dena Kabhi mujhe der jo ho jaaye Waqt ko thoda bacha lena Phir se milonga main tumko wahin Jo na miloon toh saza dena Meri zameen ko tere kadam ka Na jaane kab se tha intezaar Ik na ik din aana hai tumko Dil ko mere hai yeh aitbaar Main khuda se tere siva Kuch aur na mangun ga Kabhi tumhe yaad meri aaye Itni si baat samajh jaana Phir se milonga main tumko wahin Raah se meri guzar jaana Audio on Sony Music Entertainment India Pvt. Ltd(C) 2021 Stay connected with us on: 👉 Subscribe To Sony Music India YouTube - http://bit.ly/SonyMusic_YouTube​ 👉 Like us : Facebook - https://www.facebook.com/SonyMusicIndia​ 👉 Follow us : Instagram - https://www.instagram.com/sonymusicin... 👉 Follow us : Twitter - https://twitter.com/sonymusicindia
About YouTube Live Subscriber Count

Looking to track YouTube video live view counts in real-time? SocialCounts.org is the perfect destination for all your video tracking needs! Our platform utilizes YouTube's original API and advanced technology to provide nearly accurate estimations of live view counts for any YouTube video.
But that's not all! We also offer a unique comparison feature where you can compare the live view counts of any video with any channel, video, or profile. This makes it easy to compare and analyze the performance of different YouTube videos and channels.
At SocialCounts.org, we're committed to providing you with accurate and up-to-date data analysis for all your video tracking needs. Whether you're a content creator or simply a YouTube enthusiast, our platform is the perfect tool for monitoring the popularity and growth of your favorite videos.
So, if you're looking for a reliable source to track live view counts on YouTube, look no further than SocialCounts.org. Trust us to keep you in the know with real-time data analysis and comparison features.