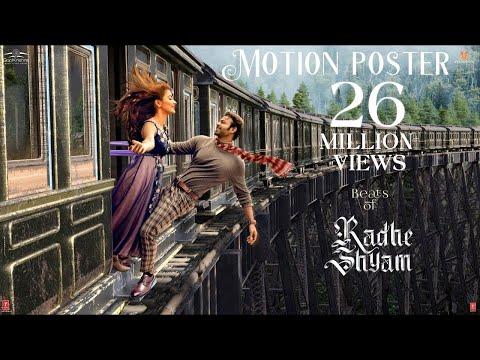 Beats Of Radhe Shyam | Prabhas | Pooja Hegde | Radha Krishna Kumar | Happy Birthday Prabhas
25860532
Beats Of Radhe Shyam | Prabhas | Pooja Hegde | Radha Krishna Kumar | Happy Birthday Prabhas youtube video stats
Date
Views
Likes
Dislikes

Mar 21, 2023

Tue

25860532

+ 293

540834

- 3

N/A

Mar 20, 2023

Mon

25860239

+ 310

540837

- 6

N/A

Mar 19, 2023

Sun

25859929

+ 300

540843

- 2

N/A

Mar 18, 2023

Sat

25859629

+ 300

540845

- 3

N/A

Mar 17, 2023

Fri

25859329

+ 337

540848

+ 5

N/A

Mar 16, 2023

Thu

25858992

+ 331

540843

- 4

N/A

Mar 15, 2023

Wed

25858661

+ 338

540847

+ 1

N/A

Mar 14, 2023

Tue

25858323

+ 310

540846

+ 2

N/A

Mar 13, 2023

Mon

25858013

+ 338

540844

- 8

N/A

Mar 12, 2023

Sun

25857675

+ 463

540852

- 2

N/A

Mar 11, 2023

Sat

25857212

+ 388

540854

- 2

N/A

Mar 10, 2023

Fri

25856824

+ 303

540856

0

N/A

Mar 9, 2023

Thu

25856521

+ 426

540856

- 5

N/A

Mar 8, 2023

Wed

25856095

+ 349

540861

+ 4

N/A

Mar 7, 2023

Tue

25855746

+ 291

540857

- 6

N/A

Mar 6, 2023

Mon

25855455

+ 267

540863

+ 2

N/A

Mar 5, 2023

Sun

25855188

+ 277

540861

0

N/A

Mar 4, 2023

Sat

25854911

+ 289

540861

- 3

N/A

Mar 3, 2023

Fri

25854622

+ 269

540864

0

N/A

Mar 2, 2023

Thu

25854353

+ 248

540864

- 1

N/A

Mar 1, 2023

Wed

25854105

+ 288

540865

0

N/A

Feb 28, 2023

Tue

25853817

+ 316

540865

- 1

N/A

Feb 27, 2023

Mon

25853501

+ 274

540866

- 3

N/A

Feb 26, 2023

Sun

25853227

+ 376

540869

+ 1

N/A

Feb 25, 2023

Sat

25852851

+ 441

540868

- 4

N/A

Feb 24, 2023

Fri

25852410

+ 427

540872

+ 4

N/A

Feb 23, 2023

Thu

25851983

+ 364

540868

0

N/A

Feb 22, 2023

Wed

25851619

+ 492

540868

- 4

N/A

Feb 21, 2023

Tue

25851127

+ 570

540872

+ 5

N/A

Feb 20, 2023

Mon

25850557

---

540867

---

---
Embed
To embed this live counts widget on your own webpage? Simply copy and paste following code to your page and enjoy it wherever you want!
Customize Embed
About Beats Of Radhe Shyam | Prabhas | Pooja Hegde | Radha Krishna Kumar | Happy Birthday Prabhas

Beats Of Radhe Shyam On UV Creations. Radhe Shyam is an upcoming Indian romantic drama film starring Rebel Star Prabhas and Pooja Hegde. Written and directed by Radha Krishna Kumar. Music by Justin Prabhakaran on T-Series, Sound design by Resul Pookutty. The film is presented by Krishnam Raju under Gopi Krishna Movies and produced by UV Creations and T-Series jointly. Movie is Shot simultaneously in Telugu, Tamil and Hindi. Also starring Sachin Khedekar, Priyadarsi Pulikonda, Bhagyashree, Murli Sharma, Kunaal Roy Kapoor, Riddhi Kumar, Sasha Chettri, Sathyan and many others. Motion Poster Creative Team: Anil Kumar Upadyaula, Kabilan Chellaiah and Ramesh Acharya. #BeatsOfRadheShyam #HappyBirthdayPrabhas #Prabhas #PoojaHegde #RadhaKrishnaKumar #UVCreations #TSeries #Prabhas20 #RadheShyamTeaser #RadheShyamMotionPoster Click here to watch: Saaho Movie Making : https://youtu.be/kEeiuf5u__s Prabhas Mirchi Video Songs: https://bit.ly/2q7VhzW Prabhas Saaho Official Teasers: http://bit.ly/2y866nw Bhale Bhale Magadivoy Video Songs: http://bit.ly/2D9e5V0 Run Raja Run Video Songs Full HD: http://bit.ly/2AHHrqQ For More Updates About Radhe Shyam & UV Creations : Like: https://www.facebook.com/UVCTheMovieMakers Follow: https://www.instagram.com/uvcreationsofficial/ Follow: https://twitter.com/UV_Creations Subscribe: https://www.youtube.com/UVCTheMovieMakers
About YouTube Live Subscriber Count

Looking to track YouTube video live view counts in real-time? SocialCounts.org is the perfect destination for all your video tracking needs! Our platform utilizes YouTube's original API and advanced technology to provide nearly accurate estimations of live view counts for any YouTube video.
But that's not all! We also offer a unique comparison feature where you can compare the live view counts of any video with any channel, video, or profile. This makes it easy to compare and analyze the performance of different YouTube videos and channels.
At SocialCounts.org, we're committed to providing you with accurate and up-to-date data analysis for all your video tracking needs. Whether you're a content creator or simply a YouTube enthusiast, our platform is the perfect tool for monitoring the popularity and growth of your favorite videos.
So, if you're looking for a reliable source to track live view counts on YouTube, look no further than SocialCounts.org. Trust us to keep you in the know with real-time data analysis and comparison features.