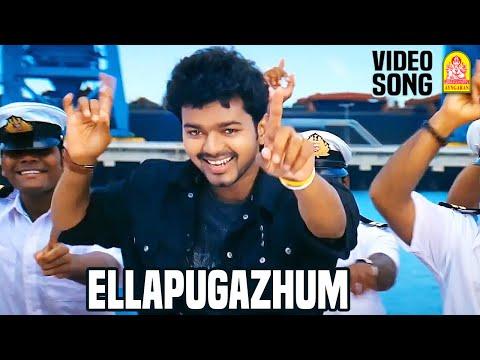 Ellapugazhum - Video Song | Azhagiya Tamil Magan | Vijay | A.R. Rahman | Ayngaran
30933204
Ellapugazhum - Video Song | Azhagiya Tamil Magan | Vijay | A.R. Rahman | Ayngaran youtube video stats
Date
Views
Likes
Dislikes

Mar 31, 2023

Fri

30933204

+ 15.6K

298619

+ 130

N/A

Mar 30, 2023

Thu

30917570

+ 15.6K

298489

+ 154

N/A

Mar 29, 2023

Wed

30901891

+ 15.1K

298335

+ 168

N/A

Mar 28, 2023

Tue

30886759

+ 15.0K

298167

+ 151

N/A

Mar 27, 2023

Mon

30871678

+ 14.6K

298016

+ 177

N/A

Mar 26, 2023

Sun

30857020

+ 16.9K

297839

+ 218

N/A

Mar 25, 2023

Sat

30840076

+ 15.3K

297621

+ 172

N/A

Mar 24, 2023

Fri

30824735

+ 14.2K

297449

+ 142

N/A

Mar 23, 2023

Thu

30810444

+ 13.8K

297307

+ 169

N/A

Mar 22, 2023

Wed

30796558

+ 16.5K

297138

+ 170

N/A

Mar 21, 2023

Tue

30780028

+ 14.9K

296968

+ 177

N/A

Mar 20, 2023

Mon

30765090

+ 14.5K

296791

+ 127

N/A

Mar 19, 2023

Sun

30750564

+ 15.5K

296664

+ 192

N/A

Mar 18, 2023

Sat

30734974

+ 16.5K

296472

+ 191

N/A

Mar 17, 2023

Fri

30718457

+ 16.3K

296281

+ 171

N/A

Mar 16, 2023

Thu

30702157

+ 16.6K

296110

+ 161

N/A

Mar 15, 2023

Wed

30685463

+ 18.0K

295949

+ 171

N/A

Mar 14, 2023

Tue

30667383

+ 15.3K

295778

+ 179

N/A

Mar 13, 2023

Mon

30652012

+ 15.5K

295599

+ 179

N/A

Mar 12, 2023

Sun

30636461

+ 18.2K

295420

+ 187

N/A

Mar 11, 2023

Sat

30618221

+ 17.0K

295233

+ 203

N/A

Mar 10, 2023

Fri

30601125

+ 16K

295030

+ 184

N/A

Mar 9, 2023

Thu

30585125

+ 16.9K

294846

+ 196

N/A

Mar 8, 2023

Wed

30568219

+ 16.2K

294650

+ 173

N/A

Mar 7, 2023

Tue

30551947

+ 15.4K

294477

+ 174

N/A

Mar 6, 2023

Mon

30536536

+ 14.8K

294303

+ 157

N/A

Mar 5, 2023

Sun

30521653

+ 15.8K

294146

+ 186

N/A

Mar 4, 2023

Sat

30505826

+ 15.4K

293960

+ 166

N/A

Mar 3, 2023

Fri

30490377

+ 15.1K

293794

+ 159

N/A

Mar 2, 2023

Thu

30475243

---

293635

---

---
Embed
To embed this live counts widget on your own webpage? Simply copy and paste following code to your page and enjoy it wherever you want!
Customize Embed
About Ellapugazhum - Video Song | Azhagiya Tamil Magan | Vijay | A.R. Rahman | Ayngaran

Watch the Video Song of Ellapugazhum from Azhagiya Tamil Magan Sung & Composed by A.R.Rahman Azhagiya Tamil Magan is a Tamil action movie directed by Bharathan, written by S. K. Jeeva, and produced by Swargachitra Appachan. The Azhagiya Tamil Magan cast features Vijay playing dual roles as an ESP athlete and a playboy as he plays the antagonist as well as the protagonist. Along with them, it also features Shriya Saran, Namitha Vankawala, and N. Santhanam in other pivotal roles. The cinematography was handled by K. Balasubramaniam and the editing was taken care of by Anthony. Watch Azhagiya Tamil Magan online to enjoy this blockbuster movie that released on 8 November 2007 and had music from A. R. Rahman. Language: Tamil Genre: Action, Romance, Comedy Year: 2007 Director: Bharathan Actor: Vijay, Shriya Saran, Namitha, Santhanam, Sathyan, Sayaji Shinde, Ashish Vidyarthi, Tanikella Bharani , Geetha, Ganja Karuppu, M. S. Bhaskar Banner: Swagachitra Appachan Producer: Swagachitra Appachan Facebook - https://www.facebook.com/ayngaran/ Twitter - https://twitter.com/AyngaranIntl YouTube - https://youtube.com/Ayngaran
About YouTube Live Subscriber Count

Looking to track YouTube video live view counts in real-time? SocialCounts.org is the perfect destination for all your video tracking needs! Our platform utilizes YouTube's original API and advanced technology to provide nearly accurate estimations of live view counts for any YouTube video.
But that's not all! We also offer a unique comparison feature where you can compare the live view counts of any video with any channel, video, or profile. This makes it easy to compare and analyze the performance of different YouTube videos and channels.
At SocialCounts.org, we're committed to providing you with accurate and up-to-date data analysis for all your video tracking needs. Whether you're a content creator or simply a YouTube enthusiast, our platform is the perfect tool for monitoring the popularity and growth of your favorite videos.
So, if you're looking for a reliable source to track live view counts on YouTube, look no further than SocialCounts.org. Trust us to keep you in the know with real-time data analysis and comparison features.