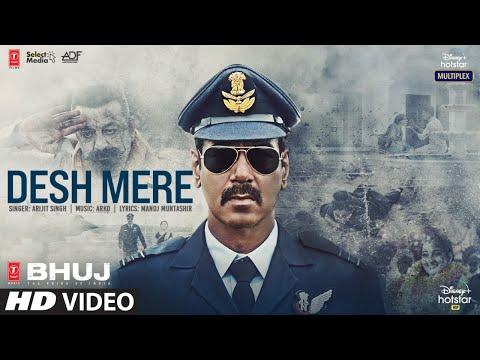 Arijit Singh: DESH MERE Song | Ajay D, Sanjay D, Ammy V | Arko, Manoj M | Bhuj: The Pride Of India
111337769
Arijit Singh: DESH MERE Song | Ajay D, Sanjay D, Ammy V | Arko, Manoj M | Bhuj: The Pride Of India youtube video stats
Date
Views
Likes
Dislikes

Mar 21, 2023

Tue

111337769

+ 50.0K

2055234

+ 502

N/A

Mar 20, 2023

Mon

111287730

+ 54.0K

2054732

+ 523

N/A

Mar 19, 2023

Sun

111233703

+ 61.0K

2054209

+ 545

N/A

Mar 18, 2023

Sat

111172640

+ 60.5K

2053664

+ 626

N/A

Mar 17, 2023

Fri

111112131

+ 58.8K

2053038

+ 575

N/A

Mar 16, 2023

Thu

111053275

+ 55.4K

2052463

+ 566

N/A

Mar 15, 2023

Wed

110997808

+ 57.4K

2051897

+ 518

N/A

Mar 14, 2023

Tue

110940335

+ 50.3K

2051379

+ 515

N/A

Mar 13, 2023

Mon

110889966

+ 53.2K

2050864

+ 444

N/A

Mar 12, 2023

Sun

110836686

+ 63.4K

2050420

+ 441

N/A

Mar 11, 2023

Sat

110773242

+ 54.8K

2049979

+ 529

N/A

Mar 10, 2023

Fri

110718350

+ 52.0K

2049450

+ 460

N/A

Mar 9, 2023

Thu

110666282

+ 54.6K

2048990

+ 438

N/A

Mar 8, 2023

Wed

110611661

+ 57.2K

2048552

+ 532

N/A

Mar 7, 2023

Tue

110554365

+ 63.0K

2048020

+ 571

N/A

Mar 6, 2023

Mon

110491282

+ 63.5K

2047449

+ 546

N/A

Mar 5, 2023

Sun

110427760

+ 75.5K

2046903

+ 571

N/A

Mar 4, 2023

Sat

110352188

+ 69.5K

2046332

+ 541

N/A

Mar 3, 2023

Fri

110282593

+ 62.1K

2045791

+ 531

N/A

Mar 2, 2023

Thu

110220440

+ 63.9K

2045260

+ 552

N/A

Mar 1, 2023

Wed

110156461

+ 61.9K

2044708

+ 518

N/A

Feb 28, 2023

Tue

110094510

+ 64.4K

2044190

+ 542

N/A

Feb 27, 2023

Mon

110030098

+ 64.8K

2043648

+ 544

N/A

Feb 26, 2023

Sun

109965271

+ 80.4K

2043104

+ 732

N/A

Feb 25, 2023

Sat

109884808

+ 75.8K

2042372

+ 695

N/A

Feb 24, 2023

Fri

109808911

+ 71.1K

2041677

+ 597

N/A

Feb 23, 2023

Thu

109737734

+ 70.5K

2041080

+ 636

N/A

Feb 22, 2023

Wed

109667205

+ 71.9K

2040444

+ 639

N/A

Feb 21, 2023

Tue

109595236

+ 73.2K

2039805

+ 724

N/A

Feb 20, 2023

Mon

109521994

---

2039081

---

---
Embed
To embed this live counts widget on your own webpage? Simply copy and paste following code to your page and enjoy it wherever you want!
Customize Embed
About Arijit Singh: DESH MERE Song | Ajay D, Sanjay D, Ammy V | Arko, Manoj M | Bhuj: The Pride Of India

Gulshan Kumar presents A Select Media Holdings LLP Production, #BhujThePrideOfIndia starring Ajay Devgn, Sanjay Dutt, Sonakshi Sinha, Ammy Virk, Nora Fatehi, Sharad Kelkar, Pranitha Subhash, and Ihana Dhillon. We bring to you DESH MERE song in soulful voice of Arijit Singh, composed by Arko and penned by Manoj Muntashir. When bravery becomes your armour, every step leads you to victory! Experience the untold story of the greatest battle ever fought. Bhuj: The Pride Of India is set to release on 13th August 2021. ♪Stream the Full Song Here♪ JioSaavn: https://bit.ly/DeshMere--JioSaavn Spotify: https://bit.ly/DeshMere--Spotify Hungama: https://bit.ly/DeshMere--Hungama Apple Music: https://bit.ly/DeshMere--AppleMusic Amazon Prime Music: https://bit.ly/DeshMere--AmazonPrimeMusic iTunes: https://bit.ly/DeshMere--iTunes YouTube Music: https://bit.ly/DeshMere--YouTubeMusic Singer - Arijit Singh Music - Arko Lyrics - Manoj Muntashir Music Production - Aditya Dev Guitars & Dobro - Shomu Seal Sarangi - Dilshad Khan Recorded by - Rahul Sharma at Studio 504 Mix & Master - Rahul Sharma Mix Assistant - Samir Dharap Music Label- T-Series ___________________________________ Enjoy & stay connected with us! 👉 Subscribe to T-Series: http://bit.ly/TSeriesYouTube 👉 Like us on Facebook: https://www.facebook.com/tseriesmusic 👉 Follow us on Twitter: https://twitter.com/tseries 👉 Follow us on Instagram: http://bit.ly/InstagramTseries
About YouTube Live Subscriber Count

Looking to track YouTube video live view counts in real-time? SocialCounts.org is the perfect destination for all your video tracking needs! Our platform utilizes YouTube's original API and advanced technology to provide nearly accurate estimations of live view counts for any YouTube video.
But that's not all! We also offer a unique comparison feature where you can compare the live view counts of any video with any channel, video, or profile. This makes it easy to compare and analyze the performance of different YouTube videos and channels.
At SocialCounts.org, we're committed to providing you with accurate and up-to-date data analysis for all your video tracking needs. Whether you're a content creator or simply a YouTube enthusiast, our platform is the perfect tool for monitoring the popularity and growth of your favorite videos.
So, if you're looking for a reliable source to track live view counts on YouTube, look no further than SocialCounts.org. Trust us to keep you in the know with real-time data analysis and comparison features.