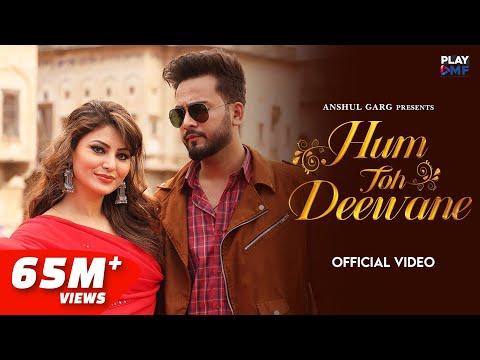 Hum Toh Deewane - Elvish Yadav & Urvashi Rautela | Yasser Desai | Rajat Nagpal | Rana | Anshul Garg
31065451
Hum Toh Deewane - Elvish Yadav & Urvashi Rautela | Yasser Desai | Rajat Nagpal | Rana | Anshul Garg youtube video stats
Date
Views
Likes
Dislikes

Sep 27, 2023

Wed

31065451

+ 35.1K

1625964

+ 268

N/A

Sep 26, 2023

Tue

31030252

+ 467K

1625696

+ 11.3K

N/A

Sep 25, 2023

Mon

30563011

+ 522K

1614308

+ 14.4K

N/A

Sep 24, 2023

Sun

30040763

+ 641K

1599853

+ 18.3K

N/A

Sep 23, 2023

Sat

29399485

+ 740K

1581486

+ 25.6K

N/A

Sep 22, 2023

Fri

28659229

+ 806K

1555840

+ 26.7K

N/A

Sep 21, 2023

Thu

27852758

+ 820K

1529125

+ 22.0K

N/A

Sep 20, 2023

Wed

27031812

+ 1.64M

1507056

+ 28.5K

N/A

Sep 19, 2023

Tue

25385567

+ 1.59M

1478531

+ 33.8K

N/A

Sep 18, 2023

Mon

23788930

+ 3.56M

1444633

+ 42.6K

N/A

Sep 17, 2023

Sun

20226228

+ 2.05M

1401983

+ 68.9K

N/A

Sep 16, 2023

Sat

18166298

+ 2.17M

1332987

+ 111K

N/A

Sep 15, 2023

Fri

15993026

+ 9.14M

1221527

+ 234K

N/A

Sep 14, 2023

Thu

6846423

---

987421

---

---
Embed
To embed this live counts widget on your own webpage? Simply copy and paste following code to your page and enjoy it wherever you want!
Customize Embed
About Hum Toh Deewane - Elvish Yadav & Urvashi Rautela | Yasser Desai | Rajat Nagpal | Rana | Anshul Garg

Anshul Garg presents Hum Toh Deewane featuring Elvish Yadav & Urvashi Rautela. Listen on Spotify 👉 https://spotify.link/HuU6Z6Ci4Cb Audio credits Song : Hum toh deewane Singer Yasser Desai Composer Rajat Nagpal Lyrics Rana Sotal Music Rajat Nagpal Music Team Music composed , programmed , produced by Rajat Nagpal Guitars Rhythm Shaw Dholak & Tabla designed by Raju Sardar Harmonium Shibu Chorus Dilshad jamshaid sabri & Musharrat ali khan Keys Rajat Nagpal & Suman Bhattacharjee Recorded @ Studio 504 by Rahul Sharma assist by Samir & Rohit Mix & Master Shadab Rayeen Assist by Pukhraj Video credits Directed By Agam Mann & Azeem Mann DP - Shinda Singh Choreographer - John Edit/Grade - Agam Mann Chief AD - Rajat Yadav Production - RS Films & Production Production Assistants- Jadu, Rohit, Honey Line Production (Rajasthan) - AM Films Line Production Assistant - Manoj Bhati Art Director - Rajan Arts Steadicam - Bijesh Chauhan BG Score - Parvish Sama VFX by - Low Poly Films VFX & CGI - Navi Joshi, Veerinder Singh Spot Team - Sonu Stills & BTS - Akki Elvish Makeup - Rajan Passi Elvish Stylist - Rajat Manchanda Team Urvashi Business Head: Prashant Appu Operation Manager: Mariam Budhani Makeup Artist : Nikki Rajani Hair Stylist : Jennifer Joseph Costume Stylist : Vruddhi Rachh Spot boy: Rahul Mishra Special Thanks : Ingrooves Team http://www.ingrooves.com/ Travel & Hospitality partner : PRM Hospitality PlayDMF Team Founder & CEO : Anshul Garg PlayDMF project head: Raghav sharma Project Manager : Gaurav Arora PlayDMF team - Asheema Chauhan, Sankalp Garg & Akshay Ingrooves team Head : Amit Sharma Team : Nagesh Jadhav, Kajal Israni, Amol Suryavanshi, Lavanya Das, Nishtha sikroria Lyrics : Nain tumko chuney,, bs baat dil ki suney ,, Dunia ko bhool kar ,, Tere hi khaab buney ,, Tujhme or khuda me koi fark na jaane ,, Humto deewane deewane deewane ,, Tere deewane deewane deewane , Tujhme or khuda me koi fark na jaane ,, Hum to deewane deewane …. Deewane deewane deewane tere hum toh Maang lu mai tumhey koi sitaara tuttay ,, Judkay na phir kabhi rista hamara tutay ,, Raaton ka ptaa nahi kab savere hue ,, Waqt bhi dekhaa na jabse tere hue , Tujhey apna hai kehna ve , Mai tere nal rehna ve,, dekhne k dhundhay bahanay ,, Humto deewanay ,,deewane ,,
About YouTube Live Subscriber Count

Looking to track YouTube video live view counts in real-time? SocialCounts.org is the perfect destination for all your video tracking needs! Our platform utilizes YouTube's original API and advanced technology to provide nearly accurate estimations of live view counts for any YouTube video.
But that's not all! We also offer a unique comparison feature where you can compare the live view counts of any video with any channel, video, or profile. This makes it easy to compare and analyze the performance of different YouTube videos and channels.
At SocialCounts.org, we're committed to providing you with accurate and up-to-date data analysis for all your video tracking needs. Whether you're a content creator or simply a YouTube enthusiast, our platform is the perfect tool for monitoring the popularity and growth of your favorite videos.
So, if you're looking for a reliable source to track live view counts on YouTube, look no further than SocialCounts.org. Trust us to keep you in the know with real-time data analysis and comparison features.