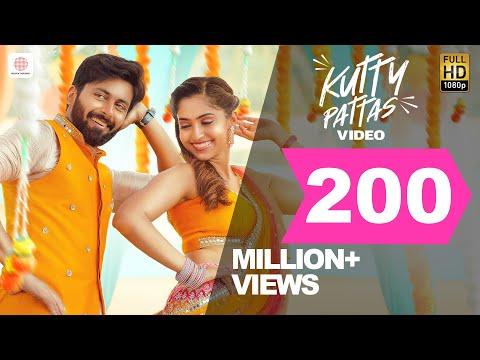 Kutty Pattas Music Video | Ashwin | Reba John | Venki | Santhosh Dhayanidhi | Sandy
180681807
Kutty Pattas Music Video | Ashwin | Reba John | Venki | Santhosh Dhayanidhi | Sandy youtube video stats
Date
Views
Likes
Dislikes

Mar 29, 2023

Wed

180681807

+ 34.0K

1808164

+ 118

N/A

Mar 28, 2023

Tue

180647793

+ 36.6K

1808046

+ 121

N/A

Mar 27, 2023

Mon

180611136

+ 38.6K

1807925

+ 145

N/A

Mar 26, 2023

Sun

180572509

+ 48.8K

1807780

+ 186

N/A

Mar 25, 2023

Sat

180523678

+ 42.9K

1807594

+ 130

N/A

Mar 24, 2023

Fri

180480723

+ 33.1K

1807464

+ 86

N/A

Mar 23, 2023

Thu

180447536

+ 32.9K

1807378

+ 99

N/A

Mar 22, 2023

Wed

180414588

+ 39.1K

1807279

+ 145

N/A

Mar 21, 2023

Tue

180375488

+ 35.2K

1807134

+ 117

N/A

Mar 20, 2023

Mon

180340267

+ 33.2K

1807017

+ 82

N/A

Mar 19, 2023

Sun

180306999

+ 43.3K

1806935

+ 109

N/A

Mar 18, 2023

Sat

180263635

+ 37.5K

1806826

+ 142

N/A

Mar 17, 2023

Fri

180226044

+ 30.6K

1806684

+ 90

N/A

Mar 16, 2023

Thu

180195357

+ 29.6K

1806594

+ 74

N/A

Mar 15, 2023

Wed

180165714

+ 33.6K

1806520

+ 90

N/A

Mar 14, 2023

Tue

180132074

+ 27.8K

1806430

+ 98

N/A

Mar 13, 2023

Mon

180104211

+ 32.2K

1806332

+ 118

N/A

Mar 12, 2023

Sun

180071918

+ 45.4K

1806214

+ 144

N/A

Mar 11, 2023

Sat

180026469

+ 39.1K

1806070

+ 123

N/A

Mar 10, 2023

Fri

179987365

+ 31.1K

1805947

+ 106

N/A

Mar 9, 2023

Thu

179956259

+ 32.8K

1805841

+ 74

N/A

Mar 8, 2023

Wed

179923388

+ 31.7K

1805767

+ 97

N/A

Mar 7, 2023

Tue

179891640

+ 35.2K

1805670

+ 107

N/A

Mar 6, 2023

Mon

179856355

+ 35.1K

1805563

+ 103

N/A

Mar 5, 2023

Sun

179821237

+ 49.7K

1805460

+ 191

N/A

Mar 4, 2023

Sat

179771495

+ 39.4K

1805269

+ 117

N/A

Mar 3, 2023

Fri

179732043

+ 32.4K

1805152

+ 99

N/A

Mar 2, 2023

Thu

179699602

+ 31.6K

1805053

+ 89

N/A

Mar 1, 2023

Wed

179667917

+ 31.6K

1804964

+ 116

N/A

Feb 28, 2023

Tue

179636257

---

1804848

---

---
Embed
To embed this live counts widget on your own webpage? Simply copy and paste following code to your page and enjoy it wherever you want!
Customize Embed
About Kutty Pattas Music Video | Ashwin | Reba John | Venki | Santhosh Dhayanidhi | Sandy

A brilliantly vivid splash of colours and a wildly fun #KuttyPattas composed by the Raati fame #SanthoshDhayanidhi featuring the most exciting cast one could ask for! Is there a better way to head into the weekend? #Ashwin, the current darling of Tamil Television features alongside the stunningly beautiful #RebaJohn in this groovy music video directed by #Venky and choreographed by #Sandy. Watch it here and bring out the moves ! Stream now - https://SMI.lnk.to/KuttyPattas Song - Kutty Pattas Composed by - Santhosh Dhayanidhi Featuring - Ashwin Kumar, Reba Monica John Sung by - Santhosh Dhayanidhi, Rakshita Suresh Lyrics - A.Pa Raja Directed by - Venki Cinematography - Harish Kannan Choreography - Sandy Master Set - Amaran Editing - Krishna Kumar DI - Suresh Ravi Costumes - Sathya NJ Stills - Kiransa Photography PRO - Team Aim Media Produced by - Sony Music Entertainment India Pvt. Ltd In association with - The Route | Noise And Grains Music Label - Sony Music Entertainment India Pvt. Ltd. The Route - Jagadish Palanisamy Content Director Karthik srinivas (NOISE AND GRAINS) Creative Director Dongli Jumbo (NOISE AND GRAINS) Business Director Mahaveer Ashok (NOISE AND GRAINS) Direction Team Senthil Karthik Arasakumar Santhosh Panchatsharam DOP team Priyesh Naveen Rayeez Mugil Asst Choreographer SARA RAJESH Edit Asst. Raja Preethi (NG) NG team Shanmuga Sundaram Sneha R Seshasayee Siva Tamilarasan Vaishali SV Jino Shalom Sindhu Paul Suashish Arun kumaran Adeep darren The Route Team Akshitha Subramanian Aishwarya Suresh Photography Kiran SA MUSIC CREDITS Percussions : Vikram Guitars : Joseph vijay Strings : Chennai strings orchestra Song arranged and programmed by Santhosh Dhayanidhi Music supervisor : Sathish Priyan Mixed by B.Pradeep Menon Mastered by Suresh Permal Mixed and mastered at AM studios Chennai Music co ordinator : David ling Gimbal operator Vivek (tiger) Vishnu (asst) Lighting unit - Ramesh Track & dolly - Mayan Jimmy Jib - Alauddin © 2021 Sony Music Entertainment India Pvt. Ltd. Subscribe Now: http://bit.ly/SonyMusicSouthVevo Subscribe Now: http://bit.ly/SonyMusicSouthYT Follow us: https://www.instagram.com/sonymusic_south/ Follow us: Twitter: https://twitter.com/SonyMusicSouth Like us: Facebook: https://www.facebook.com/SonyMusicSouth
About YouTube Live Subscriber Count

Looking to track YouTube video live view counts in real-time? SocialCounts.org is the perfect destination for all your video tracking needs! Our platform utilizes YouTube's original API and advanced technology to provide nearly accurate estimations of live view counts for any YouTube video.
But that's not all! We also offer a unique comparison feature where you can compare the live view counts of any video with any channel, video, or profile. This makes it easy to compare and analyze the performance of different YouTube videos and channels.
At SocialCounts.org, we're committed to providing you with accurate and up-to-date data analysis for all your video tracking needs. Whether you're a content creator or simply a YouTube enthusiast, our platform is the perfect tool for monitoring the popularity and growth of your favorite videos.
So, if you're looking for a reliable source to track live view counts on YouTube, look no further than SocialCounts.org. Trust us to keep you in the know with real-time data analysis and comparison features.