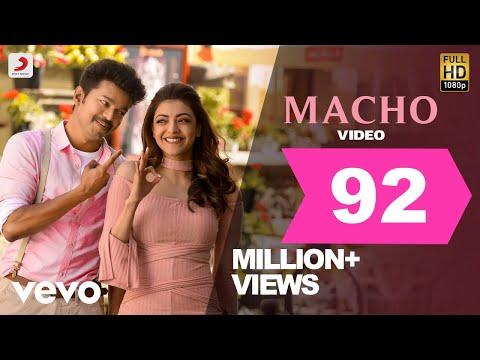 Mersal - Maacho Tamil Video | Vijay, Kajal Aggarwal | A.R. Rahman
94767637
Mersal - Maacho Tamil Video | Vijay, Kajal Aggarwal | A.R. Rahman youtube video stats
Date
Views
Likes
Dislikes

Mar 20, 2023

Mon

94767637

+ 16.8K

441644

+ 100

N/A

Mar 19, 2023

Sun

94750757

+ 18.8K

441544

+ 104

N/A

Mar 18, 2023

Sat

94731886

+ 17.7K

441440

+ 99

N/A

Mar 17, 2023

Fri

94714168

+ 16.1K

441341

+ 80

N/A

Mar 16, 2023

Thu

94698024

+ 15.4K

441261

+ 91

N/A

Mar 15, 2023

Wed

94682617

+ 16.5K

441170

+ 82

N/A

Mar 14, 2023

Tue

94666086

+ 14.8K

441088

+ 79

N/A

Mar 13, 2023

Mon

94651199

+ 15.3K

441009

+ 65

N/A

Mar 12, 2023

Sun

94635890

+ 18.2K

440944

+ 88

N/A

Mar 11, 2023

Sat

94617620

+ 15.7K

440856

+ 69

N/A

Mar 10, 2023

Fri

94601912

+ 14.4K

440787

+ 85

N/A

Mar 9, 2023

Thu

94587418

+ 14.4K

440702

+ 58

N/A

Mar 8, 2023

Wed

94572956

+ 14.5K

440644

+ 82

N/A

Mar 7, 2023

Tue

94558426

+ 14.4K

440562

+ 69

N/A

Mar 6, 2023

Mon

94543928

+ 14.8K

440493

+ 92

N/A

Mar 5, 2023

Sun

94529063

+ 17.9K

440401

+ 109

N/A

Mar 4, 2023

Sat

94511137

+ 16.1K

440292

+ 98

N/A

Mar 3, 2023

Fri

94495031

+ 14.5K

440194

+ 81

N/A

Mar 2, 2023

Thu

94480530

+ 14.1K

440113

+ 57

N/A

Mar 1, 2023

Wed

94466332

+ 14.4K

440056

+ 58

N/A

Feb 28, 2023

Tue

94451924

+ 15.5K

439998

+ 86

N/A

Feb 27, 2023

Mon

94436372

+ 15.2K

439912

+ 92

N/A

Feb 26, 2023

Sun

94421138

+ 19.1K

439820

+ 84

N/A

Feb 25, 2023

Sat

94401985

+ 18.4K

439736

+ 75

N/A

Feb 24, 2023

Fri

94383557

+ 17.3K

439661

+ 95

N/A

Feb 23, 2023

Thu

94366173

+ 16.8K

439566

+ 80

N/A

Feb 22, 2023

Wed

94349322

+ 16.2K

439486

+ 96

N/A

Feb 21, 2023

Tue

94333033

+ 17.3K

439390

+ 111

N/A

Feb 20, 2023

Mon

94315715

+ 17.6K

439279

+ 96

N/A

Feb 19, 2023

Sun

94298032

---

439183

---

---
Embed
To embed this live counts widget on your own webpage? Simply copy and paste following code to your page and enjoy it wherever you want!
Customize Embed
About Mersal - Maacho Tamil Video | Vijay, Kajal Aggarwal | A.R. Rahman

The visuals for the quirky 'Macho' that has an addictive dose of Tanglish lyrics is as vibrant as the track! Featuring 'Thalapathy' Vijay and Kajal Aggarwal, 'Macho' will linger long after you've watched it once! Watch the official Tamil song video from #Mersal. To set this song as you're CALLER Tune For Airtel - Dial 5432116326014 For Vodafone – Dial 5379765732 For Idea – Dial 567899765732 For BSNL – Dial 5679765732 Movie - Mersal Song Name - Macho Starring - Vijay, Samantha, Kajal Aggarwal, Nithya Menen Music - A R Rahman Singers - Sid Sriram, Shweta Mohan Lyrics - Vivek Director - Atlee Producer - Sri Thenandal Films Musicians Mohan Veena - Pandit Vishwa Mohan Bhatt Flute - Naveen Kumar Guitars - Keba Jeremiah, Kabuli Nadaswaram - Thirumurthy Saz & Mandolin - Subani Sitar - Kishore Sarangi - Manonmani Trumpet - Ben Indian Rhythm - T Raja, Kumar, Lakshmi Narayanan, Raju, Vedha, Neelakandan, Hariprasad, Ranjith Tabla - Sai Shravanam Thavil - M VenkateshSubramanian, Kaviraj, S Sundar, Purushothaman Kombu - Alex, Kali, Shankar, Viji Backing Vocals Deepak, Nivas, Santhosh Hariharan, Shenbagaraj, Diwakar, Veena Murali, Maalavika, Deepthi Suresh, Soundarya, Anu Subbhaiya, Vishnupriya, Yaamini, Aishwarya A Kumar, Shilpa Natarajan, Nadisha B.Thomas, Roshini Sharon, Sharanya Gopinath, Shilvi Sharon, Preethy Christopher. Live Strings - Chennai Strings Orchestra / Sunshine Orchestra Conducted by V J Srinivasamurthy, R K Prabhakar Recorded at A M Studios Vocal Arrangement - Arjun Chandy Sound Engineers Panchathan Record Inn, Chennai- Suresh Permal, Karthik Sekaran, T R Krishna Chetan, Srinidhi Venkatesh, Jerry Vincent, Santhosh Dhayanidhi, Vinay Sridhar, Ishaan Chhabra AM Studios, Chennai - S Sivakumar, Kannan Ganpat, Krishnan Subramanian, Pradeep, Manoj, Srinath AR Studios, Mumbai- Nitish R Kumar, Dilshaad Shabbir Sheikh Additional Programming - T R Krishna Chetan, Santhosh Dayanidhi, Kumaran Sivamani, Hari Dafusia Mixed by T R Krishna Chetan Mastered By Suresh Permal Mastered For iTune S Sivakumar Musicians Coordinators - Noell James, Vijay Iyer, TM Faizuddin Musicians Fixer - Samidurai R © 2017 Sony Music Entertainment India Pvt. Ltd. Subscribe: Vevo - http://www.youtube.com/user/sonymusicsouthvevo?sub_confirmation=1 Like us: Facebook: https://www.facebook.com/SonyMusicSouth Follow us: Twitter: https://twitter.com/SonyMusicSouth G+: https://plus.google.com/+SonyMusicIndia
About YouTube Live Subscriber Count

Looking to track YouTube video live view counts in real-time? SocialCounts.org is the perfect destination for all your video tracking needs! Our platform utilizes YouTube's original API and advanced technology to provide nearly accurate estimations of live view counts for any YouTube video.
But that's not all! We also offer a unique comparison feature where you can compare the live view counts of any video with any channel, video, or profile. This makes it easy to compare and analyze the performance of different YouTube videos and channels.
At SocialCounts.org, we're committed to providing you with accurate and up-to-date data analysis for all your video tracking needs. Whether you're a content creator or simply a YouTube enthusiast, our platform is the perfect tool for monitoring the popularity and growth of your favorite videos.
So, if you're looking for a reliable source to track live view counts on YouTube, look no further than SocialCounts.org. Trust us to keep you in the know with real-time data analysis and comparison features.