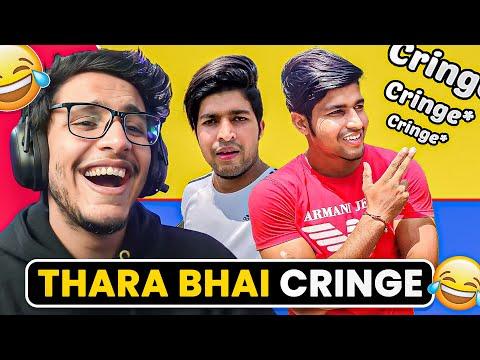 Thara Bhai Joginder is the Funniest Instagram Reeler | Fake Helping Pranksters of Facebook
16813135
Thara Bhai Joginder is the Funniest Instagram Reeler | Fake Helping Pranksters of Facebook youtube video stats
Date
Views
Likes
Dislikes

Mar 29, 2023

Wed

16813135

+ 846

1308176

+ 16

N/A

Mar 28, 2023

Tue

16812289

+ 787

1308160

+ 19

N/A

Mar 27, 2023

Mon

16811502

+ 871

1308141

+ 17

N/A

Mar 26, 2023

Sun

16810631

+ 878

1308124

+ 25

N/A

Mar 25, 2023

Sat

16809753

+ 725

1308099

+ 10

N/A

Mar 24, 2023

Fri

16809028

+ 876

1308089

+ 16

N/A

Mar 23, 2023

Thu

16808152

+ 843

1308073

+ 4

N/A

Mar 22, 2023

Wed

16807309

+ 922

1308069

+ 24

N/A

Mar 21, 2023

Tue

16806387

+ 787

1308045

+ 11

N/A

Mar 20, 2023

Mon

16805600

+ 843

1308034

+ 12

N/A

Mar 19, 2023

Sun

16804757

+ 730

1308022

+ 15

N/A

Mar 18, 2023

Sat

16804027

+ 871

1308007

+ 26

N/A

Mar 17, 2023

Fri

16803156

+ 745

1307981

+ 8

N/A

Mar 16, 2023

Thu

16802411

+ 767

1307973

+ 17

N/A

Mar 15, 2023

Wed

16801644

+ 820

1307956

+ 14

N/A

Mar 14, 2023

Tue

16800824

+ 648

1307942

+ 27

N/A

Mar 13, 2023

Mon

16800176

+ 708

1307915

+ 35

N/A

Mar 12, 2023

Sun

16799468

+ 757

1307880

+ 19

N/A

Mar 11, 2023

Sat

16798711

+ 644

1307861

+ 9

N/A

Mar 10, 2023

Fri

16798067

+ 555

1307852

+ 16

N/A

Mar 9, 2023

Thu

16797512

+ 534

1307836

+ 4

N/A

Mar 8, 2023

Wed

16796978

+ 593

1307832

+ 20

N/A

Mar 7, 2023

Tue

16796385

+ 632

1307812

+ 9

N/A

Mar 6, 2023

Mon

16795753

+ 575

1307803

+ 8

N/A

Mar 5, 2023

Sun

16795178

+ 538

1307795

+ 16

N/A

Mar 4, 2023

Sat

16794640

+ 585

1307779

+ 19

N/A

Mar 3, 2023

Fri

16794055

+ 580

1307760

+ 11

N/A

Mar 2, 2023

Thu

16793475

+ 548

1307749

+ 17

N/A

Mar 1, 2023

Wed

16792927

+ 535

1307732

+ 10

N/A

Feb 28, 2023

Tue

16792392

---

1307722

---

---
Embed
To embed this live counts widget on your own webpage? Simply copy and paste following code to your page and enjoy it wherever you want!
Customize Embed
About Thara Bhai Joginder is the Funniest Instagram Reeler | Fake Helping Pranksters of Facebook

This video is sponsored by Coinswitch. Get the app using my link and get 50 Rupees worth of Bitcoin! https://coinswitch.co/in/refer?tag=PEFQ Subscribe to CoinSwitch Kuber's YouTube channel for more info on Crypto! https://www.youtube.com/c/CoinSwitchKuber Disclaimer: Cryptocurrencies are unregulated in India and subject to market risk. Any trading risk/loss arising out of it will be the sole responsibility of the investor. In this video we are talking about Thara Bhai Joginder and some weird Helping videos. Intro by ShitIndianSays - https://www.facebook.com/ShitIndiansSayInc/ Instagram ► https://www.instagram.com/triggeredinsaan Facebook ► https://www.facebook.com/realtriggeredinsaan Gaming Channel ► https://www.youtube.com/liveinsaan Discord ► https://discord.gg/liveinsaan Twitter ► https://twitter.com/triggeredinsaan About Me ► My name is Nischay Malhan. I'm from Delhi and I'm an engineering student. Now I am pursuing youtube Full Time. I make family friendly clean comedy videos on this channel for everyone to enjoy with their family. You don't need earphones to watch my videos😂 Thanks For Reading😘
About YouTube Live Subscriber Count

Looking to track YouTube video live view counts in real-time? SocialCounts.org is the perfect destination for all your video tracking needs! Our platform utilizes YouTube's original API and advanced technology to provide nearly accurate estimations of live view counts for any YouTube video.
But that's not all! We also offer a unique comparison feature where you can compare the live view counts of any video with any channel, video, or profile. This makes it easy to compare and analyze the performance of different YouTube videos and channels.
At SocialCounts.org, we're committed to providing you with accurate and up-to-date data analysis for all your video tracking needs. Whether you're a content creator or simply a YouTube enthusiast, our platform is the perfect tool for monitoring the popularity and growth of your favorite videos.
So, if you're looking for a reliable source to track live view counts on YouTube, look no further than SocialCounts.org. Trust us to keep you in the know with real-time data analysis and comparison features.