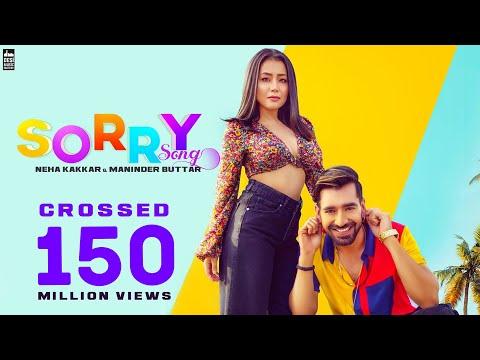 Sorry Song - Neha Kakkar & Maninder Buttar | Babbu | MixSingh | Punjabi Song 2019
208395432
Sorry Song - Neha Kakkar & Maninder Buttar | Babbu | MixSingh | Punjabi Song 2019 youtube video stats
Date
Views
Likes
Dislikes

Mar 20, 2023

Mon

208395432

+ 25.0K

2034119

+ 171

N/A

Mar 19, 2023

Sun

208370358

+ 25.8K

2033948

+ 161

N/A

Mar 18, 2023

Sat

208344534

+ 25.4K

2033787

+ 160

N/A

Mar 17, 2023

Fri

208319074

+ 28.2K

2033627

+ 160

N/A

Mar 16, 2023

Thu

208290865

+ 28.9K

2033467

+ 195

N/A

Mar 15, 2023

Wed

208261882

+ 33.1K

2033272

+ 232

N/A

Mar 14, 2023

Tue

208228761

+ 28.8K

2033040

+ 239

N/A

Mar 13, 2023

Mon

208199877

+ 30.3K

2032801

+ 219

N/A

Mar 12, 2023

Sun

208169526

+ 33.3K

2032582

+ 229

N/A

Mar 11, 2023

Sat

208136191

+ 29.1K

2032353

+ 214

N/A

Mar 10, 2023

Fri

208107015

+ 27.7K

2032139

+ 203

N/A

Mar 9, 2023

Thu

208079285

+ 28.7K

2031936

+ 179

N/A

Mar 8, 2023

Wed

208050551

+ 27.5K

2031757

+ 204

N/A

Mar 7, 2023

Tue

208023044

+ 33.0K

2031553

+ 276

N/A

Mar 6, 2023

Mon

207990037

+ 35.3K

2031277

+ 276

N/A

Mar 5, 2023

Sun

207954684

+ 35.6K

2031001

+ 237

N/A

Mar 4, 2023

Sat

207919073

+ 30.4K

2030764

+ 203

N/A

Mar 3, 2023

Fri

207888616

+ 29.7K

2030561

+ 159

N/A

Mar 2, 2023

Thu

207858882

+ 28.7K

2030402

+ 185

N/A

Mar 1, 2023

Wed

207830127

+ 30.7K

2030217

+ 188

N/A

Feb 28, 2023

Tue

207799397

+ 35.1K

2030029

+ 265

N/A

Feb 27, 2023

Mon

207764282

+ 38.0K

2029764

+ 310

N/A

Feb 26, 2023

Sun

207726204

+ 35.5K

2029454

+ 290

N/A

Feb 25, 2023

Sat

207690605

+ 33.7K

2029164

+ 261

N/A

Feb 24, 2023

Fri

207656850

+ 33.1K

2028903

+ 255

N/A

Feb 23, 2023

Thu

207623699

+ 31.8K

2028648

+ 198

N/A

Feb 22, 2023

Wed

207591868

+ 32.8K

2028450

+ 233

N/A

Feb 21, 2023

Tue

207559018

+ 32.3K

2028217

+ 266

N/A

Feb 20, 2023

Mon

207526707

+ 30.9K

2027951

+ 257

N/A

Feb 19, 2023

Sun

207495764

---

2027694

---

---
Embed
To embed this live counts widget on your own webpage? Simply copy and paste following code to your page and enjoy it wherever you want!
Customize Embed
About Sorry Song - Neha Kakkar & Maninder Buttar | Babbu | MixSingh | Punjabi Song 2019

Anshul Garg Presents Desi Music Factory's 'Sorry Song' by Neha Kakkar & Maninder Buttar Get this track on all leading audio apps - https://backl.ink/11541130 Subscribe to DMF - http://bit.ly/DMF-Subscribe Song Name - Sorry Song Starring - Neha Kakkar & Maninder Buttar Singer - Neha Kakkar & Maninder Buttar Composed by - Maninder Buttar Lyrics - Babbu Music - mixSingh Arranged, Programmed & Mixed by - MixSingh Choreographer - Shyam Yadav. Associate Choreographer - PriyansHu Tyagi Rupali Kantharia. VFX- Prathmesh Chaukekar & Prathmesh Sampada Parab Produced By Anshul Garg Directed By Keoni Marcelo DOP - Mark Hobson Production - Mirror Image Film Production Special Thanks - Raghav Sharma Artist managed by - White Hill Music & Dilip Puhan Online promotions- Being Digital Digital Marketing - Prateek Jain (Gimmick Digital) Distribution - Piyush Chandak Instagram - https://instagram.com/desimusicfactory Facebook - https://www.facebook.com/DesiMusicFactory/ Twitter - https://twitter.com/DesiMFactory TikTok - https://m.tiktok.com/h5/share/usr/6523603637279659023.html Snapchat - DMFRecords #NehaKakkar #ManinderButtar #SorrySong
About YouTube Live Subscriber Count

Looking to track YouTube video live view counts in real-time? SocialCounts.org is the perfect destination for all your video tracking needs! Our platform utilizes YouTube's original API and advanced technology to provide nearly accurate estimations of live view counts for any YouTube video.
But that's not all! We also offer a unique comparison feature where you can compare the live view counts of any video with any channel, video, or profile. This makes it easy to compare and analyze the performance of different YouTube videos and channels.
At SocialCounts.org, we're committed to providing you with accurate and up-to-date data analysis for all your video tracking needs. Whether you're a content creator or simply a YouTube enthusiast, our platform is the perfect tool for monitoring the popularity and growth of your favorite videos.
So, if you're looking for a reliable source to track live view counts on YouTube, look no further than SocialCounts.org. Trust us to keep you in the know with real-time data analysis and comparison features.