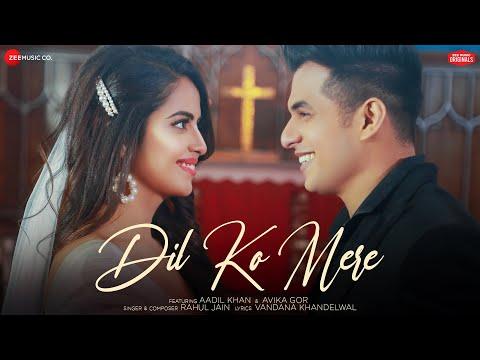 Dil Ko Mere - Aadil Khan & Avika Gor | Rahul Jain | Vandana Khandelwal | Zee Music Originals
16606600
Dil Ko Mere - Aadil Khan & Avika Gor | Rahul Jain | Vandana Khandelwal | Zee Music Originals youtube video stats
Date
Views
Likes
Dislikes

Mar 29, 2023

Wed

16606600

+ 1.26K

285722

+ 12

N/A

Mar 28, 2023

Tue

16605331

+ 1.32K

285710

+ 14

N/A

Mar 27, 2023

Mon

16604006

+ 1.33K

285696

+ 19

N/A

Mar 26, 2023

Sun

16602676

+ 1.34K

285677

+ 20

N/A

Mar 25, 2023

Sat

16601329

+ 1.14K

285657

+ 12

N/A

Mar 24, 2023

Fri

16600188

+ 1.25K

285645

+ 19

N/A

Mar 23, 2023

Thu

16598933

+ 1.29K

285626

+ 15

N/A

Mar 22, 2023

Wed

16597636

+ 1.49K

285611

+ 23

N/A

Mar 21, 2023

Tue

16596140

+ 1.54K

285588

+ 18

N/A

Mar 20, 2023

Mon

16594597

+ 1.56K

285570

+ 19

N/A

Mar 19, 2023

Sun

16593030

+ 1.53K

285551

+ 10

N/A

Mar 18, 2023

Sat

16591498

+ 1.59K

285541

+ 13

N/A

Mar 17, 2023

Fri

16589905

+ 1.68K

285528

+ 4

N/A

Mar 16, 2023

Thu

16588223

+ 1.84K

285524

+ 23

N/A

Mar 15, 2023

Wed

16586382

+ 1.86K

285501

+ 19

N/A

Mar 14, 2023

Tue

16584519

+ 1.70K

285482

+ 26

N/A

Mar 13, 2023

Mon

16582816

+ 1.67K

285456

+ 18

N/A

Mar 12, 2023

Sun

16581140

+ 1.82K

285438

+ 18

N/A

Mar 11, 2023

Sat

16579313

+ 1.48K

285420

+ 20

N/A

Mar 10, 2023

Fri

16577831

+ 1.55K

285400

+ 10

N/A

Mar 9, 2023

Thu

16576277

+ 1.56K

285390

+ 12

N/A

Mar 8, 2023

Wed

16574711

+ 1.34K

285378

+ 16

N/A

Mar 7, 2023

Tue

16573371

+ 1.42K

285362

+ 14

N/A

Mar 6, 2023

Mon

16571943

+ 1.62K

285348

+ 15

N/A

Mar 5, 2023

Sun

16570314

+ 1.61K

285333

+ 21

N/A

Mar 4, 2023

Sat

16568695

+ 1.53K

285312

+ 19

N/A

Mar 3, 2023

Fri

16567162

+ 1.57K

285293

+ 9

N/A

Mar 2, 2023

Thu

16565586

+ 1.77K

285284

+ 17

N/A

Mar 1, 2023

Wed

16563808

+ 1.63K

285267

+ 19

N/A

Feb 28, 2023

Tue

16562173

---

285248

---

---
Embed
To embed this live counts widget on your own webpage? Simply copy and paste following code to your page and enjoy it wherever you want!
Customize Embed
About Dil Ko Mere - Aadil Khan & Avika Gor | Rahul Jain | Vandana Khandelwal | Zee Music Originals

👉🏻 SUBSCRIBE to Zee Music Company - https://bit.ly/2yPcBkS To Stream & Download Full Song: Gaana - https://bit.ly/33O0K2B JioSaavn - https://bit.ly/3omc6nW Wynk Music - https://bit.ly/3om59TO iTunes - https://apple.co/33L4rGm Apple Music - https://apple.co/33L4rGm Amazon Prime Music - https://amzn.to/3ykfBzS Hungama - https://bit.ly/2SKJ59F Spotify - https://spoti.fi/3bwiPGu YouTube Music - https://bit.ly/3eRAieX Resso - https://bit.ly/3bspAt2 Singer & Composer: Rahul Jain Lyrics: Vandana Khandelwal Featuring: Aadil Khan & Avika Gor A Artists Garage Production: Director: Prince 810 Associate Director: Karan Maini Creative Director: Parteek Bangia Cheif AD: Gagan Ubhi AD's: Sahib Singh, wishvas Khorra, Sandal Deep Costume: Joy Narang Manisha Mallikarjun Stylist Preesha Costume Makeup: Honey Kalsi & Team Art: Visual Creative Box Executive Producer - Karan Walia,Kanchan Thakur Casting Team : The MAD influence & Team Artists Garage Line production: Rakheja & Rammy Singh Himachal production: Tarun Mehra Vi Customers Set this song as Callertune by clicking on below link: https://vicallertunes.in/home Music on Zee Music Company Connect with us on : Twitter - https://www.twitter.com/ZeeMusicCompany Facebook - https://www.facebook.com/zeemusiccompany Instagram - https://www.instagram.com/zeemusiccompany YouTube - http://bit.ly/TYZMC
About YouTube Live Subscriber Count

Looking to track YouTube video live view counts in real-time? SocialCounts.org is the perfect destination for all your video tracking needs! Our platform utilizes YouTube's original API and advanced technology to provide nearly accurate estimations of live view counts for any YouTube video.
But that's not all! We also offer a unique comparison feature where you can compare the live view counts of any video with any channel, video, or profile. This makes it easy to compare and analyze the performance of different YouTube videos and channels.
At SocialCounts.org, we're committed to providing you with accurate and up-to-date data analysis for all your video tracking needs. Whether you're a content creator or simply a YouTube enthusiast, our platform is the perfect tool for monitoring the popularity and growth of your favorite videos.
So, if you're looking for a reliable source to track live view counts on YouTube, look no further than SocialCounts.org. Trust us to keep you in the know with real-time data analysis and comparison features.