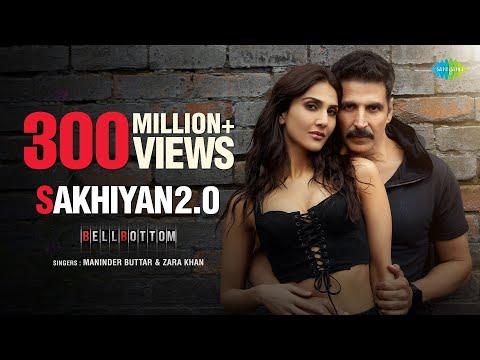 Sakhiyan2.0 | Akshay Kumar | Vaani Kapoor |BellBottom| Tanishk B | Babbu | Maninder Buttar| Zara K
273924447
Sakhiyan2.0 | Akshay Kumar | Vaani Kapoor |BellBottom| Tanishk B | Babbu | Maninder Buttar| Zara K youtube video stats
Date
Views
Likes
Dislikes

Mar 29, 2023

Wed

273924447

+ 58.2K

2326632

+ 313

N/A

Mar 28, 2023

Tue

273866234

+ 57.8K

2326319

+ 319

N/A

Mar 27, 2023

Mon

273808395

+ 55.3K

2326000

+ 240

N/A

Mar 26, 2023

Sun

273753051

+ 62.1K

2325760

+ 262

N/A

Mar 25, 2023

Sat

273690877

+ 56.9K

2325498

+ 260

N/A

Mar 24, 2023

Fri

273633950

+ 58.7K

2325238

+ 271

N/A

Mar 23, 2023

Thu

273575215

+ 58.9K

2324967

+ 281

N/A

Mar 22, 2023

Wed

273516277

+ 62.2K

2324686

+ 306

N/A

Mar 21, 2023

Tue

273454053

+ 61.8K

2324380

+ 305

N/A

Mar 20, 2023

Mon

273392224

+ 62.6K

2324075

+ 272

N/A

Mar 19, 2023

Sun

273329606

+ 67.6K

2323803

+ 320

N/A

Mar 18, 2023

Sat

273261953

+ 65.9K

2323483

+ 307

N/A

Mar 17, 2023

Fri

273196044

+ 64.7K

2323176

+ 325

N/A

Mar 16, 2023

Thu

273131264

+ 64.8K

2322851

+ 278

N/A

Mar 15, 2023

Wed

273066416

+ 68.5K

2322573

+ 289

N/A

Mar 14, 2023

Tue

272997906

+ 57.4K

2322284

+ 263

N/A

Mar 13, 2023

Mon

272940416

+ 63.5K

2322021

+ 290

N/A

Mar 12, 2023

Sun

272876860

+ 76.6K

2321731

+ 346

N/A

Mar 11, 2023

Sat

272800220

+ 71.5K

2321385

+ 370

N/A

Mar 10, 2023

Fri

272728632

+ 68.9K

2321015

+ 353

N/A

Mar 9, 2023

Thu

272659688

+ 70.1K

2320662

+ 328

N/A

Mar 8, 2023

Wed

272589547

+ 68.8K

2320334

+ 354

N/A

Mar 7, 2023

Tue

272520719

+ 71.3K

2319980

+ 297

N/A

Mar 6, 2023

Mon

272449405

+ 72.2K

2319683

+ 335

N/A

Mar 5, 2023

Sun

272377205

+ 80.0K

2319348

+ 380

N/A

Mar 4, 2023

Sat

272297166

+ 78.0K

2318968

+ 358

N/A

Mar 3, 2023

Fri

272219162

+ 74.3K

2318610

+ 340

N/A

Mar 2, 2023

Thu

272144790

+ 79.1K

2318270

+ 339

N/A

Mar 1, 2023

Wed

272065622

+ 75.7K

2317931

+ 359

N/A

Feb 28, 2023

Tue

271989864

---

2317572

---

---
Embed
To embed this live counts widget on your own webpage? Simply copy and paste following code to your page and enjoy it wherever you want!
Customize Embed
About Sakhiyan2.0 | Akshay Kumar | Vaani Kapoor |BellBottom| Tanishk B | Babbu | Maninder Buttar| Zara K

Groove to "Sakhiyan2.0" a peppy romantic song from the movie "BellBottom" starring Akshay Kumar, Vaani Kapoor, Huma Qureshi, and Lara Dutta. The song is sung by "Maninder Buttar" & "Zara Khan", music by "Maninder Buttar & Tanishk Bagchi", and the lyrics are also penned by "Babbu, Maninder Buttar & Tanishk Bagchi". For more such latest songs subscribe to our channel https://youtube.com/c/SaregamaMusic Now streaming on all your favorite platforms: Gaana:- https://gaana.com/song/sakhiyan-20 Wynk:- https://bit.ly/3yPEinO Spotify:- https://spoti.fi/3xCG6is JioSaavn:- https://bit.ly/3yVuatm Amazon Prime Music:- https://amzn.to/2VMOTRB Resso:- https://m.resso.app/ZSJnmPaHf/ YT Music:- https://bit.ly/3iJ5RcC Song Credits: Song name:- Sakhiyan2.0 Composer:- Maninder Buttar Music:- Maninder Buttar & Tanishk Bagchi Singer:- Maninder Buttar & Zara Khan Lyrics:- Babbu, Maninder Buttar & Tanishk Bagchi Music Team: Original Soundtrack, Theme Written and Composed:- Maninder Buttar Original Lyrics:- Babbu Original Music Composed, Arranged & Produced by:- MixSingh Song Arranged, Programmed & Sound Design by:- Tanishk Bagchi Song Mixed and Mastered by:- Eric Pillai @ (Future Sound of Bombay) Assistant Mix Engineer:- Michael Edwin Pillai Song editor:- Nitin FCP Maninder Buttar's Management:- Katalyst Entertainment #Sakhiyan2.0 #AkshayKumar #SaregamaMusic #BellBottom #VaaniKapoor #ManinderButtar #TanishkBagchi #ZaraKhan #HumaQureshi #LaraDutta #DanceSongs #TrendingSongs2022 #PunjabiSongs #SakhiyanRemix Lyrics: Sakhiyaan ne mainu mehne maar diyan Uddiyan ne channa gallan pyar diyan Shaam nu tu kithe kihde naal hona aan Vekhiyan main photoan bekaar diyan Mainu dar jeha lagda ae Dil tutt na jaaye vichara Tere yaar bathere ne Mera tu hi ae bas yaara Chup chup ke teri khabar main rakhta Ik tere naal hi toh pyaar main karta Jab main akele mujhe yaad teri aati hai Jhoothi jhoothi baatein teri mujhko satati hain Kabhi kabhi filman Kabhi kabhi film dikha deya kar Ho kabhi kabhi mainu vi khuma leya kar Tujhse kabhi jo rooth jau ik baar Aake mujhe tu mana leya kar Tu jis gal ton roke Main gal na kara doobara Tere yaar bathere ne Mera tu hi ae bas yaara Kari na please aisi gall kise naal Aaj kise naal ne jo kal kise naal Tere naal hona ae ghuzara jatti da Mera nahio hor koyi hal kise naal Ik paase tu babbu Ik passe hai jag saara Tere yaar bathere ne Mera tu hi ae bas yaara Label:: Saregama India Ltd, A RPSG Group Company To buy the original and virus free track, visit www.saregama.com Follow us on: YouTube: http://www.youtube.com/saregamamusic Facebook: http://www.facebook.com/Saregama Instagram: https://www.instagram.com/saregama_official/ Check out Saregama's profile on Josh: https://bit.ly/2SV9kdI Create your videos on Josh and tag Saregama: https://m.myjosh.in/6OaT/32e07bf Create your videos on Moj and tag Saregama: https://mojapp.in/@saregamaindia Create your videos on Triller and tag Saregama: https://triller.co/@saregamamusic Twitter: https://twitter.com/saregamaglobal
About YouTube Live Subscriber Count

Looking to track YouTube video live view counts in real-time? SocialCounts.org is the perfect destination for all your video tracking needs! Our platform utilizes YouTube's original API and advanced technology to provide nearly accurate estimations of live view counts for any YouTube video.
But that's not all! We also offer a unique comparison feature where you can compare the live view counts of any video with any channel, video, or profile. This makes it easy to compare and analyze the performance of different YouTube videos and channels.
At SocialCounts.org, we're committed to providing you with accurate and up-to-date data analysis for all your video tracking needs. Whether you're a content creator or simply a YouTube enthusiast, our platform is the perfect tool for monitoring the popularity and growth of your favorite videos.
So, if you're looking for a reliable source to track live view counts on YouTube, look no further than SocialCounts.org. Trust us to keep you in the know with real-time data analysis and comparison features.