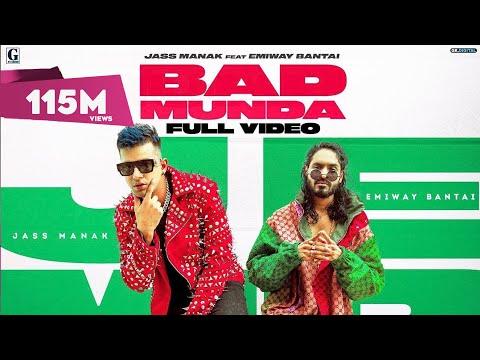 BAD MUNDA : Jass Manak Ft. Emiway Bantai (Full Video) Satti Dhillon | Deep Jandu | GK | Geet MP3
93972498
BAD MUNDA : Jass Manak Ft. Emiway Bantai (Full Video) Satti Dhillon | Deep Jandu | GK | Geet MP3 youtube video stats
Date
Views
Likes
Dislikes

Mar 20, 2023

Mon

93972498

+ 48.8K

1849137

+ 498

N/A

Mar 19, 2023

Sun

93923677

+ 51.1K

1848639

+ 542

N/A

Mar 18, 2023

Sat

93872556

+ 51.1K

1848097

+ 519

N/A

Mar 17, 2023

Fri

93821367

+ 49.6K

1847578

+ 513

N/A

Mar 16, 2023

Thu

93771693

+ 51.3K

1847065

+ 575

N/A

Mar 15, 2023

Wed

93720393

+ 56.6K

1846490

+ 625

N/A

Mar 14, 2023

Tue

93663721

+ 49.5K

1845865

+ 577

N/A

Mar 13, 2023

Mon

93614183

+ 53.9K

1845288

+ 632

N/A

Mar 12, 2023

Sun

93560253

+ 60.3K

1844656

+ 702

N/A

Mar 11, 2023

Sat

93499858

+ 55.9K

1843954

+ 699

N/A

Mar 10, 2023

Fri

93443936

+ 50.5K

1843255

+ 608

N/A

Mar 9, 2023

Thu

93393368

+ 53.0K

1842647

+ 632

N/A

Mar 8, 2023

Wed

93340309

+ 52.3K

1842015

+ 655

N/A

Mar 7, 2023

Tue

93288004

+ 54.6K

1841360

+ 686

N/A

Mar 6, 2023

Mon

93233401

+ 56.6K

1840674

+ 673

N/A

Mar 5, 2023

Sun

93176782

+ 59.8K

1840001

+ 812

N/A

Mar 4, 2023

Sat

93116909

+ 53.6K

1839189

+ 639

N/A

Mar 3, 2023

Fri

93063261

+ 51.6K

1838550

+ 626

N/A

Mar 2, 2023

Thu

93011575

+ 52.3K

1837924

+ 575

N/A

Mar 1, 2023

Wed

92959224

+ 53.7K

1837349

+ 678

N/A

Feb 28, 2023

Tue

92905456

+ 57.0K

1836671

+ 642

N/A

Feb 27, 2023

Mon

92848394

+ 55.5K

1836029

+ 727

N/A

Feb 26, 2023

Sun

92792834

+ 61.5K

1835302

+ 798

N/A

Feb 25, 2023

Sat

92731277

+ 57.1K

1834504

+ 711

N/A

Feb 24, 2023

Fri

92674100

+ 56.8K

1833793

+ 684

N/A

Feb 23, 2023

Thu

92617266

+ 57.4K

1833109

+ 727

N/A

Feb 22, 2023

Wed

92559801

+ 62.2K

1832382

+ 839

N/A

Feb 21, 2023

Tue

92497528

+ 62.2K

1831543

+ 812

N/A

Feb 20, 2023

Mon

92435300

+ 58.1K

1830731

+ 788

N/A

Feb 19, 2023

Sun

92377155

---

1829943

---

---
Embed
To embed this live counts widget on your own webpage? Simply copy and paste following code to your page and enjoy it wherever you want!
Customize Embed
About BAD MUNDA : Jass Manak Ft. Emiway Bantai (Full Video) Satti Dhillon | Deep Jandu | GK | Geet MP3

Geet MP3 & GK Digital Presenting Jass Manak's New Album "Bad Munda" And Here Is Official Video Of Title Track Full Album is Out Now Everywhere, Listen And Enjoy Subscribe To Our Channel For Fresh Songs: http://bit.ly/SubscribeGEETMP3 Original Album Available On Spotify : https://bit.ly/BadMundaOnSpotify Apple Music : https://bit.ly/BadMundaonAppleMusic iTunes : https://apple.co/3k7VuP2 Wynk : https://bit.ly/BadMundaOnWynk Hungama : https://bit.ly/BadMundaOnHungama JioSaavn : https://bit.ly/BadMundaOnJioSaavn Resso App : https://bit.ly/BadMundaOnRessoApp Youtube Music : https://bit.ly/BadMundaOnYoutubeMusic Prime Music India : https://bit.ly/BadMundaOnPrimeMusicIndia Amazon : https://bit.ly/BadMundaOnAmazon Album : Bad Munda Song : Bad Munda Singer : Jass Manak Lyrics : Jass Manak Composer : Jass Manak Rap & Featuring : Emiway Bantai Rap Lyrics : Emiway Bantai Emiway Bantai Management : Zain Syed & Sanjay Sosa Music : Deep Jandu Female Lead : Srijan Director : Satti Dhillon Dop : Vikcee Editor : Adele Pereira Choreographer : Sahaj Singh Dancers Costume : Jitan Kaur Assistant Director : Sumit Kumar & Aashish Prasad Colorist : Ercan Kucuk Steadicam : Amaninder Singh Art Director : Mr Blacc Hairstylist : Ali khan Assistant Choreographer : Prianka Mitra & Pranjal Dutta Stills & Photography : Shivam Photography Styled By : Priyaana Thapar & Slay King Jib Operator : Manish Arora Line Producer : Fateh Film Production & MK Film Production & Prasar Bhaiti Poster Designer : The Town Media Artist Management : Gurbaksh Dhillon Produced By : Kv Dhillon Online & Reels Promotions : GK Digital Music Label : Geet MP3 Music Consultant & Digital Partner : GK Digital Instagram: https://www.instagram.com/GK.DIGITAL Enjoy & Stay Connected With Us 📲 Website: http://GeetMP3.com YouTube : https://www.youtube.com/c/GeetMP3 Facebook : https://www.facebook.com/iGeetMP3 Instagram : https://www.instagram.com/GeetMP3 Twitter : https://twitter.com/GeetMP3 SnapChat : https://www.snapchat.com/add/GeetMP3
About YouTube Live Subscriber Count

Looking to track YouTube video live view counts in real-time? SocialCounts.org is the perfect destination for all your video tracking needs! Our platform utilizes YouTube's original API and advanced technology to provide nearly accurate estimations of live view counts for any YouTube video.
But that's not all! We also offer a unique comparison feature where you can compare the live view counts of any video with any channel, video, or profile. This makes it easy to compare and analyze the performance of different YouTube videos and channels.
At SocialCounts.org, we're committed to providing you with accurate and up-to-date data analysis for all your video tracking needs. Whether you're a content creator or simply a YouTube enthusiast, our platform is the perfect tool for monitoring the popularity and growth of your favorite videos.
So, if you're looking for a reliable source to track live view counts on YouTube, look no further than SocialCounts.org. Trust us to keep you in the know with real-time data analysis and comparison features.