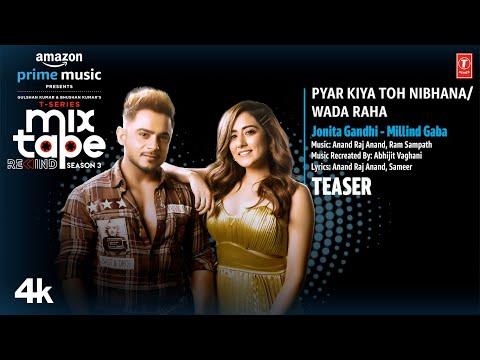 Pyar Kiya Toh Nibhana/ Wada Raha Teaser Ep-6 | Jonita G, Millind G | T-Series Mixtape S3 | 4 August
1075338
Pyar Kiya Toh Nibhana/ Wada Raha Teaser Ep-6 | Jonita G, Millind G | T-Series Mixtape S3 | 4 August youtube video stats
Date
Views
Likes
Dislikes

Mar 29, 2023

Wed

1075338

+ 1

38053

0

N/A

Mar 28, 2023

Tue

1075337

+ 2

38053

0

N/A

Mar 27, 2023

Mon

1075335

0

38053

- 1

N/A

Mar 26, 2023

Sun

1075335

0

38054

0

N/A

Mar 25, 2023

Sat

1075335

+ 2

38054

0

N/A

Mar 24, 2023

Fri

1075333

+ 2

38054

0

N/A

Mar 23, 2023

Thu

1075331

+ 2

38054

0

N/A

Mar 22, 2023

Wed

1075329

+ 1

38054

- 1

N/A

Mar 21, 2023

Tue

1075328

0

38055

0

N/A

Mar 20, 2023

Mon

1075328

0

38055

0

N/A

Mar 19, 2023

Sun

1075328

0

38055

0

N/A

Mar 18, 2023

Sat

1075328

+ 4

38055

- 3

N/A

Mar 17, 2023

Fri

1075324

+ 2

38058

- 1

N/A

Mar 16, 2023

Thu

1075322

+ 1

38059

0

N/A

Mar 15, 2023

Wed

1075321

+ 2

38059

0

N/A

Mar 14, 2023

Tue

1075319

+ 2

38059

- 1

N/A

Mar 13, 2023

Mon

1075317

+ 1

38060

0

N/A

Mar 12, 2023

Sun

1075316

+ 1

38060

0

N/A

Mar 11, 2023

Sat

1075315

+ 1

38060

- 1

N/A

Mar 10, 2023

Fri

1075314

+ 1

38061

- 1

N/A

Mar 9, 2023

Thu

1075313

+ 1

38062

0

N/A

Mar 8, 2023

Wed

1075312

0

38062

0

N/A

Mar 7, 2023

Tue

1075312

+ 3

38062

- 1

N/A

Mar 6, 2023

Mon

1075309

+ 1

38063

- 1

N/A

Mar 5, 2023

Sun

1075308

+ 3

38064

0

N/A

Mar 4, 2023

Sat

1075305

+ 3

38064

0

N/A

Mar 3, 2023

Fri

1075302

0

38064

0

N/A

Mar 2, 2023

Thu

1075302

+ 1

38064

0

N/A

Mar 1, 2023

Wed

1075301

+ 1

38064

- 1

N/A

Feb 28, 2023

Tue

1075300

---

38065

---

---
Embed
To embed this live counts widget on your own webpage? Simply copy and paste following code to your page and enjoy it wherever you want!
Customize Embed
About Pyar Kiya Toh Nibhana/ Wada Raha Teaser Ep-6 | Jonita G, Millind G | T-Series Mixtape S3 | 4 August

Presenting the teaser of Episode - 6, Pyar Kiya Toh Nibhana/Wada Raha from the T-Series Mixtape Rewind Season 3, sung by Jonita Gandhi & Millind Gaba. The music for this series is recreated by Abhijit Vaghani and the series is produced by Bhushan Kumar and Directed by Ahmed Khan (Paperdoll Entertainment). The 6th episode Releasing on Wednesday, 4 August 2021, and also Streaming first on Amazon Prime Music. Amazon Prime Music presents Gulshan Kumar & Bhushan Kumar's T-Series Mixtape Rewind Season 3 - Rewind to Nostalgia. T-Series Mixtape Rewind Season 3 has 10 songs, 20 singers, one mixtape. #TSeriesMixtapeRewindSeason3 #AmazonMusicMixtapeRewind #PyarKiyaTohNibhanaWada Raha Produced By: Bhushan Kumar Directed By: Ahmed Khan (Paperdoll Entertainment) Associate & 2nd unit Director: Adnan A. Shaikh DOP: Farooque Khan Music Recreated By: Abhijit Vaghani Conceptualized & Developed By: Sonal Chawla, Raj Chanana, Shivam Chanana & Vivin Sachdeva Creative Assistant and Project Coordinator: Parmita Mathur Project Coordinator to Abhijit Vaghani: Mahima Batra Music Assistance to Abhijit Vaghani: Jay Mehta Team AV: Nikita Kulkarni and Vedika Oberai Mixed and Mastered by: Aftab Khan at Headroom Studio Mix Assistant: Vatsal Chevli Rehearsed at- T-SERIES Studios Recorded By - Surajit Ghosh Mazumdar, Dattaray Narvekar Executive Producer: Sunita Prashant Tripathi Production Designer: Prabhat Thakur Production Head: Mithilesh Kamath Production Manager: Kashif Shaikh & Mishika Gupta Assistant Director: Akshaii Hariharan Editor: Sachin Tiwari and Abhay Sethi DI and Online Edit: After Play Studio (Maddy) President Digital & Legal: Neeraj Kalyan President Marketing, Media & Publishing: Vinod Bhanushali Senior Vice President Films: Shiv Chanana Marketing Team: Bhavesh Bhanushali, Pooja Vora, Rajendram Akula, Shivam Chanana T-series Production Team: Prashant Shetty, Andrew D'Souza, Sana Shaikh, Aditya Joshi, Monisha Suvarna, Minali Bhatia, and Parmita Mathur T-Series Digital Team (Mumbai): Prashant Shetty, Andrew D'Souza, Sana Shaikh, Aditya Joshi T-Series Digital Team (Delhi): Varun Arora, Juhi Singh, Akanksha Gupta Chaudhary, Garishma Gandhi T-Series Editing Team: Rishi Neupane, Vivek Shevade, Hayat Hussain, Sharat Kanchan T-Series Design Team: Sunil Kumar Sharma, Dhananjay Pant Talent Management Team: Monisha Suvarna and Minali Bhatia ___________________________________ Enjoy & stay connected with us! 👉 Subscribe to T-Series: http://bit.ly/TSeriesYouTube 👉 Like us on Facebook: https://www.facebook.com/tseriesmusic 👉 Follow us on Twitter: https://twitter.com/tseries 👉 Follow us on Instagram: http://bit.ly/InstagramTseries
About YouTube Live Subscriber Count

Looking to track YouTube video live view counts in real-time? SocialCounts.org is the perfect destination for all your video tracking needs! Our platform utilizes YouTube's original API and advanced technology to provide nearly accurate estimations of live view counts for any YouTube video.
But that's not all! We also offer a unique comparison feature where you can compare the live view counts of any video with any channel, video, or profile. This makes it easy to compare and analyze the performance of different YouTube videos and channels.
At SocialCounts.org, we're committed to providing you with accurate and up-to-date data analysis for all your video tracking needs. Whether you're a content creator or simply a YouTube enthusiast, our platform is the perfect tool for monitoring the popularity and growth of your favorite videos.
So, if you're looking for a reliable source to track live view counts on YouTube, look no further than SocialCounts.org. Trust us to keep you in the know with real-time data analysis and comparison features.