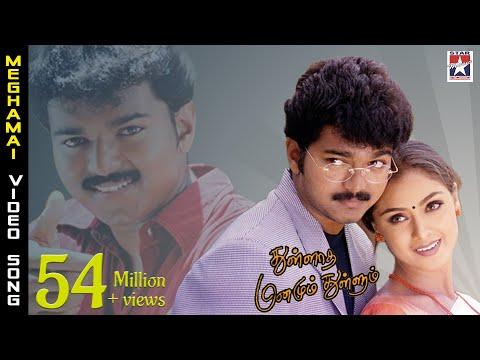 Thullatha Manamum Thullum Movie | Meghamai Vanthu Pogiren Video Song | Vijay | Simran | SA Rajkumar
59853370
Thullatha Manamum Thullum Movie | Meghamai Vanthu Pogiren Video Song | Vijay | Simran | SA Rajkumar youtube video stats
Date
Views
Likes
Dislikes

Mar 25, 2023

Sat

59853370

+ 13.3K

194729

+ 55

N/A

Mar 24, 2023

Fri

59839981

+ 13.7K

194674

+ 53

N/A

Mar 23, 2023

Thu

59826262

+ 12.8K

194621

+ 61

N/A

Mar 22, 2023

Wed

59813381

+ 15.3K

194560

+ 54

N/A

Mar 21, 2023

Tue

59798062

+ 14.8K

194506

+ 57

N/A

Mar 20, 2023

Mon

59783205

+ 14.2K

194449

+ 54

N/A

Mar 19, 2023

Sun

59768975

+ 15.9K

194395

+ 46

N/A

Mar 18, 2023

Sat

59753014

+ 14.8K

194349

+ 67

N/A

Mar 17, 2023

Fri

59738136

+ 14.0K

194282

+ 71

N/A

Mar 16, 2023

Thu

59724082

+ 12.8K

194211

+ 68

N/A

Mar 15, 2023

Wed

59711263

+ 13.3K

194143

+ 70

N/A

Mar 14, 2023

Tue

59697880

+ 12.5K

194073

+ 48

N/A

Mar 13, 2023

Mon

59685348

+ 13.3K

194025

+ 74

N/A

Mar 12, 2023

Sun

59672010

+ 15.6K

193951

+ 89

N/A

Mar 11, 2023

Sat

59656378

+ 14.9K

193862

+ 65

N/A

Mar 10, 2023

Fri

59641437

+ 14.2K

193797

+ 68

N/A

Mar 9, 2023

Thu

59627183

+ 14.6K

193729

+ 79

N/A

Mar 8, 2023

Wed

59612521

+ 14.4K

193650

+ 50

N/A

Mar 7, 2023

Tue

59598071

+ 12.6K

193600

+ 59

N/A

Mar 6, 2023

Mon

59585388

+ 13.3K

193541

+ 73

N/A

Mar 5, 2023

Sun

59572017

+ 14.6K

193468

+ 76

N/A

Mar 4, 2023

Sat

59557321

+ 13.6K

193392

+ 63

N/A

Mar 3, 2023

Fri

59543707

+ 12.2K

193329

+ 55

N/A

Mar 2, 2023

Thu

59531415

+ 14.2K

193274

+ 66

N/A

Mar 1, 2023

Wed

59517170

+ 14.5K

193208

+ 67

N/A

Feb 28, 2023

Tue

59502572

+ 14.0K

193141

+ 61

N/A

Feb 27, 2023

Mon

59488491

+ 14.8K

193080

+ 75

N/A

Feb 26, 2023

Sun

59473603

+ 15.0K

193005

+ 73

N/A

Feb 25, 2023

Sat

59458586

+ 16.0K

192932

+ 57

N/A

Feb 24, 2023

Fri

59442510

---

192875

---

---
Embed
To embed this live counts widget on your own webpage? Simply copy and paste following code to your page and enjoy it wherever you want!
Customize Embed
About Thullatha Manamum Thullum Movie | Meghamai Vanthu Pogiren Video Song | Vijay | Simran | SA Rajkumar

Thullatha Manamum Thullum Tamil Movie Songs HD, Meghamai Vanthu Pogiren Video Song featuring Vijay and Simran on Star Music India. Music composed by SA Rajkumar, directed by Ezhil and produced by R.B. Choudary. Song: Meghamai Vanthu Pogiren Singer: Rajesh Krishnan Lyrics: Vairamuthu Thullatha Manamum Thullum Tamil movie also stars Manivannan, Dhamu, Vaiyapuri and Madhan Bob among others. Click here to Watch: Azhagiya Tamil Magan Movie Songs HD http://bit.ly/1M8mftw Mazhai Tamil Movie Songs HD http://bit.ly/1o5wzwf Vaanam Tamil Movie Songs HD http://bit.ly/1QO4f9T February 14 Tamil Movie Songs HD http://bit.ly/1TH88Dh Little John Tamil Movie Songs http://bit.ly/1RvTxnE For more Star Music India songs, video songs and lyrical songs : Subscribe - http://goo.gl/2rRoc0 Like -https://www.facebook.com/StarMusicIndiaOfficial Follow -https://twitter.com/starmusic1997
About YouTube Live Subscriber Count

Looking to track YouTube video live view counts in real-time? SocialCounts.org is the perfect destination for all your video tracking needs! Our platform utilizes YouTube's original API and advanced technology to provide nearly accurate estimations of live view counts for any YouTube video.
But that's not all! We also offer a unique comparison feature where you can compare the live view counts of any video with any channel, video, or profile. This makes it easy to compare and analyze the performance of different YouTube videos and channels.
At SocialCounts.org, we're committed to providing you with accurate and up-to-date data analysis for all your video tracking needs. Whether you're a content creator or simply a YouTube enthusiast, our platform is the perfect tool for monitoring the popularity and growth of your favorite videos.
So, if you're looking for a reliable source to track live view counts on YouTube, look no further than SocialCounts.org. Trust us to keep you in the know with real-time data analysis and comparison features.