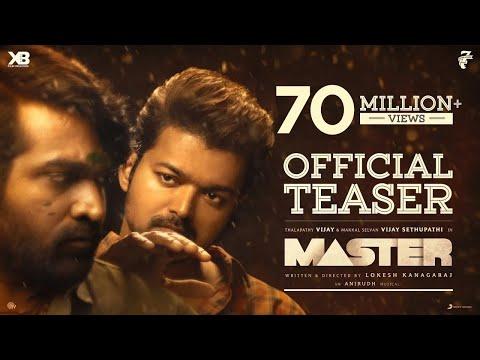 Master - Official Teaser | Thalapathy Vijay | Anirudh Ravichander | Lokesh Kanagaraj
75828097
Master - Official Teaser | Thalapathy Vijay | Anirudh Ravichander | Lokesh Kanagaraj youtube video stats
Date
Views
Likes
Dislikes

Mar 29, 2023

Wed

75828097

+ 4.28K

2856650

+ 28

N/A

Mar 28, 2023

Tue

75823811

+ 4.33K

2856622

+ 35

N/A

Mar 27, 2023

Mon

75819481

+ 4.18K

2856587

+ 40

N/A

Mar 26, 2023

Sun

75815294

+ 5.40K

2856547

+ 59

N/A

Mar 25, 2023

Sat

75809888

+ 4.77K

2856488

+ 43

N/A

Mar 24, 2023

Fri

75805109

+ 5.01K

2856445

+ 41

N/A

Mar 23, 2023

Thu

75800096

+ 4.25K

2856404

+ 63

N/A

Mar 22, 2023

Wed

75795844

+ 4.91K

2856341

+ 55

N/A

Mar 21, 2023

Tue

75790929

+ 4.59K

2856286

+ 50

N/A

Mar 20, 2023

Mon

75786335

+ 4.66K

2856236

+ 46

N/A

Mar 19, 2023

Sun

75781674

+ 5.9K

2856190

+ 66

N/A

Mar 18, 2023

Sat

75775774

+ 5.25K

2856124

+ 62

N/A

Mar 17, 2023

Fri

75770520

+ 5.08K

2856062

+ 73

N/A

Mar 16, 2023

Thu

75765435

+ 5.24K

2855989

+ 37

N/A

Mar 15, 2023

Wed

75760188

+ 5.27K

2855952

+ 68

N/A

Mar 14, 2023

Tue

75754917

+ 4.51K

2855884

+ 64

N/A

Mar 13, 2023

Mon

75750406

+ 4.30K

2855820

+ 58

N/A

Mar 12, 2023

Sun

75746098

+ 5.18K

2855762

+ 53

N/A

Mar 11, 2023

Sat

75740912

+ 4.65K

2855709

+ 39

N/A

Mar 10, 2023

Fri

75736255

+ 4.25K

2855670

+ 45

N/A

Mar 9, 2023

Thu

75732005

+ 4.48K

2855625

+ 38

N/A

Mar 8, 2023

Wed

75727520

+ 4.80K

2855587

+ 48

N/A

Mar 7, 2023

Tue

75722715

+ 4.68K

2855539

+ 39

N/A

Mar 6, 2023

Mon

75718027

+ 4.18K

2855500

+ 58

N/A

Mar 5, 2023

Sun

75713838

+ 5.20K

2855442

+ 66

N/A

Mar 4, 2023

Sat

75708632

+ 4.94K

2855376

+ 62

N/A

Mar 3, 2023

Fri

75703687

+ 4.40K

2855314

+ 68

N/A

Mar 2, 2023

Thu

75699286

+ 4.72K

2855246

+ 20

N/A

Mar 1, 2023

Wed

75694563

+ 5.36K

2855226

+ 82

N/A

Feb 28, 2023

Tue

75689200

---

2855144

---

---
Embed
To embed this live counts widget on your own webpage? Simply copy and paste following code to your page and enjoy it wherever you want!
Customize Embed
About Master - Official Teaser | Thalapathy Vijay | Anirudh Ravichander | Lokesh Kanagaraj

Master - Starring Thalapathy Vijay, Vijay Sethupathi, Malavika Mohanan, Andrea Jeremiah, Shanthanu Bhagyaraj, Arjun Das Written & Directed by Lokesh Kanagaraj Produced by Xavier Britto Co-Produced by Lalit Kumar & Jagadish Palanisamy Music - Anirudh Ravichander DOP - Sathyan Sooryan Art Director - Sathees Kumar Editor - Philomin Raj Lyrics - Arunraja Kamaraj, Vigneshshivn, Vishnu Edavan, Arivu Stunts - Stunt Silva Choreography - Dinesh, Sathish Executive Producer - R Udayakumar Managers - KTS.Swaminathan, Balamurugan, Viswanathan, Jeyaprakash, Suresh Kanagaraj Sound Design - Sync Cinema Sound Mix - Kannan Ganpat Costume Designer - Pallavi Singh Chief Make-Up Artist - P.Nagaraj & Preethi Sheel Costumer - V.Sai DI - Igene VFX - Unifi Media DI Colorist - Ranga Publicity Design - Gopi Prasannaa Stills - Maneksha PRO - Riaz K Ahmed Music on - Sony Music Entertainment Asso. Directors - Magesh Balasubramaniam, Santhosh Krishnan, Sathya, Venki, Logi, Vishnu Edavan #MasterOfficialTeaser #ThalapathyVijay #SunTV #VijaySethupathi #Lokeshkanagaraj #AnirudhRavichander #XavierBritto #MalavikaMohanan #AndreaJeremiah
About YouTube Live Subscriber Count

Looking to track YouTube video live view counts in real-time? SocialCounts.org is the perfect destination for all your video tracking needs! Our platform utilizes YouTube's original API and advanced technology to provide nearly accurate estimations of live view counts for any YouTube video.
But that's not all! We also offer a unique comparison feature where you can compare the live view counts of any video with any channel, video, or profile. This makes it easy to compare and analyze the performance of different YouTube videos and channels.
At SocialCounts.org, we're committed to providing you with accurate and up-to-date data analysis for all your video tracking needs. Whether you're a content creator or simply a YouTube enthusiast, our platform is the perfect tool for monitoring the popularity and growth of your favorite videos.
So, if you're looking for a reliable source to track live view counts on YouTube, look no further than SocialCounts.org. Trust us to keep you in the know with real-time data analysis and comparison features.