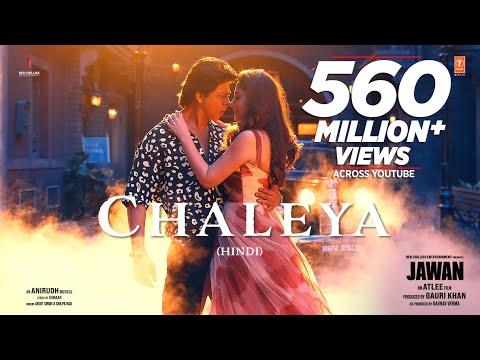 JAWAN: Chaleya (Hindi) | Shah Rukh Khan | Nayanthara | Atlee | Anirudh | Arijit S, Shilpa R | Kumaar
107415531
JAWAN: Chaleya (Hindi) | Shah Rukh Khan | Nayanthara | Atlee | Anirudh | Arijit S, Shilpa R | Kumaar youtube video stats
Date
Views
Likes
Dislikes

Sep 27, 2023

Wed

107415531

+ 22.5K

1874014

+ 100

N/A

Sep 26, 2023

Tue

107393002

+ 2.31M

1873914

+ 20.6K

N/A

Sep 25, 2023

Mon

105079733

+ 2.07M

1853283

+ 22.9K

N/A

Sep 24, 2023

Sun

103002142

+ 2.52M

1830301

+ 27.4K

N/A

Sep 23, 2023

Sat

100481763

+ 2.45M

1802810

+ 27.2K

N/A

Sep 22, 2023

Fri

98028749

+ 2.64M

1775568

+ 26.6K

N/A

Sep 21, 2023

Thu

95381602

+ 2.68M

1748956

+ 28.2K

N/A

Sep 20, 2023

Wed

92691823

+ 2.73M

1720710

+ 28.9K

N/A

Sep 19, 2023

Tue

89959999

+ 2.61M

1691759

+ 29.9K

N/A

Sep 18, 2023

Mon

87343067

+ 2.26M

1661849

+ 30.7K

N/A

Sep 17, 2023

Sun

85074621

+ 2.51M

1631107

+ 35.9K

N/A

Sep 16, 2023

Sat

82560719

+ 2.62M

1595110

+ 37.6K

N/A

Sep 15, 2023

Fri

79940617

+ 2.22M

1557484

+ 33.8K

N/A

Sep 14, 2023

Thu

77716389

+ 2.48M

1523595

+ 33.9K

N/A

Sep 13, 2023

Wed

75227003

+ 2.44M

1489663

+ 34.4K

N/A

Sep 12, 2023

Tue

72786548

+ 2.26M

1455191

+ 32.8K

N/A

Sep 11, 2023

Mon

70525332

+ 2.34M

1422323

+ 35.6K

N/A

Sep 10, 2023

Sun

68184537

+ 2.77M

1386684

+ 43.3K

N/A

Sep 9, 2023

Sat

65406897

+ 2.38M

1343371

+ 39.7K

N/A

Sep 8, 2023

Fri

63022389

+ 1.87M

1303620

+ 34.6K

N/A

Sep 7, 2023

Thu

61150913

+ 1.56M

1269010

+ 28.3K

N/A

Sep 6, 2023

Wed

59586021

+ 1.29M

1240684

+ 23.0K

N/A

Sep 5, 2023

Tue

58292549

+ 1.37M

1217587

+ 22.7K

N/A

Sep 4, 2023

Mon

56918186

+ 1.38M

1194807

+ 20.9K

N/A

Sep 3, 2023

Sun

55528576

+ 1.59M

1173899

+ 23.8K

N/A

Sep 2, 2023

Sat

53938322

+ 1.36M

1150067

+ 20.6K

N/A

Sep 1, 2023

Fri

52574870

+ 1.28M

1129459

+ 21.2K

N/A

Aug 31, 2023

Thu

51292168

+ 1.09M

1108216

+ 21.7K

N/A

Aug 30, 2023

Wed

50196321

+ 1.16M

1086469

+ 20.1K

N/A

Aug 29, 2023

Tue

49030434

---

1066356

---

---
Embed
To embed this live counts widget on your own webpage? Simply copy and paste following code to your page and enjoy it wherever you want!
Customize Embed
About JAWAN: Chaleya (Hindi) | Shah Rukh Khan | Nayanthara | Atlee | Anirudh | Arijit S, Shilpa R | Kumaar

Witness the love with Chaleya, presenting the second song from the highly-awaited film Jawan directed by Atlee. The film stars Shah Rukh Khan, Vijay Sethupathi, Nayanthara, and Deepika Padukone (in a special appearance) and is set to release in cinemas on 7th September 2023 in Hindi, Tamil, and Telugu! ♪Full Song Available on♪ JioSaavn: https://bit.ly/3qnuDpw Spotify: https://bit.ly/3QDV9Wf Hungama: https://bit.ly/47yXKqn Apple Music: https://bit.ly/3qurl3H Amazon Prime Music: https://bit.ly/446PPhk Wynk: https://bit.ly/47wE1aT Resso: https://bit.ly/3YF4hMo YouTube Music: https://bit.ly/45q64H5 Movie Credits: Starring Shah Rukh Khan, Nayanthara, Vijay Sethupathi, And Deepika Padukone (In A Special Appearance) Directed By - Atlee Produced By - Gauri Khan Co-Produced By - Gaurav Verma DOP - GK Vishnu Editor - Ruben Production Designer - T Muthuraj Music Credits Song Title - Chaleya Album / Movie - Jawan Composed By - Anirudh Ravichander Lyrics - Kumaar Vocals - Arijit Singh & Shilpa Rao Choreographer - Farah Khan Composed, Arranged & Programmed by Anirudh Ravichander Keyboard, Synth & Rhythm Programmed by Anirudh Ravichander Rhythm Produced by Shashank Vijay Additional Keyboard Programmed by Arish-Pradeep PJ Music Advisor - Ananthakrrishnan Creative Consultant - Sajith Satya Music Editor - Harish Ram L H Recorded at Albuquerque Records, Chennai. Engineered by Srinivasan M, Shivakiran S, Rajesh Kannan Arijit Singh vocals Recorded by Sukanto Singha Mixed by Vinay Sridhar & Srinivasan M at Albuquerque Records, Chennai Mastered by Luca Pretolesi at Studio DMI, Las Vegas Assisted by Alistair Pintus Music Coordinator - Velavan B Visual Promotions - Ruben Trailer House Visual promotion team : Newton Prabhu and Srihari ___________________________________ Enjoy & stay connected with us! 👉 Subscribe to T-Series: http://bit.ly/TSeriesYouTube 👉 Like us on Facebook: https://www.facebook.com/tseriesmusic 👉 Follow us on Twitter: https://twitter.com/tseries 👉 Follow us on Instagram: http://bit.ly/InstagramTseries
About YouTube Live Subscriber Count

Looking to track YouTube video live view counts in real-time? SocialCounts.org is the perfect destination for all your video tracking needs! Our platform utilizes YouTube's original API and advanced technology to provide nearly accurate estimations of live view counts for any YouTube video.
But that's not all! We also offer a unique comparison feature where you can compare the live view counts of any video with any channel, video, or profile. This makes it easy to compare and analyze the performance of different YouTube videos and channels.
At SocialCounts.org, we're committed to providing you with accurate and up-to-date data analysis for all your video tracking needs. Whether you're a content creator or simply a YouTube enthusiast, our platform is the perfect tool for monitoring the popularity and growth of your favorite videos.
So, if you're looking for a reliable source to track live view counts on YouTube, look no further than SocialCounts.org. Trust us to keep you in the know with real-time data analysis and comparison features.