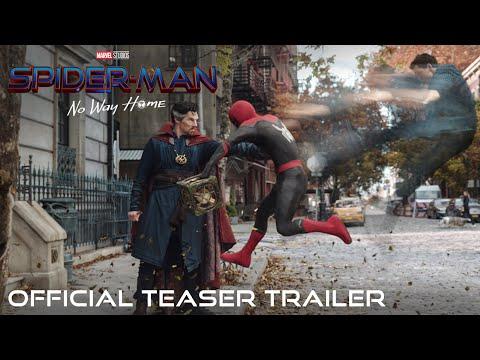 SPIDER-MAN: NO WAY HOME - Official Teaser Trailer
28516066
SPIDER-MAN: NO WAY HOME - Official Teaser Trailer youtube video stats
Date
Views
Likes
Dislikes

Mar 20, 2023

Mon

28516066

+ 280

1493932

- 8

N/A

Mar 19, 2023

Sun

28515786

+ 299

1493940

- 13

N/A

Mar 18, 2023

Sat

28515487

+ 307

1493953

- 13

N/A

Mar 17, 2023

Fri

28515180

+ 253

1493966

- 10

N/A

Mar 16, 2023

Thu

28514927

+ 249

1493976

- 5

N/A

Mar 15, 2023

Wed

28514678

+ 324

1493981

- 9

N/A

Mar 14, 2023

Tue

28514354

+ 312

1493990

- 13

N/A

Mar 13, 2023

Mon

28514042

+ 348

1494003

- 7

N/A

Mar 12, 2023

Sun

28513694

+ 408

1494010

- 21

N/A

Mar 11, 2023

Sat

28513286

+ 1.17K

1494031

- 5

N/A

Mar 10, 2023

Fri

28512112

+ 3.57K

1494036

+ 1

N/A

Mar 9, 2023

Thu

28508533

+ 3.24K

1494035

- 5

N/A

Mar 8, 2023

Wed

28505293

+ 4.71K

1494040

+ 3

N/A

Mar 7, 2023

Tue

28500582

+ 5.98K

1494037

+ 4

N/A

Mar 6, 2023

Mon

28494602

+ 4.00K

1494033

+ 6

N/A

Mar 5, 2023

Sun

28490596

+ 4.20K

1494027

+ 2

N/A

Mar 4, 2023

Sat

28486395

+ 3.69K

1494025

+ 7

N/A

Mar 3, 2023

Fri

28482700

+ 2.83K

1494018

+ 3

N/A

Mar 2, 2023

Thu

28479870

+ 4.55K

1494015

- 2

N/A

Mar 1, 2023

Wed

28475315

+ 2.22K

1494017

- 2

N/A

Feb 28, 2023

Tue

28473086

+ 303

1494019

- 13

N/A

Feb 27, 2023

Mon

28472783

+ 271

1494032

- 16

N/A

Feb 26, 2023

Sun

28472512

+ 375

1494048

- 15

N/A

Feb 25, 2023

Sat

28472137

+ 323

1494063

- 11

N/A

Feb 24, 2023

Fri

28471814

+ 314

1494074

- 1

N/A

Feb 23, 2023

Thu

28471500

+ 263

1494075

- 12

N/A

Feb 22, 2023

Wed

28471237

+ 263

1494087

- 10

N/A

Feb 21, 2023

Tue

28470974

+ 323

1494097

- 17

N/A

Feb 20, 2023

Mon

28470651

+ 293

1494114

- 18

N/A

Feb 19, 2023

Sun

28470358

---

1494132

---

---
Embed
To embed this live counts widget on your own webpage? Simply copy and paste following code to your page and enjoy it wherever you want!
Customize Embed
About SPIDER-MAN: NO WAY HOME - Official Teaser Trailer

What just happened? Watch the official teaser trailer for #SpiderManNoWayHome, exclusively in movie theaters December 17. Visit the site: https://www.SpiderManNoWayHome.Movie Follow on Social: https://www.facebook.com/SpiderManMovie https://www.instagram.com/SpiderManMovie https://www.twitter.com/SpiderManMovie https://www.tiktok.com/@SpiderManMovie https://www.youtube.com/SpiderMan For the first time in the cinematic history of Spider-Man, our friendly neighborhood hero is unmasked and no longer able to separate his normal life from the high-stakes of being a Super Hero. When he asks for help from Doctor Strange the stakes become even more dangerous, forcing him to discover what it truly means to be Spider-Man. Directed by: Jon Watts Written by: Chris McKenna & Erik Sommers Based on the MARVEL Comic Book by: Stan Lee and Steve Ditko Produced by: Kevin Feige Amy Pascal Executive Producers: Louis D'Esposito Victoria Alonso JoAnn Perritano Rachel O'Connor Avi Arad Matt Tolmach Cast: Tom Holland Zendaya Benedict Cumberbatch Jon Favreau Jacob Batalon with Marisa Tomei ► Watch Marvel on Disney+: https://bit.ly/2XyBSIW ► Subscribe to Marvel on YouTube: http://bit.ly/WeO3YJ Follow Marvel on Twitter: ‪https://twitter.com/marvel Like Marvel on Facebook: ‪https://www.facebook.com/marvel Watch Marvel on Twitch: https://www.twitch.tv/marvel Reward your Marvel fandom by joining Marvel Insider! Earn points, then redeem for awesome rewards. Terms and conditions apply. Learn more at https://www.marvel.com/insider?Osocial=YT&CID=MarvelInsider For even more news, stay tuned to: Tumblr: ‪http://marvelentertainment.tumblr.com/ Instagram: https://www.instagram.com/marvel Pinterest: ‪http://pinterest.com/marvelofficial Reddit: http://reddit.com/u/marvel-official
About YouTube Live Subscriber Count

Looking to track YouTube video live view counts in real-time? SocialCounts.org is the perfect destination for all your video tracking needs! Our platform utilizes YouTube's original API and advanced technology to provide nearly accurate estimations of live view counts for any YouTube video.
But that's not all! We also offer a unique comparison feature where you can compare the live view counts of any video with any channel, video, or profile. This makes it easy to compare and analyze the performance of different YouTube videos and channels.
At SocialCounts.org, we're committed to providing you with accurate and up-to-date data analysis for all your video tracking needs. Whether you're a content creator or simply a YouTube enthusiast, our platform is the perfect tool for monitoring the popularity and growth of your favorite videos.
So, if you're looking for a reliable source to track live view counts on YouTube, look no further than SocialCounts.org. Trust us to keep you in the know with real-time data analysis and comparison features.