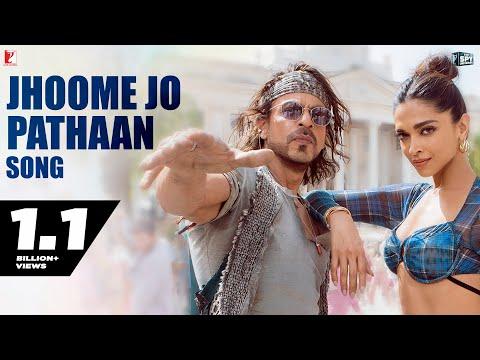 Jhoome Jo Pathaan Song | Shah Rukh Khan, Deepika | Vishal & Sheykhar, Arijit Singh, Sukriti, Kumaar
411532448
Jhoome Jo Pathaan Song | Shah Rukh Khan, Deepika | Vishal & Sheykhar, Arijit Singh, Sukriti, Kumaar youtube video stats
Date
Views
Likes
Dislikes

Mar 29, 2023

Wed

411532448

+ 1.01M

4569180

+ 4.61K

N/A

Mar 28, 2023

Tue

410521005

+ 2.16M

4564569

+ 9.76K

N/A

Mar 27, 2023

Mon

408359147

+ 2.12M

4554804

+ 9.99K

N/A

Mar 26, 2023

Sun

406238411

+ 2.55M

4544810

+ 12.6K

N/A

Mar 25, 2023

Sat

403679957

+ 2.35M

4532112

+ 11.1K

N/A

Mar 24, 2023

Fri

401323920

+ 2.30M

4520917

+ 11.2K

N/A

Mar 23, 2023

Thu

399021845

+ 2.87M

4509705

+ 12.2K

N/A

Mar 22, 2023

Wed

396142006

+ 3.11M

4497496

+ 14.0K

N/A

Mar 21, 2023

Tue

393029304

+ 2.94M

4483469

+ 12.9K

N/A

Mar 20, 2023

Mon

390079456

+ 3.07M

4470525

+ 12.7K

N/A

Mar 19, 2023

Sun

387007975

+ 3.68M

4457763

+ 15.3K

N/A

Mar 18, 2023

Sat

383324493

+ 3.42M

4442414

+ 14.5K

N/A

Mar 17, 2023

Fri

379904480

+ 3.05M

4427897

+ 13.4K

N/A

Mar 16, 2023

Thu

376847414

+ 3.16M

4414431

+ 13.7K

N/A

Mar 15, 2023

Wed

373678110

+ 3.61M

4400719

+ 14.3K

N/A

Mar 14, 2023

Tue

370064437

+ 2.73M

4386342

+ 14.3K

N/A

Mar 13, 2023

Mon

367334186

+ 3.04M

4371998

+ 14.7K

N/A

Mar 12, 2023

Sun

364289209

+ 4.08M

4357293

+ 16.8K

N/A

Mar 11, 2023

Sat

360200978

+ 3.53M

4340396

+ 16.8K

N/A

Mar 10, 2023

Fri

356667796

+ 2.95M

4323575

+ 16.0K

N/A

Mar 9, 2023

Thu

353713793

+ 3.40M

4307504

+ 15.7K

N/A

Mar 8, 2023

Wed

350312988

+ 3.68M

4291758

+ 18.0K

N/A

Mar 7, 2023

Tue

346628766

+ 3.49M

4273746

+ 17.2K

N/A

Mar 6, 2023

Mon

343137226

+ 3.48M

4256533

+ 17.4K

N/A

Mar 5, 2023

Sun

339656921

+ 4.19M

4239112

+ 20.6K

N/A

Mar 4, 2023

Sat

335466220

+ 3.77M

4218484

+ 20.4K

N/A

Mar 3, 2023

Fri

331691985

+ 3.49M

4198021

+ 18.9K

N/A

Mar 2, 2023

Thu

328201414

+ 3.75M

4179063

+ 20.0K

N/A

Mar 1, 2023

Wed

324448831

+ 3.90M

4158966

+ 19.1K

N/A

Feb 28, 2023

Tue

320544074

---

4139767

---

---
Embed
To embed this live counts widget on your own webpage? Simply copy and paste following code to your page and enjoy it wherever you want!
Customize Embed
About Jhoome Jo Pathaan Song | Shah Rukh Khan, Deepika | Vishal & Sheykhar, Arijit Singh, Sukriti, Kumaar

Can't stop ourselves from vibing to this absolute banger! 🕺💃 #JhoomeJoPathaan Book your tickets NOW! BookMyShow: https://bookmy.show/Pathaan | Paytm: https://m.paytm.me/pathaan Celebrate #Pathaan with YRF50 only at a big screen near you in Hindi, Tamil and Telugu. ► Subscribe Now: https://goo.gl/xs3mrY 🔔 Stay updated! ► YRF New Releases: https://www.youtube.com/playlist?list=PLCB05E03DA939D484 🎧 Song Credits: Music: Vishal and Sheykhar Lyrics: Kumaar Singers: Arijit Singh, Sukriti Kakar, Vishal and Sheykhar Director of Choreography: Bosco-Caesar Recording At: YRF Studios (Abhishek Khandelwal, Chinmay Mestry, Dileep Nair) Mixed By: Abhishek Khandelwal (YRF Studios), Dileep Nair (Assistant Mixing Engineer - YRF Studios) Mastered By: Gethin John (Hafod Mastering, Wales UK) Additional Music Credits: Song Editor: Adele Pereira Song Arranged By: Meghdeep Bose Guitar: Meghdeep Bose Stay in the filmy loop: ► Like us on Facebook: Facebook/yrf ► Follow us on Twitter: Twitter/yrf ► Follow us on Instagram: Instagram/yrf ► Visit us on: yashrajfilms.com 🎬 Movie Credits: Starring: Shah Rukh Khan, Deepika Padukone, John Abraham Director: Siddharth Anand Producer: Aditya Chopra Director of Photography: Satchith Paulose Music: Vishal and Sheykhar Lyrics: Kumaar Story: Siddharth Anand Screenplay: Shridhar Raghavan Dialogues: Abbas Tyrewala Executive Producer: Padam Bhushan Production Designer: Rajat Poddar Editor: Aarif Sheikh Director of Choreography: Vaibhavi Merchant, Bosco-Caesar Sound: Manas Choudhury, Ganesh Gangadharan Background Music: Sanchit Balhara, Ankit Balhara Action Directors: Casey O'Neill, Craig Macrae, Sunil Rodrigues [ROD] Costume Designers: Shaleena Nathani, Mamta Anand, Niharika Jolly Visual Effects Studio: yFX Casting Director: Shanoo Sharma Release Date: 25 January 2023 #pathaan #jhoomejopathaan #yrfnewreleases #yrf #yrf50 #yashraj #yashrajfilms #yrfmovies #yrfmusic #yashchopra #adityachopra #shahrukhkhan #deepikapadukone #johnabraham #siddharthanand #kumaar #vishaldadlani #sheykharravjiani #arijitsingh #sukritikakar #boscocaesar #song #bollywoodmusic #newsong #pathaansong #jhoomejopathaan © Yash Raj Films Pvt. Ltd.
About YouTube Live Subscriber Count

Looking to track YouTube video live view counts in real-time? SocialCounts.org is the perfect destination for all your video tracking needs! Our platform utilizes YouTube's original API and advanced technology to provide nearly accurate estimations of live view counts for any YouTube video.
But that's not all! We also offer a unique comparison feature where you can compare the live view counts of any video with any channel, video, or profile. This makes it easy to compare and analyze the performance of different YouTube videos and channels.
At SocialCounts.org, we're committed to providing you with accurate and up-to-date data analysis for all your video tracking needs. Whether you're a content creator or simply a YouTube enthusiast, our platform is the perfect tool for monitoring the popularity and growth of your favorite videos.
So, if you're looking for a reliable source to track live view counts on YouTube, look no further than SocialCounts.org. Trust us to keep you in the know with real-time data analysis and comparison features.