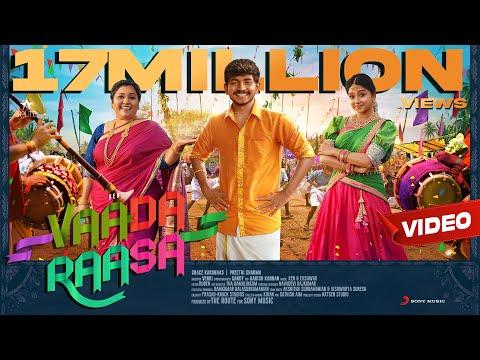 Vaada Raasa | Ken | Grace Karunaas | Preethi Sharma | Eshwar | Venki l #4KHDR
22122829
Vaada Raasa | Ken | Grace Karunaas | Preethi Sharma | Eshwar | Venki l #4KHDR youtube video stats
Date
Views
Likes
Dislikes

Mar 24, 2023

Fri

22122829

+ 2.09K

272563

+ 21

N/A

Mar 23, 2023

Thu

22120730

+ 1.77K

272542

+ 15

N/A

Mar 22, 2023

Wed

22118958

+ 2.01K

272527

+ 17

N/A

Mar 21, 2023

Tue

22116943

+ 1.74K

272510

+ 23

N/A

Mar 20, 2023

Mon

22115203

+ 1.72K

272487

+ 13

N/A

Mar 19, 2023

Sun

22113481

+ 1.96K

272474

+ 17

N/A

Mar 18, 2023

Sat

22111512

+ 1.88K

272457

+ 22

N/A

Mar 17, 2023

Fri

22109629

+ 1.72K

272435

+ 19

N/A

Mar 16, 2023

Thu

22107900

+ 1.71K

272416

+ 19

N/A

Mar 15, 2023

Wed

22106183

+ 1.80K

272397

+ 14

N/A

Mar 14, 2023

Tue

22104382

+ 1.55K

272383

+ 7

N/A

Mar 13, 2023

Mon

22102831

+ 1.53K

272376

+ 16

N/A

Mar 12, 2023

Sun

22101295

+ 2.02K

272360

+ 15

N/A

Mar 11, 2023

Sat

22099273

+ 1.80K

272345

+ 14

N/A

Mar 10, 2023

Fri

22097465

+ 1.61K

272331

+ 16

N/A

Mar 9, 2023

Thu

22095850

+ 1.53K

272315

+ 10

N/A

Mar 8, 2023

Wed

22094311

+ 1.44K

272305

+ 12

N/A

Mar 7, 2023

Tue

22092862

+ 1.44K

272293

+ 9

N/A

Mar 6, 2023

Mon

22091417

+ 1.35K

272284

+ 18

N/A

Mar 5, 2023

Sun

22090066

+ 1.65K

272266

+ 25

N/A

Mar 4, 2023

Sat

22088415

+ 1.66K

272241

+ 12

N/A

Mar 3, 2023

Fri

22086752

+ 1.58K

272229

+ 18

N/A

Mar 2, 2023

Thu

22085172

+ 1.57K

272211

+ 17

N/A

Mar 1, 2023

Wed

22083597

+ 1.53K

272194

+ 17

N/A

Feb 28, 2023

Tue

22082067

+ 1.43K

272177

+ 14

N/A

Feb 27, 2023

Mon

22080637

+ 1.42K

272163

+ 16

N/A

Feb 26, 2023

Sun

22079215

+ 1.77K

272147

+ 11

N/A

Feb 25, 2023

Sat

22077438

+ 1.74K

272136

+ 9

N/A

Feb 24, 2023

Fri

22075690

+ 1.75K

272127

+ 15

N/A

Feb 23, 2023

Thu

22073940

---

272112

---

---
Embed
To embed this live counts widget on your own webpage? Simply copy and paste following code to your page and enjoy it wherever you want!
Customize Embed
About Vaada Raasa | Ken | Grace Karunaas | Preethi Sharma | Eshwar | Venki l #4KHDR

The moment is here! Arguably one of the most exciting new musical talents #Ken & Eshwar present to you #VaadaRaasa, a meaningfully written dance heavy, Groove rich Folk POP song that talks about being in touch with one's roots no matter what the times are. The track also features the powerhouse singer Grace Karunaas on the vocals alongside the gorgeous #PreethiSharma in the video . Do not miss out on the fun and do make some noise about the song ! Stream now - https://SMI.lnk.to/VaadaRaasa Song Title : Vaada Raasa Music Composed, Arranged & Lyrics Written by Ken & Eshwar Vocals - Ken & Grace Karunaas Video Credits: Director : Venki Cinematography: Harish Kannan Choreography: Sandy Editor: Ruben Cast: Preethi Sharma, Ken, Grace Karunaas Art Direction: Tha. Ramalingam Direction Team: Senthil Rajamani, Abhilash, Karthik, Santhosh Asst. Editor: Aushwanth Sivakumar Costume Designer: Navadevi Rajkumar Executive ProduceR: Ramkumar Balasubramanian Colorist: Prasad Somasekar DI: Knack Studios The Route Team: Jagadish Akshitha Subramanian Aishwarya Suresh Stills - KiranSa PRO - Team AIM Music Produced by Sebastian Sathish Rhythm & Percussions - Kumaran SS, MT Aditya, and Barath Dhanasekar Assisted by Vijay Anand Tavil - Silambarasan Acoustic & Electric Guitars - Vijay Ganesan Nadaswaram - Balasubramaniam Bass Guitar - Mani Backing Vocals - Eshwar, Jai & Karpagam Recorded at OffBeat Music Ventures, Engineered by Aswin 20dB Sound Studios, Engineered by - Kashyap 2Keys Recording Studio, Engineered by Rajesh Kannan 2bar Q Studios,Engineered by Kashyap Vanajkesav Digi Audio Waves, Engineered by KK Senthil Prasath Mixed by Srinivasan M Mastered by Shadab Rayeen at New Edge Studios, Mumbai Mastered for iTunes by Shadab Rayeen Music Label - Sony Music Entertainment India Pvt. Ltd. Music Label - Sony Music Entertainment India Pvt. Ltd. © 2021 Sony Music Entertainment India Pvt. Ltd. Subscribe Now: http://bit.ly/SonyMusicSouthVevo Subscribe Now: http://bit.ly/SonyMusicSouthYT Follow us: https://www.instagram.com/sonymusic_south/ Follow us: Twitter: https://twitter.com/SonyMusicSouth Like us: Facebook: https://www.facebook.com/SonyMusicSouth
About YouTube Live Subscriber Count

Looking to track YouTube video live view counts in real-time? SocialCounts.org is the perfect destination for all your video tracking needs! Our platform utilizes YouTube's original API and advanced technology to provide nearly accurate estimations of live view counts for any YouTube video.
But that's not all! We also offer a unique comparison feature where you can compare the live view counts of any video with any channel, video, or profile. This makes it easy to compare and analyze the performance of different YouTube videos and channels.
At SocialCounts.org, we're committed to providing you with accurate and up-to-date data analysis for all your video tracking needs. Whether you're a content creator or simply a YouTube enthusiast, our platform is the perfect tool for monitoring the popularity and growth of your favorite videos.
So, if you're looking for a reliable source to track live view counts on YouTube, look no further than SocialCounts.org. Trust us to keep you in the know with real-time data analysis and comparison features.