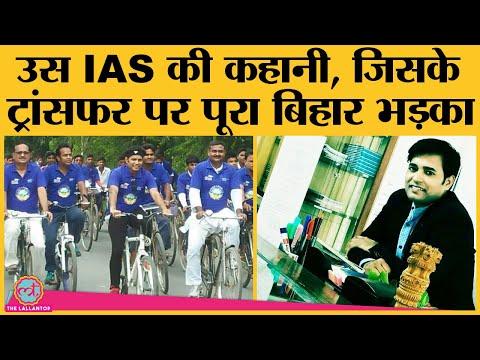 Bihar के IAS Dr Ranjit Singh का Transfer रोकने के लिए Twitter पर क्यों जुटे लोग? | Nitish Kumar
98022
Bihar के IAS Dr Ranjit Singh का Transfer रोकने के लिए Twitter पर क्यों जुटे लोग? | Nitish Kumar youtube video stats
Date
Views
Likes
Dislikes

Mar 24, 2023

Fri

98022

+ 9

4298

0

N/A

Mar 23, 2023

Thu

98013

+ 14

4298

0

N/A

Mar 22, 2023

Wed

97999

+ 6

4298

0

N/A

Mar 21, 2023

Tue

97993

+ 11

4298

0

N/A

Mar 20, 2023

Mon

97982

+ 16

4298

0

N/A

Mar 19, 2023

Sun

97966

+ 16

4298

+ 1

N/A

Mar 18, 2023

Sat

97950

+ 18

4297

- 1

N/A

Mar 17, 2023

Fri

97932

+ 15

4298

+ 1

N/A

Mar 16, 2023

Thu

97917

+ 14

4297

0

N/A

Mar 15, 2023

Wed

97903

+ 12

4297

0

N/A

Mar 14, 2023

Tue

97891

+ 7

4297

+ 1

N/A

Mar 13, 2023

Mon

97884

+ 4

4296

0

N/A

Mar 12, 2023

Sun

97880

+ 4

4296

+ 1

N/A

Mar 11, 2023

Sat

97876

+ 10

4295

0

N/A

Mar 10, 2023

Fri

97866

+ 10

4295

0

N/A

Mar 9, 2023

Thu

97856

+ 16

4295

0

N/A

Mar 8, 2023

Wed

97840

+ 9

4295

0

N/A

Mar 7, 2023

Tue

97831

+ 10

4295

0

N/A

Mar 6, 2023

Mon

97821

+ 10

4295

0

N/A

Mar 5, 2023

Sun

97811

+ 10

4295

0

N/A

Mar 4, 2023

Sat

97801

+ 15

4295

+ 1

N/A

Mar 3, 2023

Fri

97786

+ 8

4294

- 1

N/A

Mar 2, 2023

Thu

97778

+ 7

4295

0

N/A

Mar 1, 2023

Wed

97771

+ 8

4295

0

N/A

Feb 28, 2023

Tue

97763

+ 12

4295

0

N/A

Feb 27, 2023

Mon

97751

+ 9

4295

0

N/A

Feb 26, 2023

Sun

97742

+ 7

4295

0

N/A

Feb 25, 2023

Sat

97735

+ 9

4295

0

N/A

Feb 24, 2023

Fri

97726

+ 8

4295

0

N/A

Feb 23, 2023

Thu

97718

---

4295

---

---
Embed
To embed this live counts widget on your own webpage? Simply copy and paste following code to your page and enjoy it wherever you want!
Customize Embed
About Bihar के IAS Dr Ranjit Singh का Transfer रोकने के लिए Twitter पर क्यों जुटे लोग? | Nitish Kumar

Donate to Covid 19relief fund| Provide food, Oxygen supplies & medicines - https://bit.ly/AA_TogetherAgainstCovid खबर का लिंक : https://www.thelallantop.com/news/bihar-when-ias-ranjit-singh-transferred-people-started-appealing-government-to-stop/ A major administrative reshuffle took place in Bihar on the evening of Tuesday 27 July. 7 IAS officers were transferred. The most discussed among them was the transfer of Dr. Ranjit Kumar Singh, who was working as the Director of Primary Education. He has now been made the Director of Panchayati Raj Department. Many people are not happy with the transfer of Ranjit Kumar Singh. It is reported that all the teachers and students have stood up to stop this. Install The Lallantop Android App: https://thelallantop.app.link/zCSsHooQSU Follow us on: https://www.instagram.com/thelallantop/ Like The Lallantop on Facebook: https://www.facebook.com/thelallantop/ Follow The Lallantop on Twitter: https://twitter.com/TheLallantop Follow Futkar on YouTube for Short videos: https://bit.ly/33kxe54 Follow Latak on Instagram: https://www.instagram.com/latak.lallantop/ For advertisements e-mail us at: [email protected] Watch Lallantop Documentaries: https://bit.ly/3dSu8tj Produced By: The Lallantop Edited By: Mann
About YouTube Live Subscriber Count

Looking to track YouTube video live view counts in real-time? SocialCounts.org is the perfect destination for all your video tracking needs! Our platform utilizes YouTube's original API and advanced technology to provide nearly accurate estimations of live view counts for any YouTube video.
But that's not all! We also offer a unique comparison feature where you can compare the live view counts of any video with any channel, video, or profile. This makes it easy to compare and analyze the performance of different YouTube videos and channels.
At SocialCounts.org, we're committed to providing you with accurate and up-to-date data analysis for all your video tracking needs. Whether you're a content creator or simply a YouTube enthusiast, our platform is the perfect tool for monitoring the popularity and growth of your favorite videos.
So, if you're looking for a reliable source to track live view counts on YouTube, look no further than SocialCounts.org. Trust us to keep you in the know with real-time data analysis and comparison features.