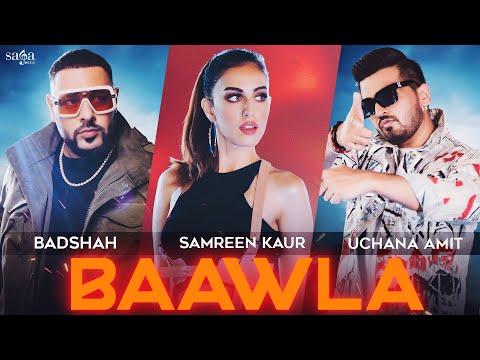 Badshah - Baawla | Uchana Amit Ft. Samreen Kaur | Saga Music | Music Video | New Song 2021
143502916
Badshah - Baawla | Uchana Amit Ft. Samreen Kaur | Saga Music | Music Video | New Song 2021 youtube video stats
Date
Views
Likes
Dislikes

Mar 24, 2023

Fri

143502916

+ 22.7K

1383491

+ 109

N/A

Mar 23, 2023

Thu

143480198

+ 25.0K

1383382

+ 155

N/A

Mar 22, 2023

Wed

143455163

+ 25.3K

1383227

+ 140

N/A

Mar 21, 2023

Tue

143429855

+ 26.1K

1383087

+ 145

N/A

Mar 20, 2023

Mon

143403736

+ 25.2K

1382942

+ 153

N/A

Mar 19, 2023

Sun

143378515

+ 25.9K

1382789

+ 114

N/A

Mar 18, 2023

Sat

143352601

+ 26.1K

1382675

+ 154

N/A

Mar 17, 2023

Fri

143326498

+ 27.4K

1382521

+ 152

N/A

Mar 16, 2023

Thu

143299056

+ 26.5K

1382369

+ 151

N/A

Mar 15, 2023

Wed

143272527

+ 27.4K

1382218

+ 137

N/A

Mar 14, 2023

Tue

143245111

+ 24.2K

1382081

+ 142

N/A

Mar 13, 2023

Mon

143220855

+ 26.0K

1381939

+ 122

N/A

Mar 12, 2023

Sun

143194841

+ 29.4K

1381817

+ 106

N/A

Mar 11, 2023

Sat

143165416

+ 27.6K

1381711

+ 150

N/A

Mar 10, 2023

Fri

143137763

+ 27.3K

1381561

+ 138

N/A

Mar 9, 2023

Thu

143110395

+ 25.9K

1381423

+ 117

N/A

Mar 8, 2023

Wed

143084449

+ 23.5K

1381306

+ 120

N/A

Mar 7, 2023

Tue

143060861

+ 26.8K

1381186

+ 125

N/A

Mar 6, 2023

Mon

143033977

+ 28.0K

1381061

+ 128

N/A

Mar 5, 2023

Sun

143005926

+ 29.3K

1380933

+ 137

N/A

Mar 4, 2023

Sat

142976603

+ 27.7K

1380796

+ 146

N/A

Mar 3, 2023

Fri

142948901

+ 28.2K

1380650

+ 122

N/A

Mar 2, 2023

Thu

142920631

+ 27.6K

1380528

+ 143

N/A

Mar 1, 2023

Wed

142892988

+ 25.3K

1380385

+ 117

N/A

Feb 28, 2023

Tue

142867640

+ 27.3K

1380268

+ 119

N/A

Feb 27, 2023

Mon

142840325

+ 28.0K

1380149

+ 149

N/A

Feb 26, 2023

Sun

142812301

+ 29.0K

1380000

+ 120

N/A

Feb 25, 2023

Sat

142783261

+ 27.9K

1379880

+ 98

N/A

Feb 24, 2023

Fri

142755287

+ 26.4K

1379782

+ 141

N/A

Feb 23, 2023

Thu

142728813

---

1379641

---

---
Embed
To embed this live counts widget on your own webpage? Simply copy and paste following code to your page and enjoy it wherever you want!
Customize Embed
About Badshah - Baawla | Uchana Amit Ft. Samreen Kaur | Saga Music | Music Video | New Song 2021

Baawla Badshah new song is here with new rap song 2021, Saga Music presents Baawla new song by Badshah & Uchana Amit Ft. Samreen Kaur. Are Kyu Pade Ho Chakkar Me, Koi Nahi Hai Takkar Mein!! झाझर ते परे नै इक रैया डावला, मेरे पिता ने जुलम करया वर ढूंढा बावला – Baawla new song 2021, music given by Badshah & Aditya Dev, lyrics are penned by Badshah. Jhajjar te pare ne ek raiya dawla, mere pita ne julm kareya var dhunda baawla. #Badshah #Baawla #SagaMusic #RapSong #NewSong #NewHindiSong #SamreenKaur #Bawla #Bavla Badshah Bachpan Ka Pyar Badshah Buy official merchandise from https://www.badfit.in Subscribe and click the bell icon to get notified - http://bit.ly/BadshahYT Follow me on : Instagram : https://www.instagram.com/badboyshah Facebook : https://www.Facebook.com/OfficialBadshah Twitter : https://Twitter.com/its_Badshah AUDIO CREDITS Song: Baawla Artist: Badshah, Uchana Amit Starring: Badshah, Uchana Amit, Samreen Kaur Lyrics: Badshah Female Vocals: Nirmala & Shakuntala Music by: Badshah, Aditya Dev Mix & Master: Aditya Dev Studios Produced by: Sumeet Singh Label: Saga Music VIDEO CREDITS: Producer: Sumeet Singh Director & DOP: Manish Shunty Chief AD: Akhil Gupta Choreography: Piyush & Shazia Choreography Support: Dwiti, Hemant 1st AD: MK Production Designer: Shubhra Shah Production Manager: Richa Prinja Art Director: Amber Mehra 1st AC: Kaustabh Nagar 1st AC: Sachin Post Production Editor & DI Colorist: Jagjeet Singh Dhanoa Post Head: Akhil Gupta Lighting Designer (DRAGONFLY): Naresh STEADYCAM: Rahul Shaud Production: Metro Talkies Line Producer: Aadesh Gola, Vikrant Kaushik, Aron Paharia (Tash Film Creations) Production Team: Usama Chauhan, Mayank Arora Casting: ACE Models & AR Film Makeup Artist: Pallavi Kapoor & Team Jimmy Jib: Nagesh Camera: JAWA Motion Pictures Light: Flamingo Films Stadium Lights: A2Z Audio Rental Services Stadium Light Engineer: Satvinder Singh Facility: Raj & Team Logistics: PRM Hospitality Teaser Music Mix: Aditya Dev LYRICS : Jab chahe tab, karein take off Jet mera private private private Storiyan daal daal nai thak rahi Ho rakhi hai tu excited Chehre pe dikhta hai Fake nai kar sakti Karunga punish Mistake nai kar sakti Kal ki bajaay chahe aaj de chod mujhe Dil mera pathar ka break nai kar sakti Gaane hateron ke mooh pe jaake baje boom Clear hai vision meri i don't need no zoom Hrithik nahi fir bhi machegi dhoom Dono hath uthaake hawa mein baby ghoom BEAT DROP If she smells like ciggarettes main kiss nai karta Wo deti mujhe head shot miss nahi karta Pata hai faad ke hath mein dedega tabhi to badshah ko koi diss nai karta Ima hustler day 1 Lifestyle a1 Aye Mujhe na sikhao Ghante pe fame Ek hi bas aim Jo jalte hain unhe aur jalaao Hateron ki chatiyon pe raakhein deeve baalke Taur mein ravein kati chore karnal ke Dash apni dilli se dehradoon Dono hath uthake hawa mein baby ghoom Array kyun padey ho chakkar mein kyun padey ho chakkar mein Koi nahi hai takkar mein BEAT DROP Jab bhi nikalte nikle gaadiyon ka kaafila Chaal chalan apna hai jaise koi mafia Desi hain bande rehte hai ready Soch alag hai baatein hain kaidi Desi hai bande rehte hain ready Soch alag hai baatein hain kaidi
About YouTube Live Subscriber Count

Looking to track YouTube video live view counts in real-time? SocialCounts.org is the perfect destination for all your video tracking needs! Our platform utilizes YouTube's original API and advanced technology to provide nearly accurate estimations of live view counts for any YouTube video.
But that's not all! We also offer a unique comparison feature where you can compare the live view counts of any video with any channel, video, or profile. This makes it easy to compare and analyze the performance of different YouTube videos and channels.
At SocialCounts.org, we're committed to providing you with accurate and up-to-date data analysis for all your video tracking needs. Whether you're a content creator or simply a YouTube enthusiast, our platform is the perfect tool for monitoring the popularity and growth of your favorite videos.
So, if you're looking for a reliable source to track live view counts on YouTube, look no further than SocialCounts.org. Trust us to keep you in the know with real-time data analysis and comparison features.