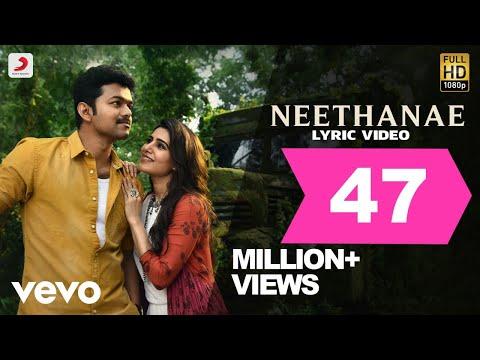 Mersal - Neethanae Tamil Video | Vijay, Samantha | A.R. Rahman
44766224
Mersal - Neethanae Tamil Video | Vijay, Samantha | A.R. Rahman youtube video stats
Date
Views
Likes
Dislikes

Mar 25, 2023

Sat

44766224

+ 7.35K

284351

+ 69

N/A

Mar 24, 2023

Fri

44758874

+ 6.92K

284282

+ 55

N/A

Mar 23, 2023

Thu

44751948

+ 6.77K

284227

+ 56

N/A

Mar 22, 2023

Wed

44745170

+ 7.74K

284171

+ 45

N/A

Mar 21, 2023

Tue

44737428

+ 7.60K

284126

+ 67

N/A

Mar 20, 2023

Mon

44729825

+ 7.54K

284059

+ 56

N/A

Mar 19, 2023

Sun

44722283

+ 7.68K

284003

+ 58

N/A

Mar 18, 2023

Sat

44714594

+ 7.15K

283945

+ 58

N/A

Mar 17, 2023

Fri

44707436

+ 7.22K

283887

+ 38

N/A

Mar 16, 2023

Thu

44700215

+ 7.04K

283849

+ 48

N/A

Mar 15, 2023

Wed

44693167

+ 7.71K

283801

+ 41

N/A

Mar 14, 2023

Tue

44685456

+ 6.40K

283760

+ 43

N/A

Mar 13, 2023

Mon

44679055

+ 6.33K

283717

+ 43

N/A

Mar 12, 2023

Sun

44672724

+ 7.72K

283674

+ 45

N/A

Mar 11, 2023

Sat

44664998

+ 7.05K

283629

+ 39

N/A

Mar 10, 2023

Fri

44657943

+ 6.66K

283590

+ 72

N/A

Mar 9, 2023

Thu

44651279

+ 6.92K

283518

+ 40

N/A

Mar 8, 2023

Wed

44644358

+ 6.14K

283478

+ 39

N/A

Mar 7, 2023

Tue

44638215

+ 5.99K

283439

+ 55

N/A

Mar 6, 2023

Mon

44632222

+ 6.13K

283384

+ 51

N/A

Mar 5, 2023

Sun

44626091

+ 7.46K

283333

+ 58

N/A

Mar 4, 2023

Sat

44618622

+ 6.87K

283275

+ 50

N/A

Mar 3, 2023

Fri

44611743

+ 6.34K

283225

+ 41

N/A

Mar 2, 2023

Thu

44605395

+ 6.21K

283184

+ 47

N/A

Mar 1, 2023

Wed

44599181

+ 6.11K

283137

+ 41

N/A

Feb 28, 2023

Tue

44593069

+ 6.21K

283096

+ 38

N/A

Feb 27, 2023

Mon

44586853

+ 5.82K

283058

+ 40

N/A

Feb 26, 2023

Sun

44581024

+ 6.82K

283018

+ 69

N/A

Feb 25, 2023

Sat

44574204

+ 6.55K

282949

+ 42

N/A

Feb 24, 2023

Fri

44567650

---

282907

---

---
Embed
To embed this live counts widget on your own webpage? Simply copy and paste following code to your page and enjoy it wherever you want!
Customize Embed
About Mersal - Neethanae Tamil Video | Vijay, Samantha | A.R. Rahman

A soul stirring melody rendered by A.R.Rahman and Shreya Ghoshal , 'Neethanae' starring 'Thalapathy' Vijay and Samantha is as poetic as the song. Watch the official Tamil song video from #Mersal here. To set this song as you're CALLER Tune For Airtel - Dial 5432116324805 For Vodafone – Dial 5379761387 For Idea – Dial 567899761387 For BSNL – Dial 5679761387 Movie - Mersal Song Name - Neethanae Starring - Vijay, Samantha, Kajal Aggarwal, Nithya Menen Music - A R Rahman Singers - A R Rahman, Shreya Ghoshal Lyrics - Vivek Director - Atlee Producer - Sri Thenandal Films Musicians Mohan Veena - Pandit Vishwa Mohan Bhatt Indian rhythm - T Raja Tabla - Sai Shravanam Live Strings - Chennai Strings Orchestra Conducted by R K Prabhakar Recorded at A M Studios Sound Engineers Panchathan Record Inn - Suresh Permal, Karthik Sekaran, T R Krishna Chetan, Srinidhi Venkatesh, Jerry Vincent, Santhosh Dhayanidhi, Vinay Sridhar, Ishaan Chhabra AR Studios Mumbai - Nitish R Kumar, Dilshaad Shabbir Shaikh AM Studios - S Sivakumar, Kannan Ganpat, Krishnan Subramanian, Pradeep Menon, Manoj Kumar, Srinath Additional Programming - T R Krishna Chetan Mixed by T R Krishna Chetan Mastered By Suresh Permal Mastered For iTune S Sivakumar Musicians Coordinators - Noell James, Vijay Iyer, TM Faizuddin Musicians Fixer - Samidurai R © 2017 Sony Music Entertainment India Pvt. Ltd. Subscribe: Vevo - http://www.youtube.com/user/sonymusicsouthvevo?sub_confirmation=1 Like us: Facebook: https://www.facebook.com/SonyMusicSouth Follow us: Twitter: https://twitter.com/SonyMusicSouth G+: https://plus.google.com/+SonyMusicIndia
About YouTube Live Subscriber Count

Looking to track YouTube video live view counts in real-time? SocialCounts.org is the perfect destination for all your video tracking needs! Our platform utilizes YouTube's original API and advanced technology to provide nearly accurate estimations of live view counts for any YouTube video.
But that's not all! We also offer a unique comparison feature where you can compare the live view counts of any video with any channel, video, or profile. This makes it easy to compare and analyze the performance of different YouTube videos and channels.
At SocialCounts.org, we're committed to providing you with accurate and up-to-date data analysis for all your video tracking needs. Whether you're a content creator or simply a YouTube enthusiast, our platform is the perfect tool for monitoring the popularity and growth of your favorite videos.
So, if you're looking for a reliable source to track live view counts on YouTube, look no further than SocialCounts.org. Trust us to keep you in the know with real-time data analysis and comparison features.