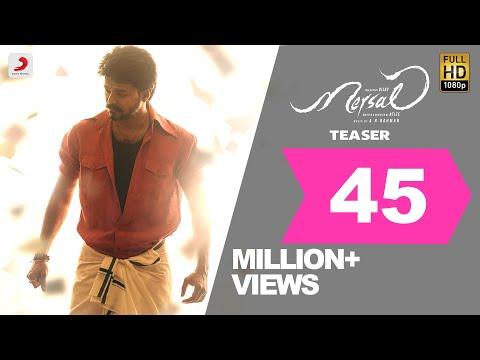 Mersal - Official Tamil Teaser | Vijay | A R Rahman | Atlee
47492867
Mersal - Official Tamil Teaser | Vijay | A R Rahman | Atlee youtube video stats
Date
Views
Likes
Dislikes

Mar 24, 2023

Fri

47492867

+ 1.67K

1274261

+ 34

N/A

Mar 23, 2023

Thu

47491190

+ 1.79K

1274227

+ 19

N/A

Mar 22, 2023

Wed

47489391

+ 1.56K

1274208

+ 31

N/A

Mar 21, 2023

Tue

47487824

+ 1.56K

1274177

+ 33

N/A

Mar 20, 2023

Mon

47486263

+ 1.51K

1274144

+ 26

N/A

Mar 19, 2023

Sun

47484750

+ 1.98K

1274118

+ 47

N/A

Mar 18, 2023

Sat

47482762

+ 1.66K

1274071

+ 33

N/A

Mar 17, 2023

Fri

47481095

+ 1.55K

1274038

+ 46

N/A

Mar 16, 2023

Thu

47479542

+ 1.65K

1273992

+ 53

N/A

Mar 15, 2023

Wed

47477883

+ 1.67K

1273939

+ 28

N/A

Mar 14, 2023

Tue

47476205

+ 1.36K

1273911

+ 40

N/A

Mar 13, 2023

Mon

47474836

+ 1.39K

1273871

+ 20

N/A

Mar 12, 2023

Sun

47473445

+ 1.82K

1273851

+ 48

N/A

Mar 11, 2023

Sat

47471617

+ 1.86K

1273803

+ 37

N/A

Mar 10, 2023

Fri

47469754

+ 1.51K

1273766

+ 29

N/A

Mar 9, 2023

Thu

47468236

+ 1.54K

1273737

+ 25

N/A

Mar 8, 2023

Wed

47466687

+ 1.68K

1273712

+ 53

N/A

Mar 7, 2023

Tue

47465005

+ 1.69K

1273659

+ 62

N/A

Mar 6, 2023

Mon

47463313

+ 1.69K

1273597

+ 55

N/A

Mar 5, 2023

Sun

47461619

+ 2.16K

1273542

+ 63

N/A

Mar 4, 2023

Sat

47459453

+ 1.80K

1273479

+ 46

N/A

Mar 3, 2023

Fri

47457649

+ 1.73K

1273433

+ 61

N/A

Mar 2, 2023

Thu

47455911

+ 1.85K

1273372

+ 67

N/A

Mar 1, 2023

Wed

47454060

+ 1.81K

1273305

+ 80

N/A

Feb 28, 2023

Tue

47452248

+ 2.16K

1273225

+ 91

N/A

Feb 27, 2023

Mon

47450086

+ 2.07K

1273134

+ 113

N/A

Feb 26, 2023

Sun

47448010

+ 2.42K

1273021

+ 117

N/A

Feb 25, 2023

Sat

47445586

+ 2.08K

1272904

+ 98

N/A

Feb 24, 2023

Fri

47443504

+ 1.91K

1272806

+ 72

N/A

Feb 23, 2023

Thu

47441591

---

1272734

---

---
Embed
To embed this live counts widget on your own webpage? Simply copy and paste following code to your page and enjoy it wherever you want!
Customize Embed
About Mersal - Official Tamil Teaser | Vijay | A R Rahman | Atlee

Make way for the charming magician 'Thalapathy' Vijay who is all set to enchant you with his tricks .Celebrations for the power-packed #Mersal directed by Atlee and music by A.R.Rahman begins this festive season! Watch the official Tamil teaser here. Movie - Mersal Starring - Vijay, S J Suryah, Samantha, Kajal Aggarwal, Nithya Menen, Vadivelu, Sathyaraj Director - Atlee Music - A R Rahman Cinematographer - GK Vishnu Art Director - T Muthuraj Editor - Ruben Stunt Director - Anl Arasu Audiography - Tapas Nayak Producer - Sri Thenandal Films Music Label - Sony Music Entertainment India Pvt. Ltd. © 2017 Sony Music Entertainment India Pvt. Ltd. Subscribe: Vevo - http://www.youtube.com/user/sonymusicsouthvevo?sub_confirmation=1 Like us: Facebook: https://www.facebook.com/SonyMusicSouth Follow us: Twitter: https://twitter.com/SonyMusicSouth G+: https://plus.google.com/+SonyMusicIndia
About YouTube Live Subscriber Count

Looking to track YouTube video live view counts in real-time? SocialCounts.org is the perfect destination for all your video tracking needs! Our platform utilizes YouTube's original API and advanced technology to provide nearly accurate estimations of live view counts for any YouTube video.
But that's not all! We also offer a unique comparison feature where you can compare the live view counts of any video with any channel, video, or profile. This makes it easy to compare and analyze the performance of different YouTube videos and channels.
At SocialCounts.org, we're committed to providing you with accurate and up-to-date data analysis for all your video tracking needs. Whether you're a content creator or simply a YouTube enthusiast, our platform is the perfect tool for monitoring the popularity and growth of your favorite videos.
So, if you're looking for a reliable source to track live view counts on YouTube, look no further than SocialCounts.org. Trust us to keep you in the know with real-time data analysis and comparison features.