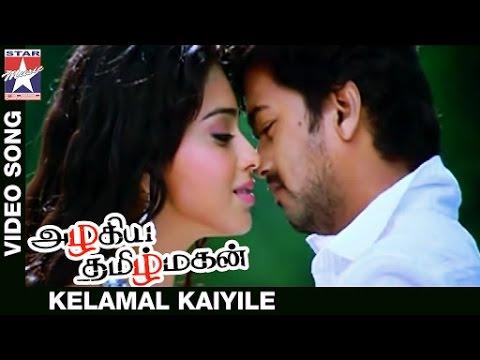 Azhagiya Tamil Magan Movie Songs HD | Kelamal Kaiyile video Song | Vijay | Shriya | AR Rahman
4077052
Azhagiya Tamil Magan Movie Songs HD | Kelamal Kaiyile video Song | Vijay | Shriya | AR Rahman youtube video stats
Date
Views
Likes
Dislikes

Mar 24, 2023

Fri

4077052

+ 2.65K

30728

+ 35

N/A

Mar 23, 2023

Thu

4074400

+ 2.51K

30693

+ 34

N/A

Mar 22, 2023

Wed

4071886

+ 2.78K

30659

+ 20

N/A

Mar 21, 2023

Tue

4069102

+ 2.64K

30639

+ 18

N/A

Mar 20, 2023

Mon

4066461

+ 2.59K

30621

+ 26

N/A

Mar 19, 2023

Sun

4063868

+ 2.90K

30595

+ 29

N/A

Mar 18, 2023

Sat

4060965

+ 3.12K

30566

+ 35

N/A

Mar 17, 2023

Fri

4057844

+ 3.30K

30531

+ 42

N/A

Mar 16, 2023

Thu

4054536

+ 3.20K

30489

+ 37

N/A

Mar 15, 2023

Wed

4051334

+ 3.30K

30452

+ 40

N/A

Mar 14, 2023

Tue

4048032

+ 2.86K

30412

+ 28

N/A

Mar 13, 2023

Mon

4045168

+ 2.79K

30384

+ 37

N/A

Mar 12, 2023

Sun

4042374

+ 3.35K

30347

+ 31

N/A

Mar 11, 2023

Sat

4039023

+ 3.18K

30316

+ 31

N/A

Mar 10, 2023

Fri

4035835

+ 3.02K

30285

+ 37

N/A

Mar 9, 2023

Thu

4032810

+ 2.86K

30248

+ 38

N/A

Mar 8, 2023

Wed

4029949

+ 3.05K

30210

+ 51

N/A

Mar 7, 2023

Tue

4026892

+ 3.06K

30159

+ 34

N/A

Mar 6, 2023

Mon

4023831

+ 2.97K

30125

+ 48

N/A

Mar 5, 2023

Sun

4020858

+ 3.49K

30077

+ 51

N/A

Mar 4, 2023

Sat

4017359

+ 3.50K

30026

+ 46

N/A

Mar 3, 2023

Fri

4013854

+ 3.20K

29980

+ 40

N/A

Mar 2, 2023

Thu

4010652

+ 3.28K

29940

+ 45

N/A

Mar 1, 2023

Wed

4007370

+ 3.15K

29895

+ 38

N/A

Feb 28, 2023

Tue

4004214

+ 3.13K

29857

+ 43

N/A

Feb 27, 2023

Mon

4001079

+ 3.21K

29814

+ 44

N/A

Feb 26, 2023

Sun

3997868

+ 3.52K

29770

+ 55

N/A

Feb 25, 2023

Sat

3994343

+ 3.39K

29715

+ 62

N/A

Feb 24, 2023

Fri

3990947

+ 3.40K

29653

+ 52

N/A

Feb 23, 2023

Thu

3987541

---

29601

---

---
Embed
To embed this live counts widget on your own webpage? Simply copy and paste following code to your page and enjoy it wherever you want!
Customize Embed
About Azhagiya Tamil Magan Movie Songs HD | Kelamal Kaiyile video Song | Vijay | Shriya | AR Rahman

Azhagiya Tamil Magan Movie Songs, Kelamal Kaiyile Video Song ft. Vijay, Shriya Saran and Namitha exclusively on Star Music India. Music composed by AR Rahman, directed by Bharathan and produced by Swargachithra Appachan. Song: Kelamal Kaiyile Singers: Sriram Parthasarathy, Saindhavi Music : AR Rahman Lyrics: Thamarai Azhagiya Tamil Magan Movie also stars Santhanam, Sathyan, Sayaji Shinde and Ashish Vidyarthi among others. Click here to watch : Varushamellam Vasantham Movie Songs HD : http://bit.ly/1MsNCgx Thirunelveli Tamil Movie Video Songs HD : http://bit.ly/1UMk9Vq Love Today Tamil Movie | Audio Songs Jukebox : https://youtu.be/YSu95hg4d5g Priyamanavale Tamil Movie | Audio Jukebox : https://youtu.be/O4-4e9VXg8k Roja Kootam Tamil Movie | Audio Songs Jukebox : https://youtu.be/qIq_5-KT158 For more Star Music India songs, video songs and lyrical songs : Subscribe - http://goo.gl/2rRoc0 Like -https://www.facebook.com/StarMusicIndiaOfficial Follow -https://twitter.com/starmusic1997
About YouTube Live Subscriber Count

Looking to track YouTube video live view counts in real-time? SocialCounts.org is the perfect destination for all your video tracking needs! Our platform utilizes YouTube's original API and advanced technology to provide nearly accurate estimations of live view counts for any YouTube video.
But that's not all! We also offer a unique comparison feature where you can compare the live view counts of any video with any channel, video, or profile. This makes it easy to compare and analyze the performance of different YouTube videos and channels.
At SocialCounts.org, we're committed to providing you with accurate and up-to-date data analysis for all your video tracking needs. Whether you're a content creator or simply a YouTube enthusiast, our platform is the perfect tool for monitoring the popularity and growth of your favorite videos.
So, if you're looking for a reliable source to track live view counts on YouTube, look no further than SocialCounts.org. Trust us to keep you in the know with real-time data analysis and comparison features.