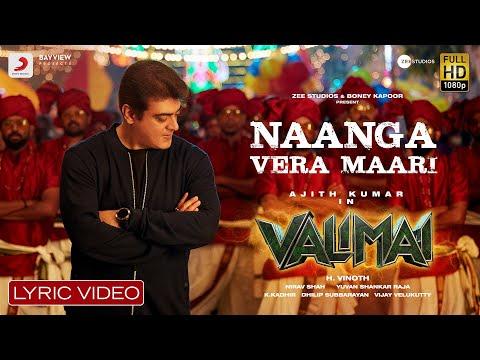 Valimai - Naanga Vera Maari Lyric | Ajith Kumar | YuvanShankarRaja, Vinoth, BoneyKapoor, ZeeStudios
54493647
Valimai - Naanga Vera Maari Lyric | Ajith Kumar | YuvanShankarRaja, Vinoth, BoneyKapoor, ZeeStudios youtube video stats
Date
Views
Likes
Dislikes

Mar 25, 2023

Sat

54493647

+ 1.98K

1547497

- 17

N/A

Mar 24, 2023

Fri

54491659

+ 1.87K

1547514

- 11

N/A

Mar 23, 2023

Thu

54489786

+ 1.71K

1547525

- 29

N/A

Mar 22, 2023

Wed

54488072

+ 2.02K

1547554

- 22

N/A

Mar 21, 2023

Tue

54486044

+ 1.80K

1547576

- 20

N/A

Mar 20, 2023

Mon

54484243

+ 1.85K

1547596

- 15

N/A

Mar 19, 2023

Sun

54482393

+ 2.26K

1547611

- 20

N/A

Mar 18, 2023

Sat

54480125

+ 2.11K

1547631

- 15

N/A

Mar 17, 2023

Fri

54478009

+ 2.03K

1547646

- 14

N/A

Mar 16, 2023

Thu

54475970

+ 2.06K

1547660

- 24

N/A

Mar 15, 2023

Wed

54473909

+ 1.99K

1547684

- 22

N/A

Mar 14, 2023

Tue

54471917

+ 1.72K

1547706

- 22

N/A

Mar 13, 2023

Mon

54470195

+ 1.95K

1547728

- 7

N/A

Mar 12, 2023

Sun

54468242

+ 2.99K

1547735

- 25

N/A

Mar 11, 2023

Sat

54465249

+ 2.51K

1547760

- 13

N/A

Mar 10, 2023

Fri

54462732

+ 2.00K

1547773

- 35

N/A

Mar 9, 2023

Thu

54460727

+ 2.20K

1547808

- 31

N/A

Mar 8, 2023

Wed

54458526

+ 1.97K

1547839

- 19

N/A

Mar 7, 2023

Tue

54456551

+ 2.16K

1547858

- 22

N/A

Mar 6, 2023

Mon

54454383

+ 2.00K

1547880

- 22

N/A

Mar 5, 2023

Sun

54452375

+ 2.77K

1547902

- 2

N/A

Mar 4, 2023

Sat

54449604

+ 2.32K

1547904

- 10

N/A

Mar 3, 2023

Fri

54447275

+ 2.31K

1547914

- 12

N/A

Mar 2, 2023

Thu

54444957

+ 2.13K

1547926

- 12

N/A

Mar 1, 2023

Wed

54442818

+ 2.10K

1547938

- 22

N/A

Feb 28, 2023

Tue

54440710

+ 2.15K

1547960

- 18

N/A

Feb 27, 2023

Mon

54438554

+ 2.03K

1547978

- 22

N/A

Feb 26, 2023

Sun

54436523

+ 2.59K

1548000

- 15

N/A

Feb 25, 2023

Sat

54433924

+ 2.56K

1548015

- 19

N/A

Feb 24, 2023

Fri

54431362

---

1548034

---

---
Embed
To embed this live counts widget on your own webpage? Simply copy and paste following code to your page and enjoy it wherever you want!
Customize Embed
About Valimai - Naanga Vera Maari Lyric | Ajith Kumar | YuvanShankarRaja, Vinoth, BoneyKapoor, ZeeStudios

The most-awaited arrival right here! Blast your speakers and groove along to the #Valimai special! Celebrations galore as #AjithKumar feasts us with #NaangaVeraMaari a #YuvanShankarRaja musical delight! Written by Vignesh Shivn, this high-octane song will make you hit the loop button instantly! Directed by H.Vinoth and produced by Boney Kapoor & Zee Studios, this entertainer gears up for release soon! Watch the official Tamil lyric video now! Stream now - https://SMI.lnk.to/NaangaVeraMaari Movie - Valimai Song - Naanga Vera Maari Singers - Yuvan Shankar Raja & Anurag Kulkarni Lyrics - Vignesh Shivan Music Composed & Arranged by Yuvan Shankar Raja Starring: Ajith Kumar, Huma S Qureshi, Karthikeya, Bani, Sumithra, Achyunth Kumar, Yogi Babu, Raj Ayyappa, Pugazh & others Written and Directed by H. Vinoth Produced by Zee Studios & Boney Kapoor DOP : Nirav Shah Music Director: Yuvan Shankar Raja Art Director: K. Kadhir Editor: Vijay Velukutty Stunts : Dhilip Subbarayan Costume Designer: Anu Vardhan Pro: Suresh Chandra & Rekha D'one Publicity Campaign by Rahul Nanda CFO & General Manager – Rajiv Arora COO – Punkej Kharabanda Executive Producer P. Jayraj Musician Credits ADDITIONAL PROGRAMMING RANJAN GUITAR PLAYED BY JOSHUA MARK RAJ RHYTHMS & PERCUSSIONS - Maa Dhakinakali Singha Baja, Orissa RHYTHMS RECORDED AT A.M.STUDIOS RECORDED BY ARAVINDH & PRADEEP (AM STUDIOS) HARMONIES - VIGNESH SHIVAN AHMAD, ABDULLAH, JERIN C RAJ , SARATH SANTHOSH, SAM P KEERTHAN, VELU, JAGADISH , PAVAN HARMONIES CONDUCTED BY SENTHIL DASS MAIN VOICE CONDUCTED BY K VASUDEVAN SONG RECORDED AT U1 RECORDS PRIVATE LIMITED RECORDED BY M.KUMARAGURUPARAN D.F.TECH (U1RECORDS PVT LTD) MIXED AND MASTERED by RAMJI SOMA BY UNIQUE STUDIOS LLP ITUNES by RAMJI SOMA - UNIQUE STUDIOS LLP Lyric Video By N. S. Jegadeesan Motion Graphics: R. Surya Devan Editor: Sid. B Designer: K. Dhanwant Music Label - Sony Music Entertainment India Pvt. Ltd. © 2021 Sony Music Entertainment India Pvt. Ltd. Subscribe Now: http://bit.ly/SonyMusicSouthVevo Subscribe Now: http://bit.ly/SonyMusicSouthYT Follow us: https://www.instagram.com/sonymusic_south/ Follow us: Twitter: https://twitter.com/SonyMusicSouth Like us: Facebook: https://www.facebook.com/SonyMusicSouth
About YouTube Live Subscriber Count

Looking to track YouTube video live view counts in real-time? SocialCounts.org is the perfect destination for all your video tracking needs! Our platform utilizes YouTube's original API and advanced technology to provide nearly accurate estimations of live view counts for any YouTube video.
But that's not all! We also offer a unique comparison feature where you can compare the live view counts of any video with any channel, video, or profile. This makes it easy to compare and analyze the performance of different YouTube videos and channels.
At SocialCounts.org, we're committed to providing you with accurate and up-to-date data analysis for all your video tracking needs. Whether you're a content creator or simply a YouTube enthusiast, our platform is the perfect tool for monitoring the popularity and growth of your favorite videos.
So, if you're looking for a reliable source to track live view counts on YouTube, look no further than SocialCounts.org. Trust us to keep you in the know with real-time data analysis and comparison features.