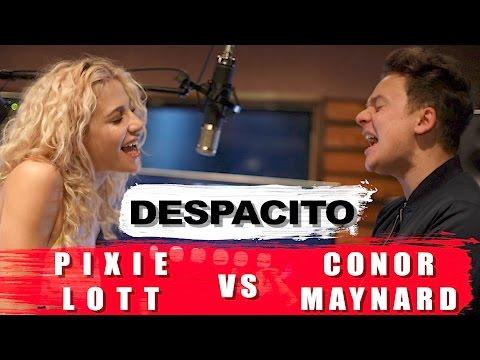 Luis Fonsi - Despacito ft. Daddy Yankee & Justin Bieber (SING OFF vs. Pixie Lott)
232590910
Luis Fonsi - Despacito ft. Daddy Yankee & Justin Bieber (SING OFF vs. Pixie Lott) youtube video stats
Date
Views
Likes
Dislikes

Mar 29, 2023

Wed

232590910

+ 21.5K

2524714

+ 144

N/A

Mar 28, 2023

Tue

232569379

+ 24.9K

2524570

+ 184

N/A

Mar 27, 2023

Mon

232544408

+ 23.6K

2524386

+ 157

N/A

Mar 26, 2023

Sun

232520800

+ 28.4K

2524229

+ 202

N/A

Mar 25, 2023

Sat

232492338

+ 27.5K

2524027

+ 221

N/A

Mar 24, 2023

Fri

232464806

+ 26.2K

2523806

+ 211

N/A

Mar 23, 2023

Thu

232438594

+ 25.0K

2523595

+ 198

N/A

Mar 22, 2023

Wed

232413562

+ 27.6K

2523397

+ 185

N/A

Mar 21, 2023

Tue

232385891

+ 27.4K

2523212

+ 217

N/A

Mar 20, 2023

Mon

232358407

+ 27.9K

2522995

+ 210

N/A

Mar 19, 2023

Sun

232330468

+ 31.2K

2522785

+ 260

N/A

Mar 18, 2023

Sat

232299206

+ 32.5K

2522525

+ 261

N/A

Mar 17, 2023

Fri

232266614

+ 28.7K

2522264

+ 225

N/A

Mar 16, 2023

Thu

232237874

+ 25.6K

2522039

+ 181

N/A

Mar 15, 2023

Wed

232212203

+ 29.1K

2521858

+ 214

N/A

Mar 14, 2023

Tue

232183063

+ 26.3K

2521644

+ 208

N/A

Mar 13, 2023

Mon

232156728

+ 27.9K

2521436

+ 239

N/A

Mar 12, 2023

Sun

232128806

+ 33.6K

2521197

+ 296

N/A

Mar 11, 2023

Sat

232095108

+ 32.8K

2520901

+ 288

N/A

Mar 10, 2023

Fri

232062294

+ 29.6K

2520613

+ 285

N/A

Mar 9, 2023

Thu

232032686

+ 28.3K

2520328

+ 210

N/A

Mar 8, 2023

Wed

232004347

+ 28.2K

2520118

+ 258

N/A

Mar 7, 2023

Tue

231976138

+ 27.0K

2519860

+ 178

N/A

Mar 6, 2023

Mon

231949118

+ 26.9K

2519682

+ 181

N/A

Mar 5, 2023

Sun

231922138

+ 31.7K

2519501

+ 227

N/A

Mar 4, 2023

Sat

231890367

+ 35.0K

2519274

+ 269

N/A

Mar 3, 2023

Fri

231855356

+ 31.0K

2519005

+ 246

N/A

Mar 2, 2023

Thu

231824260

+ 29.5K

2518759

+ 284

N/A

Mar 1, 2023

Wed

231794709

+ 29.0K

2518475

+ 228

N/A

Feb 28, 2023

Tue

231765640

---

2518247

---

---
Embed
To embed this live counts widget on your own webpage? Simply copy and paste following code to your page and enjoy it wherever you want!
Customize Embed
About Luis Fonsi - Despacito ft. Daddy Yankee & Justin Bieber (SING OFF vs. Pixie Lott)

CHECK OUT MY LATEST SINGLE! - https://conormaynard.lnk.to/IfIEver 🚨 BRAND NEW MUSIC VIDEO HERE 🚨 - https://www.youtube.com/watch?v=YqT9IUAbFzs I'M GOING ON TOUR! Link to tickets: https://listings.ticketweb.co.uk/conormaynard STREAM GRENADE ON SPOTIFY: https://play.spotify.com/track/7v3BgTzIcSLtZYwBIWI6ip?play=true&utm_source=open.spotify.com&utm_medium=open OR ITUNES: https://itunes.apple.com/gb/album/grenade-single/id1237243749?ls=1&app=itunes SUBSCRIBE TO ME: http://smarturl.it/SubConorMaynard SUBSCRIBE TO PIXIE: https://www.youtube.com/user/pixieofficial So here we are again... SING OFF ROUND 4!! Pixie basically stalked me to the studio and forced me to record this one.. I definitely didn't relentlessly text her, call her, call her off my brothers phone when she blocked me, wait outside her house crying, naked, until she agreed to do it with me. Huge shoutout to Tape London for letting us use their studio! Thank you to @blvqwolf (insta) for filming this video for me!! Shoutout to Jake & Amir for inspiring the intro! More from me... Instagram: http://instagram.com/conormaynard Snapchat: conorpmaynard Official Site: http://www.conor-maynard.com/ Facebook: https://www.facebook.com/ConorMaynard Twitter: https://twitter.com/ConorMaynard More from Pixie... Instagram: https://www.instagram.com/pixielott Twitter: https://twitter.com/PixieLott More from Tape... Instagram: https://www.instagram.com/tapelondon Twitter: https://twitter.com/tape_london
About YouTube Live Subscriber Count

Looking to track YouTube video live view counts in real-time? SocialCounts.org is the perfect destination for all your video tracking needs! Our platform utilizes YouTube's original API and advanced technology to provide nearly accurate estimations of live view counts for any YouTube video.
But that's not all! We also offer a unique comparison feature where you can compare the live view counts of any video with any channel, video, or profile. This makes it easy to compare and analyze the performance of different YouTube videos and channels.
At SocialCounts.org, we're committed to providing you with accurate and up-to-date data analysis for all your video tracking needs. Whether you're a content creator or simply a YouTube enthusiast, our platform is the perfect tool for monitoring the popularity and growth of your favorite videos.
So, if you're looking for a reliable source to track live view counts on YouTube, look no further than SocialCounts.org. Trust us to keep you in the know with real-time data analysis and comparison features.