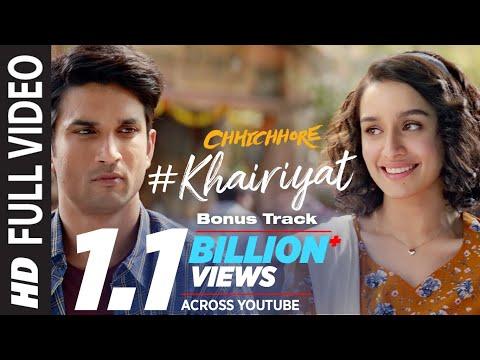 Full Song: KHAIRIYAT (BONUS TRACK) | CHHICHHORE | Sushant, Shraddha | Pritam, Amitabh B|Arijit Singh
896475643
Full Song: KHAIRIYAT (BONUS TRACK) | CHHICHHORE | Sushant, Shraddha | Pritam, Amitabh B|Arijit Singh youtube video stats
Date
Views
Likes
Dislikes

Mar 29, 2023

Wed

896475643

+ 237K

6835934

+ 1.39K

N/A

Mar 28, 2023

Tue

896238520

+ 246K

6834535

+ 1.42K

N/A

Mar 27, 2023

Mon

895992433

+ 241K

6833108

+ 1.40K

N/A

Mar 26, 2023

Sun

895750594

+ 274K

6831699

+ 1.68K

N/A

Mar 25, 2023

Sat

895475624

+ 254K

6830011

+ 1.55K

N/A

Mar 24, 2023

Fri

895221080

+ 247K

6828460

+ 1.25K

N/A

Mar 23, 2023

Thu

894973859

+ 257K

6827202

+ 1.38K

N/A

Mar 22, 2023

Wed

894716692

+ 311K

6825821

+ 1.63K

N/A

Mar 21, 2023

Tue

894405371

+ 336K

6824189

+ 1.72K

N/A

Mar 20, 2023

Mon

894068984

+ 330K

6822463

+ 1.62K

N/A

Mar 19, 2023

Sun

893738809

+ 1.52K

6820840

+ 9

N/A

Mar 19, 2023

Sun

893737287

+ 384K

6820831

+ 1.92K

N/A

Mar 18, 2023

Sat

893352661

+ 360K

6818903

+ 1.76K

N/A

Mar 17, 2023

Fri

892992061

+ 324K

6817143

+ 1.85K

N/A

Mar 16, 2023

Thu

892667120

+ 352K

6815287

+ 2.04K

N/A

Mar 15, 2023

Wed

892314572

+ 363K

6813243

+ 1.89K

N/A

Mar 14, 2023

Tue

891950854

+ 310K

6811353

+ 1.75K

N/A

Mar 13, 2023

Mon

891640418

+ 311K

6809594

+ 1.64K

N/A

Mar 12, 2023

Sun

891328773

+ 343K

6807948

+ 1.58K

N/A

Mar 11, 2023

Sat

890985587

+ 301K

6806368

+ 1.70K

N/A

Mar 10, 2023

Fri

890684263

+ 269K

6804665

+ 1.37K

N/A

Mar 9, 2023

Thu

890414410

+ 302K

6803288

+ 1.49K

N/A

Mar 8, 2023

Wed

890112109

+ 295K

6801796

+ 1.48K

N/A

Mar 7, 2023

Tue

889816431

+ 294K

6800309

+ 1.45K

N/A

Mar 6, 2023

Mon

889521538

+ 310K

6798852

+ 1.59K

N/A

Mar 5, 2023

Sun

889210680

+ 357K

6797260

+ 1.99K

N/A

Mar 4, 2023

Sat

888852884

+ 370K

6795268

+ 2.47K

N/A

Mar 3, 2023

Fri

888482151

+ 313K

6792793

+ 1.78K

N/A

Mar 2, 2023

Thu

888168985

+ 356K

6791012

+ 2.20K

N/A

Mar 1, 2023

Wed

887812378

---

6788806

---

---
Embed
To embed this live counts widget on your own webpage? Simply copy and paste following code to your page and enjoy it wherever you want!
Customize Embed
About Full Song: KHAIRIYAT (BONUS TRACK) | CHHICHHORE | Sushant, Shraddha | Pritam, Amitabh B|Arijit Singh

Presenting the full video "KHAIRIYAT (BONUS TRACK)" from the Bollywood movie "CHHICHHORE". The film is directed by Nitesh Tiwari and produced by Sajid Nadiadwala under the banner of Nadiadwala Grandson Entertainment. The film stars Sushant Singh Rajput, Shraddha Kapoor, Varun Sharma, Prateik Babbar and follows the lives of seven friends from 1992 to present day. ♪ Full Song Available on ♪ iTunes : http://bit.ly/Chhichhore-Full-Album-iTunes Hungama : http://bit.ly/Chhichhore-Full-Album-Hungama Wynk : http://bit.ly/Chhichhore-Full-Album-Wynk Gaana : http://bit.ly/Chhichhore-Full-Album-Gaana JioSaavn : http://bit.ly/Chhichhore-Full-Album-JioSaavn Apple Music : http://bit.ly/Chhichhore-Full-Album-Apple-Music Amazon Prime Music : http://bit.ly/Chhichhore-Full-Album-Amazon-Prime-Music Spotify : http://bit.ly/Chhichhore-Full-Album-Spotify Google Play : http://bit.ly/Chhichhore-Full-Album-Google-Play Song: KHAIRIYAT (BONUS TRACK) Singer - Arijit Singh Music - Pritam Lyrics - Amitabh Bhattacharya Music Production & Sound Design - DJ Phukan & Sunny M.R. Music Programmed and Arranged – Prasad Sashte & Sunny M.R. Mix & Master - Shadab Rayeen @ New Edge Violin, Viola, Clarinets, and Flutes – Shirish Malhotra Guitars & Bass – Roland Fernandes Strings (Bangkok, Thailand) at Studio28 Violin 1 - Pongsit Karnkriangkrai, Pacharapol Techatanachai, Pattapol Jirasuttisam, and Chot Buasuwan Violin 2 - Chalat Limpisiri, Pittaya Pruksacholavit, Tonmaii Paichana, and Kiratikom Promdewet Viola - Thachapol Namwong, Pongthep Jitduangprem, Surachon Lerdlop, and Atjayut Sangkasem Cello - Teerakiat Kerdlarp, Vannophat Kaploykeo, and Samatchar Pourkarua Conducted by Trisdee na Patalung Vocal Conductors - Tushar Joshi & Akashdeep Sengupta Chief Sound Engineer & Shootmix by Ashwin Kulkarni Recording Engineers - Ashwin Kulkarni, Aaroh Velankar, Himanshu Shirlekar, Aniruddh Anantha & Harjot Kaur Assistant to Shadab - Abhishek Sortey & Dhananjay Khapekar Recording Engineers at Arijit's Studio – Sukanto Singha Scratch Lyrics - Shloke Lal Music Production Manager - Anurag Sharma Music Label: T-Series ___ Enjoy & stay connected with us! 👉 Subscribe to T-Series: http://bit.ly/TSeriesYouTube 👉 Like us on Facebook: https://www.facebook.com/tseriesmusic 👉Follow us on Twitter: https://twitter.com/tseries 👉 Follow us on Instagram: http://bit.ly/InstagramTseries
About YouTube Live Subscriber Count

Looking to track YouTube video live view counts in real-time? SocialCounts.org is the perfect destination for all your video tracking needs! Our platform utilizes YouTube's original API and advanced technology to provide nearly accurate estimations of live view counts for any YouTube video.
But that's not all! We also offer a unique comparison feature where you can compare the live view counts of any video with any channel, video, or profile. This makes it easy to compare and analyze the performance of different YouTube videos and channels.
At SocialCounts.org, we're committed to providing you with accurate and up-to-date data analysis for all your video tracking needs. Whether you're a content creator or simply a YouTube enthusiast, our platform is the perfect tool for monitoring the popularity and growth of your favorite videos.
So, if you're looking for a reliable source to track live view counts on YouTube, look no further than SocialCounts.org. Trust us to keep you in the know with real-time data analysis and comparison features.