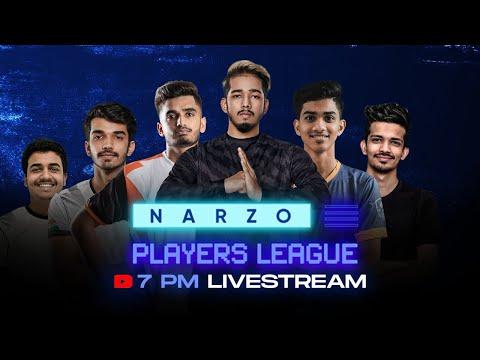 Realme Narzo Players League | SCOUT'S POV | BGMI Exhibition Matches #UnleashPeakPerformance
1873033
Realme Narzo Players League | SCOUT'S POV | BGMI Exhibition Matches #UnleashPeakPerformance youtube video stats
Date
Views
Likes
Dislikes

Mar 21, 2023

Tue

1873033

+ 4

134501

- 1

N/A

Mar 20, 2023

Mon

1873029

0

134502

0

N/A

Mar 19, 2023

Sun

1873029

+ 3

134502

0

N/A

Mar 18, 2023

Sat

1873026

+ 1

134502

- 1

N/A

Mar 17, 2023

Fri

1873025

+ 2

134503

- 2

N/A

Mar 16, 2023

Thu

1873023

0

134505

0

N/A

Mar 15, 2023

Wed

1873023

+ 2

134505

- 1

N/A

Mar 14, 2023

Tue

1873021

+ 4

134506

0

N/A

Mar 13, 2023

Mon

1873017

+ 1

134506

+ 1

N/A

Mar 12, 2023

Sun

1873016

+ 7

134505

0

N/A

Mar 11, 2023

Sat

1873009

+ 1

134505

- 1

N/A

Mar 10, 2023

Fri

1873008

+ 1

134506

- 1

N/A

Mar 9, 2023

Thu

1873007

+ 1

134507

0

N/A

Mar 8, 2023

Wed

1873006

+ 1

134507

0

N/A

Mar 7, 2023

Tue

1873005

+ 1

134507

- 4

N/A

Mar 6, 2023

Mon

1873004

+ 5

134511

0

N/A

Mar 5, 2023

Sun

1872999

+ 1

134511

0

N/A

Mar 4, 2023

Sat

1872998

0

134511

0

N/A

Mar 3, 2023

Fri

1872998

+ 1

134511

- 1

N/A

Mar 2, 2023

Thu

1872997

0

134512

- 1

N/A

Mar 1, 2023

Wed

1872997

+ 6

134513

0

N/A

Feb 28, 2023

Tue

1872991

+ 4

134513

+ 1

N/A

Feb 27, 2023

Mon

1872987

+ 3

134512

0

N/A

Feb 26, 2023

Sun

1872984

+ 1

134512

0

N/A

Feb 25, 2023

Sat

1872983

+ 3

134512

0

N/A

Feb 24, 2023

Fri

1872980

+ 1

134512

0

N/A

Feb 23, 2023

Thu

1872979

+ 2

134512

0

N/A

Feb 22, 2023

Wed

1872977

+ 4

134512

0

N/A

Feb 21, 2023

Tue

1872973

+ 1

134512

0

N/A

Feb 20, 2023

Mon

1872972

---

134512

---

---
Embed
To embed this live counts widget on your own webpage? Simply copy and paste following code to your page and enjoy it wherever you want!
Customize Embed
About Realme Narzo Players League | SCOUT'S POV | BGMI Exhibition Matches #UnleashPeakPerformance

Our top young players battle it out in India's first ever #battlegroundsmobileindia tournament, powered by #realmenarzo305G.   #UnleashPeakPerformance We have a total of 14 teams, 6 of them helmed by India's most popular gamers namely, ScoutOP, Mavi, Regaltos, Snaxx, Daljit and Nova King. These young players, along with 8 other teams, will battle it out in a 4 match set-up. Keep a tab on the leaderboard to see which one stands where in the game.  The MVPs of the game, meaning the members of the winner teams will get a newly launched #realmenarzo305G each. #bgmi We also have something for the viewers! All you have to do is guess the team that is going to win and share on Twitter, tagging @realmeindia along with the tournament hashtags - #narzoPlayersLeague and  #realmenarzo305G. A few of you might be the lucky winners to take home a realme narzo 30 5G.  The realme narzo 30 and realme narzo 30 5G go on sale on 29th and 30th June respectively across realme.com and flipkart! Follow @realmeIndia on our social handles for more updates.  Ebullient Gaming India Initiative. • Scout's Social Media Handles: • 📷 Instagram: https://www.instagram.com/scoutop 🕊️ Twitter: https://www.twitter.com/scouttanmay ▶️ Youtube: https://www.youtube.com/channel/UCYxMATvBqKQx7utYcYK3waA LOCO: https://loco.gg/streamers/2YEXAQN86R 🎳 Discord: https://discord.gg/sc0ut YT MEMBERSHIP : https://www.youtube.com/channel/UCYxMATvBqKQx7utYcYK3waA/join Thankyou For Your Support ❤️ • Copyright © 2021 sc0ut - All Rights Reserved. Note: If you use a copyrighted work without the appropriate permission, you may be violating --or "infringing" --the owner's right to that work. Infringing someone else's copyright may subject you to legal action. #LiveWithScout #sc0ut #ScoutisLive
About YouTube Live Subscriber Count

Looking to track YouTube video live view counts in real-time? SocialCounts.org is the perfect destination for all your video tracking needs! Our platform utilizes YouTube's original API and advanced technology to provide nearly accurate estimations of live view counts for any YouTube video.
But that's not all! We also offer a unique comparison feature where you can compare the live view counts of any video with any channel, video, or profile. This makes it easy to compare and analyze the performance of different YouTube videos and channels.
At SocialCounts.org, we're committed to providing you with accurate and up-to-date data analysis for all your video tracking needs. Whether you're a content creator or simply a YouTube enthusiast, our platform is the perfect tool for monitoring the popularity and growth of your favorite videos.
So, if you're looking for a reliable source to track live view counts on YouTube, look no further than SocialCounts.org. Trust us to keep you in the know with real-time data analysis and comparison features.