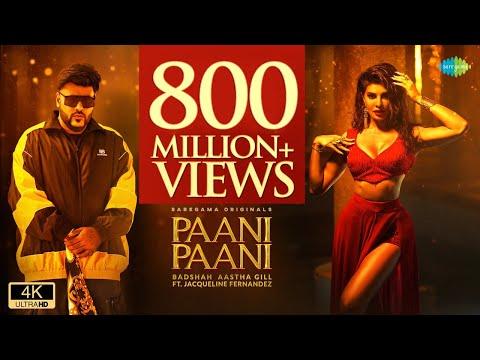 Badshah - Paani Paani | Jacqueline Fernandez | Official Music Video | Aastha Gill | Trending Songs
790819915
Badshah - Paani Paani | Jacqueline Fernandez | Official Music Video | Aastha Gill | Trending Songs youtube video stats
Date
Views
Likes
Dislikes

Mar 29, 2023

Wed

790819915

+ 69.2K

6382781

+ 352

N/A

Mar 28, 2023

Tue

790750678

+ 70.2K

6382429

+ 384

N/A

Mar 27, 2023

Mon

790680470

+ 67.5K

6382045

+ 321

N/A

Mar 26, 2023

Sun

790612922

+ 78.5K

6381724

+ 316

N/A

Mar 25, 2023

Sat

790534375

+ 75.6K

6381408

+ 352

N/A

Mar 24, 2023

Fri

790458687

+ 74.3K

6381056

+ 313

N/A

Mar 23, 2023

Thu

790384375

+ 74.7K

6380743

+ 335

N/A

Mar 22, 2023

Wed

790309644

+ 79.9K

6380408

+ 340

N/A

Mar 21, 2023

Tue

790229697

+ 80.2K

6380068

+ 433

N/A

Mar 20, 2023

Mon

790149451

+ 83.0K

6379635

+ 384

N/A

Mar 19, 2023

Sun

790066386

+ 90.0K

6379251

+ 463

N/A

Mar 18, 2023

Sat

789976354

+ 86.7K

6378788

+ 434

N/A

Mar 17, 2023

Fri

789889642

+ 83.0K

6378354

+ 377

N/A

Mar 16, 2023

Thu

789806585

+ 84.8K

6377977

+ 395

N/A

Mar 15, 2023

Wed

789721760

+ 88.6K

6377582

+ 370

N/A

Mar 14, 2023

Tue

789633119

+ 76.7K

6377212

+ 374

N/A

Mar 13, 2023

Mon

789556338

+ 85.9K

6376838

+ 344

N/A

Mar 12, 2023

Sun

789470433

+ 104K

6376494

+ 437

N/A

Mar 11, 2023

Sat

789365546

+ 89.9K

6376057

+ 504

N/A

Mar 10, 2023

Fri

789275587

+ 85.2K

6375553

+ 423

N/A

Mar 9, 2023

Thu

789190288

+ 90.0K

6375130

+ 423

N/A

Mar 8, 2023

Wed

789100211

+ 101K

6374707

+ 504

N/A

Mar 7, 2023

Tue

788998302

+ 97.3K

6374203

+ 408

N/A

Mar 6, 2023

Mon

788900960

+ 91.3K

6373795

+ 455

N/A

Mar 5, 2023

Sun

788809566

+ 99.8K

6373340

+ 469

N/A

Mar 4, 2023

Sat

788709680

+ 97.8K

6372871

+ 425

N/A

Mar 3, 2023

Fri

788611816

+ 92.3K

6372446

+ 416

N/A

Mar 2, 2023

Thu

788519436

+ 96.4K

6372030

+ 390

N/A

Mar 1, 2023

Wed

788422987

+ 92.8K

6371640

+ 377

N/A

Feb 28, 2023

Tue

788330102

---

6371263

---

---
Embed
To embed this live counts widget on your own webpage? Simply copy and paste following code to your page and enjoy it wherever you want!
Customize Embed
About Badshah - Paani Paani | Jacqueline Fernandez | Official Music Video | Aastha Gill | Trending Songs

Badshah x Jacqueline Fernandez x Aastha Gill are here to raise the temperatures and how! 🔥 Saregama Originals Presents Badshah's "Paani Paani" a duet with Aastha Gill starring Badshah and Jacqueline Fernandez. Badshah refreshes the soundscape with the romance of the strings of the Rajasthani Rawanhatta and the Kalbeliya Folk Dance. The power Duo Badshah and Aastha Gill are back with the gorgeous Jacqueline Fernandez, all set to set this summer on fire. Badshah continues to celebrate and represent the cultures of India, celebrating its landscape, colours, dance and unique folk sounds and instruments that face the fear of being forgotten in this world of new age music. For more such latest songs subscribe to @SaregamaMusic #Badshah #PaaniPaani #JacquelineFernandez #SaregamaMusic #AasthaGill #TrendingSongs #PaniPaniSong Now streaming on all your favorite platforms: Gaana: https://gaana.com/song/paani-paani-3 JioSaavn: https://bit.ly/3ipjXjG Wynk: https://bit.ly/3ctgxZi Spotify: https://spoti.fi/358PGgZ Hungama: https://bit.ly/3pOmZ2F Amazon Prime Music: https://amzn.to/3csCrMs Resso: https://m.resso.app/ZSJxeR7bE/ YT Music: https://bit.ly/34ZvA92 Apple Music: https://apple.co/3g1RqPA Audio Credits: Artist: Badshah, Aastha Gill Starring: Badshah, Jacqueline Fernandez, Aastha Gill Lyrics: Badshah Music by: Badshah Additional Production: Aditya Dev and Hiten Mix & Master : Aditya Dev Studios Video Credits: VIDEO BY: B2GETHERPROS CHOREOGRAPHY: Piyush Bhagat, Shazia Samji MD: Armaan Dhillon DIRECTORS: Mahi Sandhu, Joban Sandhu Co.D: Sharn Sandhu CHIEF AD: Sahil Baghra DOP: Bhanu pratap singh EDITOR : Jagjeet Singh dhanoa DANCERS MANAGEMENT: Octopus Entertainment TEASER MUSIC MIX : Guri Nimana EDITOR AND DI COLORIST: Jagjeet singh dhanoa BTS & Photography: Jerry batra ( BMS PICTURES ) PRODUCTION: Neeraj Bhatt Additional Production: Adtiya Dev and Hiten JIMMY JIB: Manish Team Jacqueline: Manager: Sambardhana Deb Roy Makeup: ShaanMU Hair Styling: Madhav Stylist: Leepakshi Boy: Chandan Team Badshah Hair: Javed Sheikh Makeup: Swapnil Haldankar Team Aastha Gill Hair: Javed Sheikh Makeup: Swapnil Haldankar Styling: Stylenmua by Garima Jain Styling Assistant: Aakriti Palta, Niyati Jain Lyrics: BADSHAH FT. AASTHA GILL Usney mujhe Chhua bhi nahi Aisa waisa kuch Hua bhi nahi Nazar thi paini, hui bechaini Aankhon aankhon mein shaitani ho gayi Saiyaan ne dekha aise Main paani paani ho gayi ( 3) Rap verse 1 Chalegi kya Glass pada hai khaali, bharegi kya Saath aaye launde se daregi kya Andar ki feeling se ladegi kya Hadd ho gayi Hadd se aagey bhi badhegi kya Nau acre mein farm , farm pe ghodey Ghodey pe chadhegi kya 123, gaadi ke bonnet se nikle pari Laundey aagey kahin tikte nahi Baatein hain kaidi meri, likh le kahin Chal niklein kahin Aisi hoon khoyi kabhi khoyi hi nahin Aankhein mili hain jabsey soyi hi nahi Duniya se, suney hain, kissey tere Jaane kya aayega hisse mere Issi khayaal mein deewani ho gayi Saiyaan ne dekha aise Main paani paani ho gayi (2) Rap verse 2 Image kharaab, kaam galat hai News mein naam aata har week Phir bhi jahaan se guzroon Har bandi ke mooh se nikle cheekh Haath pakad par dil na laga Jo kehti hai karke dikhe Sunne mein aaya hai tu marti hai humpe Marr ke dikha Rehne de, mooh bandh rakh Aankhein jo kehti hain kehne de Bohot ruki hai aaj tu Paani banke khud ko behne de It's yo boy badshah Nazar thi paini, hui bechaini Aankhon aankhon mein shaitani ho gayi Saiyaan ne dekha aise. Saregama India Limited, A RPSG Group Company To buy the original and virus free track, visit www.saregama.com Follow us on: YouTube: http://www.youtube.com/saregamamusic Facebook: http://www.facebook.com/Saregama Instagram: https://www.instagram.com/saregama_official/ Check out Saregama's profile on Josh: https://bit.ly/2SV9kdI Create your videos on Josh and tag Saregama: https://m.myjosh.in/6OaT/32e07bf Create your videos on Moj and tag Saregama: https://mojapp.in/@saregamaindia Create your videos on Triller and tag Saregama: https://triller.co/@saregamamusic Twitter: https://twitter.com/saregamaglobal
About YouTube Live Subscriber Count

Looking to track YouTube video live view counts in real-time? SocialCounts.org is the perfect destination for all your video tracking needs! Our platform utilizes YouTube's original API and advanced technology to provide nearly accurate estimations of live view counts for any YouTube video.
But that's not all! We also offer a unique comparison feature where you can compare the live view counts of any video with any channel, video, or profile. This makes it easy to compare and analyze the performance of different YouTube videos and channels.
At SocialCounts.org, we're committed to providing you with accurate and up-to-date data analysis for all your video tracking needs. Whether you're a content creator or simply a YouTube enthusiast, our platform is the perfect tool for monitoring the popularity and growth of your favorite videos.
So, if you're looking for a reliable source to track live view counts on YouTube, look no further than SocialCounts.org. Trust us to keep you in the know with real-time data analysis and comparison features.