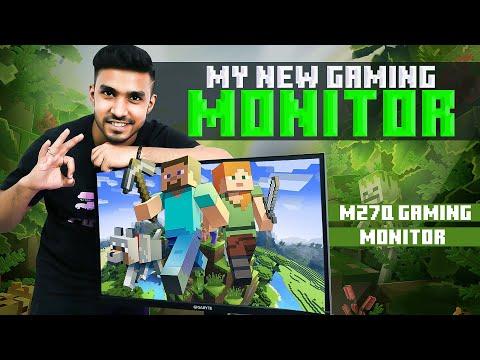 MY NEW GAMING MONITOR | GIGABYTE | @AORUSIndia
2677854
MY NEW GAMING MONITOR | GIGABYTE | @AORUSIndia youtube video stats
Date
Views
Likes
Dislikes

Mar 20, 2023

Mon

2677854

+ 172

258961

0

N/A

Mar 19, 2023

Sun

2677682

+ 184

258961

- 2

N/A

Mar 18, 2023

Sat

2677498

+ 177

258963

+ 3

N/A

Mar 17, 2023

Fri

2677321

+ 168

258960

- 2

N/A

Mar 16, 2023

Thu

2677153

+ 186

258962

0

N/A

Mar 15, 2023

Wed

2676967

+ 185

258962

+ 7

N/A

Mar 14, 2023

Tue

2676782

+ 165

258955

- 1

N/A

Mar 13, 2023

Mon

2676617

+ 190

258956

0

N/A

Mar 12, 2023

Sun

2676427

+ 165

258956

+ 3

N/A

Mar 11, 2023

Sat

2676262

+ 161

258953

+ 3

N/A

Mar 10, 2023

Fri

2676101

+ 150

258950

+ 6

N/A

Mar 9, 2023

Thu

2675951

+ 167

258944

- 1

N/A

Mar 8, 2023

Wed

2675784

+ 194

258945

+ 5

N/A

Mar 7, 2023

Tue

2675590

+ 169

258940

+ 2

N/A

Mar 6, 2023

Mon

2675421

+ 177

258938

+ 6

N/A

Mar 5, 2023

Sun

2675244

+ 178

258932

+ 5

N/A

Mar 4, 2023

Sat

2675066

+ 200

258927

+ 6

N/A

Mar 3, 2023

Fri

2674866

+ 157

258921

+ 2

N/A

Mar 2, 2023

Thu

2674709

+ 170

258919

+ 2

N/A

Mar 1, 2023

Wed

2674539

+ 176

258917

+ 3

N/A

Feb 28, 2023

Tue

2674363

+ 202

258914

+ 2

N/A

Feb 27, 2023

Mon

2674161

+ 211

258912

+ 3

N/A

Feb 26, 2023

Sun

2673950

+ 262

258909

+ 5

N/A

Feb 25, 2023

Sat

2673688

+ 213

258904

+ 10

N/A

Feb 24, 2023

Fri

2673475

+ 198

258894

+ 9

N/A

Feb 23, 2023

Thu

2673277

+ 222

258885

+ 8

N/A

Feb 22, 2023

Wed

2673055

+ 196

258877

+ 8

N/A

Feb 21, 2023

Tue

2672859

+ 187

258869

+ 8

N/A

Feb 20, 2023

Mon

2672672

+ 210

258861

+ 2

N/A

Feb 19, 2023

Sun

2672462

---

258859

---

---
Embed
To embed this live counts widget on your own webpage? Simply copy and paste following code to your page and enjoy it wherever you want!
Customize Embed
About MY NEW GAMING MONITOR | GIGABYTE | @AORUSIndia

M27Q is the World's first KVM Gaming Monitor with Super Speed IPS panel, 2k resolution and more Play AORUS AIM Game and WIN M27Q Monitor and more!! - https://bit.ly/aimgame_Techno AORUS is doing another contest for you, participate here - https://gleam.io/yAmpo/aorus-x-techno-gamerz-monitor Checkout all new Gigabyte and AORUS Monitors here - https://bit.ly/Monitorstore Get outriders game bundle free with Gigabyte M27Q and AORUS FI27Q Monitor. Also, get INR 1,000 Amazon voucher free with G27Q Monitor. My pc spec: Processor - Intel i9-11900K Motherboard - Z590 AORUS Master PSU Monitor - GIGABYTE M27Q RAM - DESIGNARE Memory 64GB (2x32GB) 3200MHz NVMe SSD - AORUS 1TB Gen 4 NVMe SSD SSD - GIGABYTE 1TB SSD 2.5" PSU - AORUS AP850w Gold #UpgradeWithAorus #M27Q #AorusAIMGame #GamewithAORUS Share, Support, Subscribe!!! Subscribe: http://bit.ly/ujjwalgamer Discord : https://bitly.com/ujjwaldiscord Youtube: https://www.youtube.com/c/TechnoGamerzOfficial Twitter: https://www.twitter.com/ujjwalgamer Facebook: https://www.facebook.com/technogamerz Facebook Myself: https://www.facebook.com/ujjwalgamer Instagram: https://instagram.com/ujjwalgamer Business Email : [email protected] About : Ujjwal Gamer is a channel where I post gaming videos & live stream everyday.
About YouTube Live Subscriber Count

Looking to track YouTube video live view counts in real-time? SocialCounts.org is the perfect destination for all your video tracking needs! Our platform utilizes YouTube's original API and advanced technology to provide nearly accurate estimations of live view counts for any YouTube video.
But that's not all! We also offer a unique comparison feature where you can compare the live view counts of any video with any channel, video, or profile. This makes it easy to compare and analyze the performance of different YouTube videos and channels.
At SocialCounts.org, we're committed to providing you with accurate and up-to-date data analysis for all your video tracking needs. Whether you're a content creator or simply a YouTube enthusiast, our platform is the perfect tool for monitoring the popularity and growth of your favorite videos.
So, if you're looking for a reliable source to track live view counts on YouTube, look no further than SocialCounts.org. Trust us to keep you in the know with real-time data analysis and comparison features.