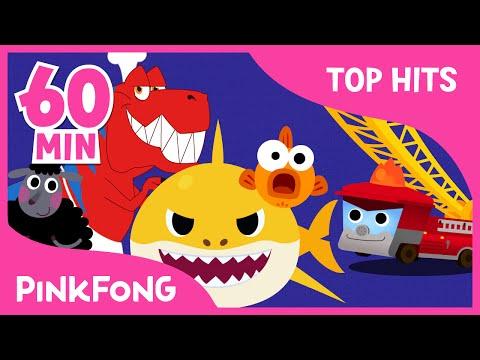 Baby Shark and 50+ Songs | + Compilation | PINKFONG Songs for Children
82668114
Baby Shark and 50+ Songs | + Compilation | PINKFONG Songs for Children youtube video stats
Date
Views
Likes
Dislikes

Mar 25, 2023

Sat

82668114

+ 1.80K

140363

+ 1

N/A

Mar 24, 2023

Fri

82666305

+ 1.71K

140362

- 2

N/A

Mar 23, 2023

Thu

82664589

+ 1.53K

140364

+ 5

N/A

Mar 22, 2023

Wed

82663058

+ 1.57K

140359

0

N/A

Mar 21, 2023

Tue

82661484

+ 1.59K

140359

+ 4

N/A

Mar 20, 2023

Mon

82659889

+ 1.47K

140355

+ 1

N/A

Mar 19, 2023

Sun

82658414

+ 1.95K

140354

- 1

N/A

Mar 18, 2023

Sat

82656464

+ 2.12K

140355

+ 2

N/A

Mar 17, 2023

Fri

82654336

+ 1.55K

140353

0

N/A

Mar 16, 2023

Thu

82652786

+ 1.33K

140353

+ 3

N/A

Mar 15, 2023

Wed

82651450

+ 1.44K

140350

0

N/A

Mar 14, 2023

Tue

82650004

+ 1.21K

140350

0

N/A

Mar 13, 2023

Mon

82648787

+ 1.44K

140350

- 1

N/A

Mar 12, 2023

Sun

82647338

+ 1.80K

140351

+ 2

N/A

Mar 11, 2023

Sat

82645537

+ 1.39K

140349

0

N/A

Mar 10, 2023

Fri

82644143

+ 1.18K

140349

+ 2

N/A

Mar 9, 2023

Thu

82642960

+ 1.24K

140347

+ 5

N/A

Mar 8, 2023

Wed

82641717

+ 1.23K

140342

- 1

N/A

Mar 7, 2023

Tue

82640478

+ 1.31K

140343

+ 3

N/A

Mar 6, 2023

Mon

82639168

+ 1.35K

140340

0

N/A

Mar 5, 2023

Sun

82637817

+ 1.50K

140340

0

N/A

Mar 4, 2023

Sat

82636315

+ 1.29K

140340

- 2

N/A

Mar 3, 2023

Fri

82635018

+ 1.46K

140342

+ 4

N/A

Mar 2, 2023

Thu

82633549

+ 1.40K

140338

+ 1

N/A

Mar 1, 2023

Wed

82632141

+ 1.39K

140337

- 1

N/A

Feb 28, 2023

Tue

82630744

+ 1.40K

140338

+ 1

N/A

Feb 27, 2023

Mon

82629341

+ 1.42K

140337

- 1

N/A

Feb 26, 2023

Sun

82627913

+ 1.94K

140338

+ 5

N/A

Feb 25, 2023

Sat

82625972

+ 1.94K

140333

- 3

N/A

Feb 24, 2023

Fri

82624028

---

140336

---

---
Embed
To embed this live counts widget on your own webpage? Simply copy and paste following code to your page and enjoy it wherever you want!
Customize Embed
About Baby Shark and 50+ Songs | + Compilation | PINKFONG Songs for Children

#StayHome #StayHomeWithMe ❤️Weekly plan to help kids Sing, Play, Learn at Home!❤️ Click the link and get your printable coloring pages and paper-dolls for ❣️FREE!❣️ ➡ https://www.pinkfong.com/singplaylearnathome/ BABY SHARK CHANNEL OPEN! Subscribe for exclusive Baby Shark videos! ★http://i.sstudy.kr/L/5769/03 Subscribe and watch new videos uploaded every week. ★ YouTube Channel: http://www.youtube.com/Pinkfong PINKFONG! no. 1 kids' app chosen by 100 million children worldwide ★ Best Kids Songs & Stories [Free Download]: http://i.sstudy.kr/L/591/des/ ★ Baby Shark and 50+ Songs Compilation: 01. Baby Shark 02. Baa, Baa, Black Sheep 03. Fire Truck 04. I'm a Chef Today 05. Super Brave Cars 06. Hickory, Dickory, Dock 07. I Am Excavator 08. If Dinosaurs Were Still Alive 09. Jungle Boogie 10. Who am I? 11 Eentsy Weentsy Spider 12. Dinosaurs A to Z 13. The Penguin Dance 14. Traffic Lights 15. Teddy Bear 16. Giant Truck Team 17. My Pet, My Buddy 18. Dinosaur Parade 19. The Muffin Man 20. I Am the Best 21. Six little Ducks 22. Police Car 23. Under the Sea 24. This Little Piggy 25. The Lion 26. Vroom Vroom Family 27. Where Did the Dinosaurs Go? 28. There Was a Crooked Man 29. Move Like the Dinosaurs 30. Teeny Tiny 31. Will You Marry Me? 32. Mary Had a Little Lamb 33. Boom, Boom! Dino World 34. Night Animals 35. Where Is Daddy? 36. Five Little Monkeys 37. The Wheels on the Bus 38. Tyrannosaurus-Rex 39. Polly, Put the Kettle on 40. Dig It Up 41. Pat-a-Cake 42. Old MacDonald Had a Farm 43. Hickety, Pickety, My Black Hen 44. Ring Around The Roses 45. I Am a Music Man 46. Nodding, Nodding 47. Make a Pancake 48. I Had a Little Nut Tree 49. Rain, Rain, Go Away 50. Baby Animals 51. One Elephant Went out to Play 52. The Wheels on the Bus 53. Animal-saurus Subscribe to PINKFONG's YouTube channel for hundreds of kids' favorite songs and stories, including phonics songs, nursery rhymes, bedtime lullabies, children's classics, fairy tales and more! Enjoy educational songs and stories for preschool kids created by the experts in children's education. Follow us on Facebook for new updates and free promotions. ★ Facebook: https://www.facebook.com/pinkfong.official ★ Instagram: https://instagram.com/pinkfong.official ★ Twitter: https://twitter.com/pinkfong_usa ★ Website: https://www.pinkfong.com Copyright © 2016 Smart Study Co., Ltd. All Rights Reserved. #pinkfong #kid #kids #kidssongs #baby #babies #babiessongs #babyshark #phonics #smartstudy Arranged by pinkfong & KizCastle
About YouTube Live Subscriber Count

Looking to track YouTube video live view counts in real-time? SocialCounts.org is the perfect destination for all your video tracking needs! Our platform utilizes YouTube's original API and advanced technology to provide nearly accurate estimations of live view counts for any YouTube video.
But that's not all! We also offer a unique comparison feature where you can compare the live view counts of any video with any channel, video, or profile. This makes it easy to compare and analyze the performance of different YouTube videos and channels.
At SocialCounts.org, we're committed to providing you with accurate and up-to-date data analysis for all your video tracking needs. Whether you're a content creator or simply a YouTube enthusiast, our platform is the perfect tool for monitoring the popularity and growth of your favorite videos.
So, if you're looking for a reliable source to track live view counts on YouTube, look no further than SocialCounts.org. Trust us to keep you in the know with real-time data analysis and comparison features.