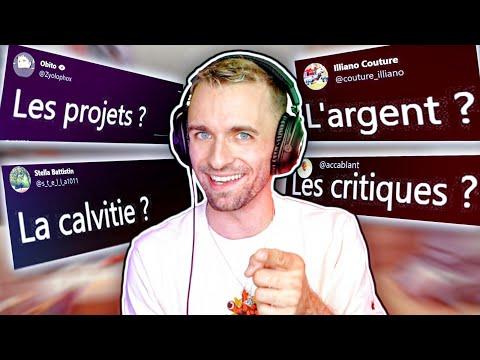 je réponds à vos questions osées (FAQ 2021)
4663229
je réponds à vos questions osées (FAQ 2021) youtube video stats
Date
Views
Likes
Dislikes

Mar 29, 2023

Wed

4663229

+ 511

400079

+ 19

N/A

Mar 28, 2023

Tue

4662718

+ 463

400060

+ 19

N/A

Mar 27, 2023

Mon

4662255

+ 420

400041

+ 16

N/A

Mar 26, 2023

Sun

4661835

+ 633

400025

+ 19

N/A

Mar 25, 2023

Sat

4661202

+ 602

400006

+ 17

N/A

Mar 24, 2023

Fri

4660600

+ 422

399989

+ 11

N/A

Mar 23, 2023

Thu

4660178

+ 644

399978

+ 18

N/A

Mar 22, 2023

Wed

4659534

+ 454

399960

+ 11

N/A

Mar 21, 2023

Tue

4659080

+ 444

399949

+ 7

N/A

Mar 20, 2023

Mon

4658636

+ 376

399942

+ 3

N/A

Mar 19, 2023

Sun

4658260

+ 446

399939

+ 11

N/A

Mar 18, 2023

Sat

4657814

+ 518

399928

+ 23

N/A

Mar 17, 2023

Fri

4657296

+ 589

399905

+ 9

N/A

Mar 16, 2023

Thu

4656707

+ 488

399896

+ 16

N/A

Mar 15, 2023

Wed

4656219

+ 555

399880

+ 15

N/A

Mar 14, 2023

Tue

4655664

+ 484

399865

+ 20

N/A

Mar 13, 2023

Mon

4655180

+ 429

399845

+ 6

N/A

Mar 12, 2023

Sun

4654751

+ 571

399839

+ 19

N/A

Mar 11, 2023

Sat

4654180

+ 487

399820

+ 13

N/A

Mar 10, 2023

Fri

4653693

+ 472

399807

+ 17

N/A

Mar 9, 2023

Thu

4653221

+ 585

399790

+ 6

N/A

Mar 8, 2023

Wed

4652636

+ 574

399784

+ 20

N/A

Mar 7, 2023

Tue

4652062

+ 458

399764

+ 16

N/A

Mar 6, 2023

Mon

4651604

+ 345

399748

+ 7

N/A

Mar 5, 2023

Sun

4651259

+ 476

399741

+ 1

N/A

Mar 4, 2023

Sat

4650783

+ 468

399740

+ 12

N/A

Mar 3, 2023

Fri

4650315

+ 511

399728

+ 17

N/A

Mar 2, 2023

Thu

4649804

+ 490

399711

+ 14

N/A

Mar 1, 2023

Wed

4649314

+ 462

399697

+ 9

N/A

Feb 28, 2023

Tue

4648852

---

399688

---

---
Embed
To embed this live counts widget on your own webpage? Simply copy and paste following code to your page and enjoy it wherever you want!
Customize Embed
About je réponds à vos questions osées (FAQ 2021)

Découvre le Vivo V21 5G ici : https://www.vivo.com/fr/products/v21 Nouveau son "ça fait pas mal" dispo partout : https://squeezie.s-ib.link/cafaitpasmal ABONNE-TOI ! http://bit.ly/2fm88Xo (merci) Vêtements Yoko : http://www.yokoshop.com Collection Squeezie x RhinoShield : https://bit.ly/Squeezie-RhinoShield Réseaux : Insta : https://www.instagram.com/xsqueezie/ Twitter : http://www.twitter.com/xSqueeZie Facebook : http://www.facebook.com/SqueeZiePageOfficielle Règles de l'espace commentaire (à respecter sous peine d'être banni par l'équipe de modération) : - Écrire dans un français correct - Respecter les autres - Pas de commentaires type "like si tu regardes la vidéo en chaussettes" - Pas de pubs et de spams
About YouTube Live Subscriber Count

Looking to track YouTube video live view counts in real-time? SocialCounts.org is the perfect destination for all your video tracking needs! Our platform utilizes YouTube's original API and advanced technology to provide nearly accurate estimations of live view counts for any YouTube video.
But that's not all! We also offer a unique comparison feature where you can compare the live view counts of any video with any channel, video, or profile. This makes it easy to compare and analyze the performance of different YouTube videos and channels.
At SocialCounts.org, we're committed to providing you with accurate and up-to-date data analysis for all your video tracking needs. Whether you're a content creator or simply a YouTube enthusiast, our platform is the perfect tool for monitoring the popularity and growth of your favorite videos.
So, if you're looking for a reliable source to track live view counts on YouTube, look no further than SocialCounts.org. Trust us to keep you in the know with real-time data analysis and comparison features.