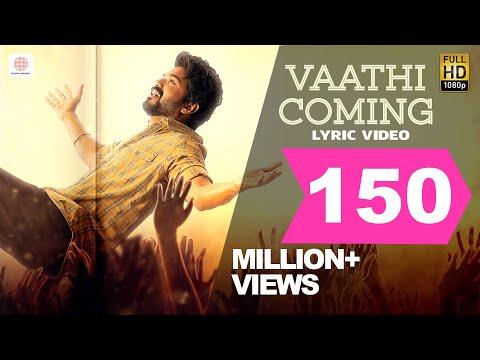 Master - Vaathi Coming Lyric | Thalapathy Vijay | Anirudh Ravichander | Lokesh Kanagaraj
138782720
Master - Vaathi Coming Lyric | Thalapathy Vijay | Anirudh Ravichander | Lokesh Kanagaraj youtube video stats
Date
Views
Likes
Dislikes

Mar 29, 2023

Wed

138782720

+ 6.55K

1783851

+ 36

N/A

Mar 28, 2023

Tue

138776167

+ 6.85K

1783815

+ 28

N/A

Mar 27, 2023

Mon

138769315

+ 6.18K

1783787

+ 45

N/A

Mar 26, 2023

Sun

138763126

+ 7.85K

1783742

+ 39

N/A

Mar 25, 2023

Sat

138755273

+ 7.23K

1783703

+ 42

N/A

Mar 24, 2023

Fri

138748037

+ 7.21K

1783661

+ 39

N/A

Mar 23, 2023

Thu

138740819

+ 6.83K

1783622

+ 40

N/A

Mar 22, 2023

Wed

138733981

+ 7.46K

1783582

+ 33

N/A

Mar 21, 2023

Tue

138726518

+ 7.23K

1783549

+ 60

N/A

Mar 20, 2023

Mon

138719284

+ 7.23K

1783489

+ 49

N/A

Mar 19, 2023

Sun

138712045

+ 8.29K

1783440

+ 31

N/A

Mar 18, 2023

Sat

138703746

+ 8.50K

1783409

+ 58

N/A

Mar 17, 2023

Fri

138695244

+ 7.93K

1783351

+ 57

N/A

Mar 16, 2023

Thu

138687305

+ 7.43K

1783294

+ 74

N/A

Mar 15, 2023

Wed

138679872

+ 7.62K

1783220

+ 33

N/A

Mar 14, 2023

Tue

138672247

+ 6.49K

1783187

+ 55

N/A

Mar 13, 2023

Mon

138665755

+ 6.83K

1783132

+ 52

N/A

Mar 12, 2023

Sun

138658925

+ 9.07K

1783080

+ 45

N/A

Mar 11, 2023

Sat

138649848

+ 8.33K

1783035

+ 47

N/A

Mar 10, 2023

Fri

138641513

+ 7.69K

1782988

+ 85

N/A

Mar 9, 2023

Thu

138633818

+ 7.73K

1782903

+ 64

N/A

Mar 8, 2023

Wed

138626083

+ 8.47K

1782839

+ 61

N/A

Mar 7, 2023

Tue

138617612

+ 8.00K

1782778

+ 47

N/A

Mar 6, 2023

Mon

138609605

+ 7.31K

1782731

+ 63

N/A

Mar 5, 2023

Sun

138602292

+ 9.08K

1782668

+ 63

N/A

Mar 4, 2023

Sat

138593211

+ 8.34K

1782605

+ 61

N/A

Mar 3, 2023

Fri

138584863

+ 7.69K

1782544

+ 71

N/A

Mar 2, 2023

Thu

138577164

+ 7.41K

1782473

+ 41

N/A

Mar 1, 2023

Wed

138569746

+ 7.65K

1782432

+ 54

N/A

Feb 28, 2023

Tue

138562091

---

1782378

---

---
Embed
To embed this live counts widget on your own webpage? Simply copy and paste following code to your page and enjoy it wherever you want!
Customize Embed
About Master - Vaathi Coming Lyric | Thalapathy Vijay | Anirudh Ravichander | Lokesh Kanagaraj

மாஸ்டர் - வாத்தி கம்மிங் பாடல்வரிகள் | தளபதி விஜய் | அனிருத் ரவிச்சந்தர் | லோகேஷ் கனகராஜ் Make way for the extraordinary #ThalapathyKuthu! Our #VaathiComing right here from #Thalapathy's #Master! Loaded with the ultra-catchy rhythms and the Thara-local slang , listen to this #Anirudh dance number on loop! Watch the official Tamil lyric video here ! Stream Master Songs Now - https://SMI.lnk.to/MasterAlbum Movie - Master Song - Vaathi Coming Composed by Anirudh Ravichander Lyrics - Gana Balachandar Vocals - Anirudh Ravichander & Gana Balachandar Starring Vijay, Vijay Sethupathi Malavika Mohanan, Arjun Das, Andrea, Shanthanu Written & Directed by Lokesh Kanagaraj Dop - Sathyan Sooryan Editor - Philomin Raj Producer - Xavier Britto Co-Producers - Lalit Kumar, Jagadish Palanisamy Music Video Team Featuring Anirudh Ravichander Direction Team Magesh Balasubramaniam Santhosh Krishnan Venky Logi Ganesh Gowtham Neduncheziyan Santhosh Kumar Camera Team Rajesh varma Yuva Karthik Shushanth Dhanvanth Editor Team Santhosh kumar VFX Pradeep Xblak Choreography Assistants Saddam Mukthiyar Art Associates P.S.Robert Nagai P.L.Subentar Art Assistants K.Saravanan G.Selvakumar Vignesh Rajappa Nandha Customer Design Assistants Kavya sriraam Raksha Ravikumar Musicians Shehnai - Balesh Flute - Navin Drums Band - VMK Music Band, Malappuram, Kerala Rhythm Conducted by MT Aditya Performed by Vaishak, Abhilash, Akhilesh, Praveen, Sharath, Shyam, Vinod, Bins, Jidhish, Midhun, Binu, Saikumar, Arjun Dhol & Percussions - Hitesh K Shelai & Vishal K, Conducted by MT Aditya Percussions - Anirudh Ravichander Keyboards, Synth and Rhythm Programmed by Anirudh Ravichander Additional Rhythm Programmed by Shashank Vijay Music Advisor - Ananthakrrishnan Creative Consultant - Sajith Satya Recorded at Threedots Film Studio, Kerala, Engineers - MT Aditya, Assisted by Niranjan Kumar Offbeat Music Ventures, Chennai, Engineer - Aswin George John Albuquerque Records, Chennai, Engineers - Srinivasan M Mixed by Vinay Sridhar & Srinivasan M at Albuquerque Records, Chennai Mastered by Shadab Rayeen at New Edge Studios, Mumbai Assisted by Abhishek Mastered for iTunes by Shadab Rayeen Music Co ordinator - Velavan Music Label - Sony Music Entertainment India Pvt. Ltd. © 2020 Sony Music Entertainment India Pvt. Ltd. Subscribe Now: http://bit.ly/SonyMusicSouthVevo Subscribe Now: http://bit.ly/SonyMusicSouthYT Follow us: https://www.instagram.com/sonymusic_south/ Follow us: Twitter: https://twitter.com/SonyMusicSouth Like us: Facebook: https://www.facebook.com/SonyMusicSouth
About YouTube Live Subscriber Count

Looking to track YouTube video live view counts in real-time? SocialCounts.org is the perfect destination for all your video tracking needs! Our platform utilizes YouTube's original API and advanced technology to provide nearly accurate estimations of live view counts for any YouTube video.
But that's not all! We also offer a unique comparison feature where you can compare the live view counts of any video with any channel, video, or profile. This makes it easy to compare and analyze the performance of different YouTube videos and channels.
At SocialCounts.org, we're committed to providing you with accurate and up-to-date data analysis for all your video tracking needs. Whether you're a content creator or simply a YouTube enthusiast, our platform is the perfect tool for monitoring the popularity and growth of your favorite videos.
So, if you're looking for a reliable source to track live view counts on YouTube, look no further than SocialCounts.org. Trust us to keep you in the know with real-time data analysis and comparison features.