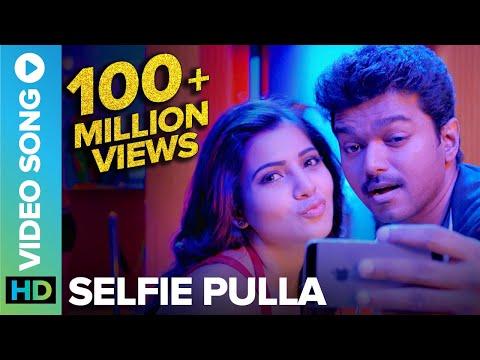 Selfie Pulla | Full Video Song | Kaththi | Vijay, Samantha Ruth Prabhu
135078534
Selfie Pulla | Full Video Song | Kaththi | Vijay, Samantha Ruth Prabhu youtube video stats
Date
Views
Likes
Dislikes

Mar 25, 2023

Sat

135078534

+ 61.9K

555171

+ 308

N/A

Mar 24, 2023

Fri

135016538

+ 52.8K

554863

+ 249

N/A

Mar 23, 2023

Thu

134963733

+ 46.0K

554614

+ 286

N/A

Mar 22, 2023

Wed

134917675

+ 55.6K

554328

+ 258

N/A

Mar 21, 2023

Tue

134862068

+ 64.2K

554070

+ 288

N/A

Mar 20, 2023

Mon

134797789

+ 61.0K

553782

+ 255

N/A

Mar 19, 2023

Sun

134736776

+ 71.6K

553527

+ 332

N/A

Mar 18, 2023

Sat

134665088

+ 71.0K

553195

+ 369

N/A

Mar 17, 2023

Fri

134594006

+ 53.1K

552826

+ 236

N/A

Mar 16, 2023

Thu

134540885

+ 56.8K

552590

+ 283

N/A

Mar 15, 2023

Wed

134484058

+ 66.8K

552307

+ 303

N/A

Mar 14, 2023

Tue

134417209

+ 58.0K

552004

+ 339

N/A

Mar 13, 2023

Mon

134359159

+ 54.1K

551665

+ 235

N/A

Mar 12, 2023

Sun

134305012

+ 64.9K

551430

+ 276

N/A

Mar 11, 2023

Sat

134240027

+ 58.5K

551154

+ 300

N/A

Mar 10, 2023

Fri

134181464

+ 49.9K

550854

+ 277

N/A

Mar 9, 2023

Thu

134131505

+ 53.6K

550577

+ 242

N/A

Mar 8, 2023

Wed

134077860

+ 52.2K

550335

+ 250

N/A

Mar 7, 2023

Tue

134025623

+ 52.5K

550085

+ 257

N/A

Mar 6, 2023

Mon

133973102

+ 54.2K

549828

+ 242

N/A

Mar 5, 2023

Sun

133918901

+ 68.4K

549586

+ 348

N/A

Mar 4, 2023

Sat

133850424

+ 58.9K

549238

+ 338

N/A

Mar 3, 2023

Fri

133791465

+ 51.8K

548900

+ 286

N/A

Mar 2, 2023

Thu

133739647

+ 50.9K

548614

+ 258

N/A

Mar 1, 2023

Wed

133688746

+ 52.1K

548356

+ 251

N/A

Feb 28, 2023

Tue

133636563

+ 52.7K

548105

+ 249

N/A

Feb 27, 2023

Mon

133583808

+ 49.9K

547856

+ 266

N/A

Feb 26, 2023

Sun

133533895

+ 64.4K

547590

+ 344

N/A

Feb 25, 2023

Sat

133469458

+ 58.6K

547246

+ 324

N/A

Feb 24, 2023

Fri

133410796

---

546922

---

---
Embed
To embed this live counts widget on your own webpage? Simply copy and paste following code to your page and enjoy it wherever you want!
Customize Embed
About Selfie Pulla | Full Video Song | Kaththi | Vijay, Samantha Ruth Prabhu

Check out Selfie Pulla official full video song from the film Kaththi featuring Vijay & Samantha Ruth Prabhu. Singers: Ilayathalapathy Vijay & Sunidhi Chauhan Music: Anirudh Lyrics: Madhan Karky Song Mixed & Mastered by Eric Pillai at Future Sound of Bombay To set this song as your caller tune sms EIKATH7 to 56060 Play Free Music back to back only on Eros Now - https://goo.gl/BEX4zD To watch more log on to http://www.erosnow.com For all the updates on our movies and more: https://twitter.com/#!/ErosNow https://www.facebook.com/ErosNow https://plus.google.com/+erosentertainment http://www.dailymotion.com/ErosNow
About YouTube Live Subscriber Count

Looking to track YouTube video live view counts in real-time? SocialCounts.org is the perfect destination for all your video tracking needs! Our platform utilizes YouTube's original API and advanced technology to provide nearly accurate estimations of live view counts for any YouTube video.
But that's not all! We also offer a unique comparison feature where you can compare the live view counts of any video with any channel, video, or profile. This makes it easy to compare and analyze the performance of different YouTube videos and channels.
At SocialCounts.org, we're committed to providing you with accurate and up-to-date data analysis for all your video tracking needs. Whether you're a content creator or simply a YouTube enthusiast, our platform is the perfect tool for monitoring the popularity and growth of your favorite videos.
So, if you're looking for a reliable source to track live view counts on YouTube, look no further than SocialCounts.org. Trust us to keep you in the know with real-time data analysis and comparison features.