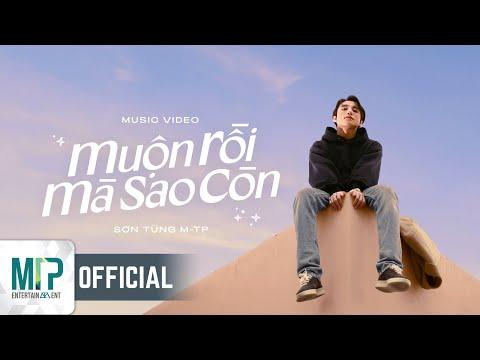 SƠN TÙNG M-TP | MUỘN RỒI MÀ SAO CÒN | OFFICIAL MUSIC VIDEO
174659380
SƠN TÙNG M-TP | MUỘN RỒI MÀ SAO CÒN | OFFICIAL MUSIC VIDEO youtube video stats
Date
Views
Likes
Dislikes

Mar 21, 2023

Tue

174659380

+ 6.87K

2545704

+ 1

N/A

Mar 20, 2023

Mon

174652502

+ 52.4K

2545703

+ 79

N/A

Mar 19, 2023

Sun

174600069

+ 63.5K

2545624

+ 110

N/A

Mar 18, 2023

Sat

174536554

+ 56.8K

2545514

+ 111

N/A

Mar 17, 2023

Fri

174479667

+ 44.5K

2545403

+ 133

N/A

Mar 16, 2023

Thu

174435072

+ 51.6K

2545270

+ 103

N/A

Mar 15, 2023

Wed

174383445

+ 55.2K

2545167

+ 80

N/A

Mar 14, 2023

Tue

174328194

+ 50.1K

2545087

+ 127

N/A

Mar 13, 2023

Mon

174278009

+ 53.4K

2544960

+ 134

N/A

Mar 12, 2023

Sun

174224589

+ 72.4K

2544826

+ 180

N/A

Mar 11, 2023

Sat

174152174

+ 54.2K

2544646

+ 140

N/A

Mar 10, 2023

Fri

174097972

+ 48.5K

2544506

+ 115

N/A

Mar 9, 2023

Thu

174049462

+ 51.8K

2544391

+ 92

N/A

Mar 8, 2023

Wed

173997629

+ 55.4K

2544299

+ 122

N/A

Mar 7, 2023

Tue

173942171

+ 53.6K

2544177

+ 96

N/A

Mar 6, 2023

Mon

173888557

+ 49.4K

2544081

+ 125

N/A

Mar 5, 2023

Sun

173839062

+ 57.7K

2543956

+ 180

N/A

Mar 4, 2023

Sat

173781297

+ 51.6K

2543776

+ 155

N/A

Mar 3, 2023

Fri

173729611

+ 42.3K

2543621

+ 120

N/A

Mar 2, 2023

Thu

173687221

+ 43.5K

2543501

+ 115

N/A

Mar 1, 2023

Wed

173643686

+ 44.4K

2543386

+ 102

N/A

Feb 28, 2023

Tue

173599281

+ 44.7K

2543284

+ 76

N/A

Feb 27, 2023

Mon

173554547

+ 41.4K

2543208

+ 83

N/A

Feb 26, 2023

Sun

173513073

+ 49.7K

2543125

+ 132

N/A

Feb 25, 2023

Sat

173463334

+ 48.2K

2542993

+ 111

N/A

Feb 24, 2023

Fri

173415101

+ 45.4K

2542882

+ 135

N/A

Feb 23, 2023

Thu

173369616

+ 42.8K

2542747

+ 117

N/A

Feb 22, 2023

Wed

173326748

+ 43.6K

2542630

+ 119

N/A

Feb 21, 2023

Tue

173283063

+ 40.9K

2542511

+ 102

N/A

Feb 20, 2023

Mon

173242067

---

2542409

---

---
Embed
To embed this live counts widget on your own webpage? Simply copy and paste following code to your page and enjoy it wherever you want!
Customize Embed
About SƠN TÙNG M-TP | MUỘN RỒI MÀ SAO CÒN | OFFICIAL MUSIC VIDEO

#MuonRoiMaSaoCon #SonTungMTP #MTP #MTPEntertainment #MTPTalent #MRMSC Available on Spotify: https://spoti.fi/2R79kGX Available on iTunes Store and Apple Music: https://apple.co/3twOk9B Executive Producer: Nguyen Thanh Tung Composer: Son Tung M-TP  Music Producer: Son Tung M-TP  Artist: Son Tung M-TP  Executive Supervisor: Chau LE Project Manager: M-TP Talent | A member of M-TP Entertainment  Project Marketing: Henry Nguyen Unit Production Manager: Mr. Blue  Digital Team: Tu Le Partnership Management: Jodie Nguyen, Trang Nguyen Admin and Support: Thanh Ha, Viet Nguyen, Hoang Nguyen, Bao Truong, Bich Tran, Hung Dang,Nhi Do Securities: Vo Duong Ngoc Hoa  Art Director: Ben Pham Photographer: Manh Bi  Photographer Assistant: Phuc Nguyen, Trung Hieu BTS Videographer & Editor: Cyan Stylist: Pham Bao Luan  Make Up: Phat Phat  Hair Stylist: Gill Nguyen Director/Edit: Jason Creative Director: Ben Pham  Project Manager: Mr. Blue Producers: #emsuplo Cinematographer: Trang Doan Art Director: Mee Hoang Production Design: Sang Sang Team Special Props: Bún, Phở, Ngoc Han , Huynh Gia Hy , Khiet Tran Assistant Art Directors: Minh Ngoc 1st Assistant Director: Le Hoang Phuong 2nd Assistant Director: Nam Vo Visualizer: Bunthoi Camera Operator: Mr. Blue Focus Puller: Duy VK Gaffers: Ho Hoang Hai Rental House: PS Vietnam Flycam: Thong Kieu Location Managers: Tuan Anh Team Casting Manager: Bao Tran Assistant Production Manager: Mine Nguyen Production Assistants: Truong Nguyen, Salem Truong, Thuong Thuong Graphic Designer: Lucas Nguyen  Catering: Ho Le Team Post-Production: Post Production Manager: Mr. Blue Editor : Ian, Richson Colorist: Trang Doan VFX Crew: SpiceFX VFX Supervisor - Ngô Quốc Duy VFX Producer- Nhunnie Trần: VFX Artist - Viết Hoàng, Luân Trần, Phuc Vo Cast: Stand-Ins: Sy Kien Supporting cast: Hy An ▶ More information about Sơn Tùng M-TP: https://www.facebook.com/MTP.Fan https://www.instagram.com/sontungmtp https://www.youtube.com/sontungmtp https://twitter.com/sontungmtp777 @Spotify: https://spoti.fi/2HPWs20 @Itunes: https://apple.co/2rlSl3w ▶More information about M-TP Talent: https://www.facebook.com/mtptalent https://www.instagram.com/mtptalent https://twitter.com/mtptalent ▶ More about M-TP ENTERTAINMENT https://www.facebook.com/mtptown https://mtpentertainment.com https://twitter.com/mtpent_official https://www.instagram.com/mtpent_official ▶ CLICK TO SUBSCRIBE: http://popsww.com/sontungmtp #sontungmtp #sontung #mtp #mtpentertainment
About YouTube Live Subscriber Count

Looking to track YouTube video live view counts in real-time? SocialCounts.org is the perfect destination for all your video tracking needs! Our platform utilizes YouTube's original API and advanced technology to provide nearly accurate estimations of live view counts for any YouTube video.
But that's not all! We also offer a unique comparison feature where you can compare the live view counts of any video with any channel, video, or profile. This makes it easy to compare and analyze the performance of different YouTube videos and channels.
At SocialCounts.org, we're committed to providing you with accurate and up-to-date data analysis for all your video tracking needs. Whether you're a content creator or simply a YouTube enthusiast, our platform is the perfect tool for monitoring the popularity and growth of your favorite videos.
So, if you're looking for a reliable source to track live view counts on YouTube, look no further than SocialCounts.org. Trust us to keep you in the know with real-time data analysis and comparison features.