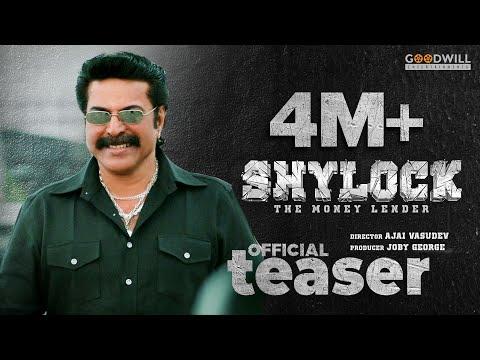 Shylock Official Teaser | Mammootty | Ajai Vasudev | Gopi Sundar | Goodwill Entertainments
4187361
Shylock Official Teaser | Mammootty | Ajai Vasudev | Gopi Sundar | Goodwill Entertainments youtube video stats
Date
Views
Likes
Dislikes

Mar 31, 2023

Fri

4187361

+ 89

155312

+ 1

N/A

Mar 30, 2023

Thu

4187272

+ 75

155311

- 3

N/A

Mar 29, 2023

Wed

4187197

+ 73

155314

+ 1

N/A

Mar 28, 2023

Tue

4187124

+ 87

155313

+ 2

N/A

Mar 27, 2023

Mon

4187037

+ 48

155311

- 2

N/A

Mar 26, 2023

Sun

4186989

+ 53

155313

- 1

N/A

Mar 25, 2023

Sat

4186936

+ 61

155314

+ 1

N/A

Mar 24, 2023

Fri

4186875

+ 51

155313

- 1

N/A

Mar 23, 2023

Thu

4186824

+ 69

155314

0

N/A

Mar 22, 2023

Wed

4186755

+ 69

155314

0

N/A

Mar 21, 2023

Tue

4186686

+ 68

155314

- 2

N/A

Mar 20, 2023

Mon

4186618

+ 66

155316

0

N/A

Mar 19, 2023

Sun

4186552

+ 98

155316

+ 3

N/A

Mar 18, 2023

Sat

4186454

+ 78

155313

0

N/A

Mar 17, 2023

Fri

4186376

+ 85

155313

+ 2

N/A

Mar 16, 2023

Thu

4186291

+ 93

155311

+ 2

N/A

Mar 15, 2023

Wed

4186198

+ 94

155309

0

N/A

Mar 14, 2023

Tue

4186104

+ 83

155309

+ 1

N/A

Mar 13, 2023

Mon

4186021

+ 61

155308

- 1

N/A

Mar 12, 2023

Sun

4185960

+ 110

155309

- 1

N/A

Mar 11, 2023

Sat

4185850

+ 95

155310

+ 2

N/A

Mar 10, 2023

Fri

4185755

+ 74

155308

- 1

N/A

Mar 9, 2023

Thu

4185681

+ 75

155309

- 1

N/A

Mar 8, 2023

Wed

4185606

+ 83

155310

+ 4

N/A

Mar 7, 2023

Tue

4185523

+ 69

155306

+ 1

N/A

Mar 6, 2023

Mon

4185454

+ 95

155305

0

N/A

Mar 5, 2023

Sun

4185359

+ 97

155305

+ 2

N/A

Mar 4, 2023

Sat

4185262

+ 111

155303

+ 3

N/A

Mar 3, 2023

Fri

4185151

+ 123

155300

+ 2

N/A

Mar 2, 2023

Thu

4185028

---

155298

---

---
Embed
To embed this live counts widget on your own webpage? Simply copy and paste following code to your page and enjoy it wherever you want!
Customize Embed
About Shylock Official Teaser | Mammootty | Ajai Vasudev | Gopi Sundar | Goodwill Entertainments

Here is the official Teaser of Malayalam Movie #Shylock Directed By Ajai Vasudev Book Your Tickets Now : http://bit.ly/ShylockMovieTickets Director : Ajai Vasudev Producer : Joby George Story, Sreenplay, Dialogues : Aneesh Hameed & Bibin Mohan DOP : Renadive Music : Gopi Sundar Production Controller : Dixon Poduthas Editor :Riyas K Badhar Art : Gireesh Menon Sound Design : A B Jubin, Nikhil Sebastian Sound Mixing : Ajith A George Makeup : Ranjith Ambady & George Sebastian Costumes : Stephy Zaviour & Abhijith Action : Anil Arasu, Stunt Silva, Mafia Sasi, Rajashekar P C Choreography : Brinda Lyrics : B K Harinarayanan, Viveka, Raj Kiran Production Controller : Dixon Poduthas Production Executive : Satheesh Kovilkotta Chief Associate Director : Kudamaloor Rajaji Associate Director : Manesh Balakrishnan, Sujai S Kumar, Unaise S, Jomi John Stills : Rohith K Suresh TRAILER AND TEASER CUTS : DONMAX MUSIC ON : GOODWILL ENTERTAINMENTS DIGITAL PARTNER : AVENIR TECHNOLOGY ► Subscribe to Goodwill Entertainments: https://goo.gl/s92pm7 ► Like us on Facebook: https://goo.gl/2V6uNV || ANTI-PIRACY WARNING || This content is Copyrighted to GOODWILL ENTERTAINMENTS . Any unauthorized reproduction, redistribution or re-upload is strictly prohibited. Legal action will be taken against those who violate the copyright of the same
About YouTube Live Subscriber Count

Looking to track YouTube video live view counts in real-time? SocialCounts.org is the perfect destination for all your video tracking needs! Our platform utilizes YouTube's original API and advanced technology to provide nearly accurate estimations of live view counts for any YouTube video.
But that's not all! We also offer a unique comparison feature where you can compare the live view counts of any video with any channel, video, or profile. This makes it easy to compare and analyze the performance of different YouTube videos and channels.
At SocialCounts.org, we're committed to providing you with accurate and up-to-date data analysis for all your video tracking needs. Whether you're a content creator or simply a YouTube enthusiast, our platform is the perfect tool for monitoring the popularity and growth of your favorite videos.
So, if you're looking for a reliable source to track live view counts on YouTube, look no further than SocialCounts.org. Trust us to keep you in the know with real-time data analysis and comparison features.