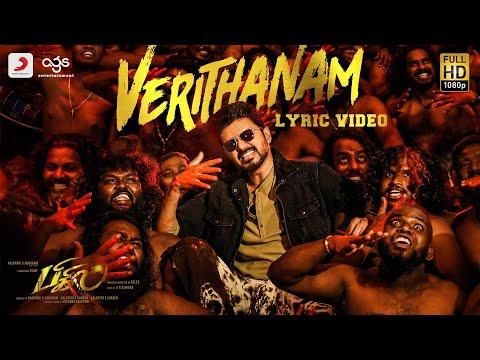 Bigil - Verithanam Lyric Video (Tamil) | Thalapathy Vijay, Nayanthara | A.R Rahman | Atlee | AGS
56109338
Bigil - Verithanam Lyric Video (Tamil) | Thalapathy Vijay, Nayanthara | A.R Rahman | Atlee | AGS youtube video stats
Date
Views
Likes
Dislikes

Mar 20, 2023

Mon

56109338

+ 1.05K

1369324

- 8

N/A

Mar 19, 2023

Sun

56108284

+ 1.21K

1369332

- 16

N/A

Mar 18, 2023

Sat

56107070

+ 1.21K

1369348

- 6

N/A

Mar 17, 2023

Fri

56105856

+ 1.15K

1369354

+ 1

N/A

Mar 16, 2023

Thu

56104702

+ 1.18K

1369353

+ 4

N/A

Mar 15, 2023

Wed

56103515

+ 1.18K

1369349

- 8

N/A

Mar 14, 2023

Tue

56102335

+ 933

1369357

- 2

N/A

Mar 13, 2023

Mon

56101402

+ 1.00K

1369359

- 5

N/A

Mar 12, 2023

Sun

56100399

+ 1.33K

1369364

- 5

N/A

Mar 11, 2023

Sat

56099067

+ 1.17K

1369369

- 13

N/A

Mar 10, 2023

Fri

56097896

+ 1.08K

1369382

- 8

N/A

Mar 9, 2023

Thu

56096816

+ 1.11K

1369390

- 15

N/A

Mar 8, 2023

Wed

56095699

+ 998

1369405

- 2

N/A

Mar 7, 2023

Tue

56094701

+ 962

1369407

- 7

N/A

Mar 6, 2023

Mon

56093739

+ 1.01K

1369414

- 4

N/A

Mar 5, 2023

Sun

56092727

+ 1.21K

1369418

- 9

N/A

Mar 4, 2023

Sat

56091511

+ 1.11K

1369427

- 8

N/A

Mar 3, 2023

Fri

56090400

+ 1.04K

1369435

+ 1

N/A

Mar 2, 2023

Thu

56089358

+ 1.11K

1369434

0

N/A

Mar 1, 2023

Wed

56088248

+ 1.06K

1369434

- 8

N/A

Feb 28, 2023

Tue

56087183

+ 1K

1369442

- 10

N/A

Feb 27, 2023

Mon

56086183

+ 926

1369452

+ 2

N/A

Feb 26, 2023

Sun

56085257

+ 1.32K

1369450

- 1

N/A

Feb 25, 2023

Sat

56083934

+ 1.22K

1369451

- 5

N/A

Feb 24, 2023

Fri

56082713

+ 1.03K

1369456

+ 13

N/A

Feb 23, 2023

Thu

56081677

+ 1.12K

1369443

+ 2

N/A

Feb 22, 2023

Wed

56080554

+ 982

1369441

- 6

N/A

Feb 21, 2023

Tue

56079572

+ 984

1369447

+ 3

N/A

Feb 20, 2023

Mon

56078588

+ 939

1369444

- 4

N/A

Feb 19, 2023

Sun

56077649

---

1369448

---

---
Embed
To embed this live counts widget on your own webpage? Simply copy and paste following code to your page and enjoy it wherever you want!
Customize Embed
About Bigil - Verithanam Lyric Video (Tamil) | Thalapathy Vijay, Nayanthara | A.R Rahman | Atlee | AGS

The BIGGEST single of the year arrives! Make way for complete #Verithanam packed with all things mass! #ThalapathyVijay crooning the #ARRahman single for #Atlee's #Bigil is truly momentous! Plug in your earphones and hit the repeat button already! Watch the official Tamil lyric video here! Movie - Bigil Song - Verithanam Singers - Thalapathy Vijay Lyrics - Vivek Music - A.R. Rahman Starring - Vijay, Nayanthara, Jackie Shroff, Vivek, Kathir Directed by Atlee DOP - G K Vishnu Producer - Kalpathi S. Aghoram Banner - AGS Entertainment Musicians Guitars - Keba Jeremiah Shenai - Balesh Live Rhythms - V Kumar, T Raja, Vedha, Lakshmi Narayanan, Raju, Vikram, Hariprasadh, Ranjit Additional Vocals - Sangeetha, Poovaiya, Kaka Bala, KR Arjun, Rakthaksh Backing Vocals - Veena Murali, Deepthi Suresh, Abinaya, Ala B Bala, Sowmya, Soundarya, Lavita Lobo Choral Arrangement - Arjun Chandy Additional Programming and Arrangement - T R Krishna Chetan, Kumaran Sivamani, Santosh Dhayanidhi Sound Engineers Panchathan Record Inn, Chennai - Suresh Permal, Karthik Sekaran, Suryansh, Barath, Riyasdeen AM Studios, Chennai - Sivakumar S, Kannan Ganpat, Pradeep Menon, Krishnan, Manoj Raman, Aravind MS Mixed By T R Krishna Chetan Mastered by Suresh Permal MFiT - S Sivakumar Musicans Co ordinator - TM Faizuddin, Abdul Haiyum, Siddique Musican Fixer - Samiurai R Music Label - Sony Music Entertainment India Pvt. Ltd. © 2019 Sony Music Entertainment India Pvt. Ltd. Subscribe- YouTube- https-//www.youtube.com/c/SonyMusicSouth VEVO- https-//www.youtube.com/user/SonyMusicSouthVEVO Like us- Facebook- https-//www.facebook.com/SonyMusicSouth Follow us- Twitter- https-//twitter.com/SonyMusicSouth https-//www.instagram.com/sonymusic_south/
About YouTube Live Subscriber Count

Looking to track YouTube video live view counts in real-time? SocialCounts.org is the perfect destination for all your video tracking needs! Our platform utilizes YouTube's original API and advanced technology to provide nearly accurate estimations of live view counts for any YouTube video.
But that's not all! We also offer a unique comparison feature where you can compare the live view counts of any video with any channel, video, or profile. This makes it easy to compare and analyze the performance of different YouTube videos and channels.
At SocialCounts.org, we're committed to providing you with accurate and up-to-date data analysis for all your video tracking needs. Whether you're a content creator or simply a YouTube enthusiast, our platform is the perfect tool for monitoring the popularity and growth of your favorite videos.
So, if you're looking for a reliable source to track live view counts on YouTube, look no further than SocialCounts.org. Trust us to keep you in the know with real-time data analysis and comparison features.