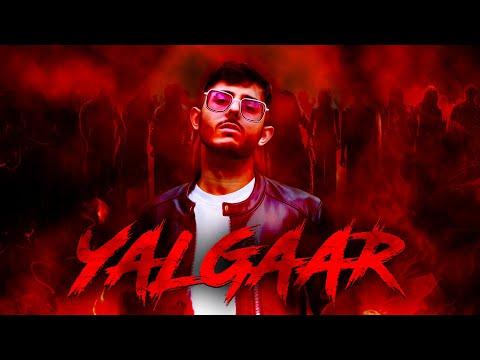 YALGAAR - CARRYMINATI X Wily Frenzy
332096545
YALGAAR - CARRYMINATI X Wily Frenzy youtube video stats
Date
Views
Likes
Dislikes

Mar 30, 2023

Thu

332096545

+ 9.17K

17942507

+ 123

N/A

Mar 29, 2023

Wed

332087368

+ 92.8K

17942384

+ 2.21K

N/A

Mar 28, 2023

Tue

331994505

+ 94.2K

17940165

+ 2.34K

N/A

Mar 27, 2023

Mon

331900215

+ 94.6K

17937819

+ 2.39K

N/A

Mar 26, 2023

Sun

331805574

+ 107K

17935425

+ 2.83K

N/A

Mar 25, 2023

Sat

331698018

+ 101K

17932591

+ 2.84K

N/A

Mar 24, 2023

Fri

331596631

+ 95.9K

17929749

+ 2.85K

N/A

Mar 23, 2023

Thu

331500717

+ 110K

17926899

+ 3.11K

N/A

Mar 22, 2023

Wed

331390210

+ 117K

17923785

+ 3.50K

N/A

Mar 21, 2023

Tue

331272828

+ 114K

17920282

+ 3.68K

N/A

Mar 20, 2023

Mon

331157952

+ 113K

17916599

+ 3.64K

N/A

Mar 19, 2023

Sun

331044163

+ 146K

17912951

+ 4.95K

N/A

Mar 18, 2023

Sat

330898147

+ 143K

17908001

+ 5.36K

N/A

Mar 17, 2023

Fri

330754706

+ 150K

17902635

+ 6.19K

N/A

Mar 16, 2023

Thu

330603833

+ 164K

17896444

+ 7.24K

N/A

Mar 15, 2023

Wed

330439636

+ 188K

17889202

+ 9.01K

N/A

Mar 14, 2023

Tue

330250674

+ 167K

17880185

+ 9.22K

N/A

Mar 13, 2023

Mon

330083107

+ 167K

17870960

+ 8.46K

N/A

Mar 12, 2023

Sun

329915186

+ 181K

17862491

+ 7.72K

N/A

Mar 11, 2023

Sat

329733687

+ 180K

17854762

+ 8.37K

N/A

Mar 10, 2023

Fri

329553477

+ 257K

17846384

+ 15.0K

N/A

Mar 9, 2023

Thu

329295530

+ 118K

17831334

+ 9.71K

N/A

Mar 8, 2023

Wed

329177282

+ 92.2K

17821617

+ 2.35K

N/A

Mar 7, 2023

Tue

329084995

+ 97.2K

17819266

+ 2.43K

N/A

Mar 6, 2023

Mon

328987785

+ 96.6K

17816832

+ 2.44K

N/A

Mar 5, 2023

Sun

328891182

+ 113K

17814383

+ 2.76K

N/A

Mar 4, 2023

Sat

328777743

+ 112K

17811616

+ 2.77K

N/A

Mar 3, 2023

Fri

328665193

+ 103K

17808837

+ 2.51K

N/A

Mar 2, 2023

Thu

328561581

+ 104K

17806321

+ 2.57K

N/A

Mar 1, 2023

Wed

328457394

---

17803746

---

---
Embed
To embed this live counts widget on your own webpage? Simply copy and paste following code to your page and enjoy it wherever you want!
Customize Embed
About YALGAAR - CARRYMINATI X Wily Frenzy

YALGAAR HO Apple Music ► https://music.apple.com/in/album/yalgaar/1517209410?i=1517209411 Spotify ► https://open.spotify.com/track/0RGp4KA9wvndxqPIWoKwnD Hungama ► http://www.hungama.com/song/yalgaar/54018800/ Gaana ► https://gaana.com/album/yalgaar-hindi-1 JioSaavn► https://www.jiosaavn.com/album/yalgaar/r4xcIwL0rUA_ Song& Lyrics - Ajey Nagar (CarryMinati) Music composed & Produced by - Wily Frenzy Managed by - Deepak Char Shot by - Shlok Mishra & Lakshay Bhoria Engineered at Noisy Gates studio CarryisLive : https://www.youtube.com/channel/UC0IW... Instagram► https://www.instagram.com/carryminati/ Facebook ► https://www.facebook.com/CarryDeol/ Snapchat► heyAjey Twitter ► https://twitter.com/CarryMinati For Business Related queries: [email protected] About CarryMinati : Youthoob certified member Disclaimer : DISCLAIMER: Please don't go out of your way to or hate on anyone I talk about in my videos, this channel is to entertain people and I usually focus on joking about what the people are doing not the individual themselves, please don't go spreading hate it's all for laughs Copyright Disclaimer Under Section 107 of the Copyright Act 1976, allowance is made for "fair use" for purposes such as criticism, comment, news reporting, teaching, scholarship, and research. Fair use is a use permitted by copyright statute that might otherwise be infringing. Non-profit, educational or personal use tips the balance in favor of fair use. ˍˍˍˍˍˍˍˍˍˍˍˍˍˍˍˍˍˍˍˍˍˍˍˍˍˍˍˍˍˍˍˍˍˍˍˍˍˍˍˍˍˍˍˍˍˍˍˍˍˍˍˍˍˍˍˍˍˍˍˍˍˍˍˍˍˍˍˍˍˍˍˍˍˍˍˍˍˍˍˍˍˍˍˍˍˍˍˍˍˍˍˍˍˍˍˍˍ
About YouTube Live Subscriber Count

Looking to track YouTube video live view counts in real-time? SocialCounts.org is the perfect destination for all your video tracking needs! Our platform utilizes YouTube's original API and advanced technology to provide nearly accurate estimations of live view counts for any YouTube video.
But that's not all! We also offer a unique comparison feature where you can compare the live view counts of any video with any channel, video, or profile. This makes it easy to compare and analyze the performance of different YouTube videos and channels.
At SocialCounts.org, we're committed to providing you with accurate and up-to-date data analysis for all your video tracking needs. Whether you're a content creator or simply a YouTube enthusiast, our platform is the perfect tool for monitoring the popularity and growth of your favorite videos.
So, if you're looking for a reliable source to track live view counts on YouTube, look no further than SocialCounts.org. Trust us to keep you in the know with real-time data analysis and comparison features.